Note: I was a guest of Walt Disney Pictures for this junket. All opinions are strictly my own.
It's always an adventure when Rachel and I head out of town, and while we knew that we'd be gazing at the stars, we never thought they might be at the end of a plank as we headed into the world of Captain Jack Sparrow on Hollywood Blvd's version of a pirate's life spread on the street in front of the iconic Dolby theater as we went to the Pirates of the Caribbean: Dead Men Tell No Tales premiere.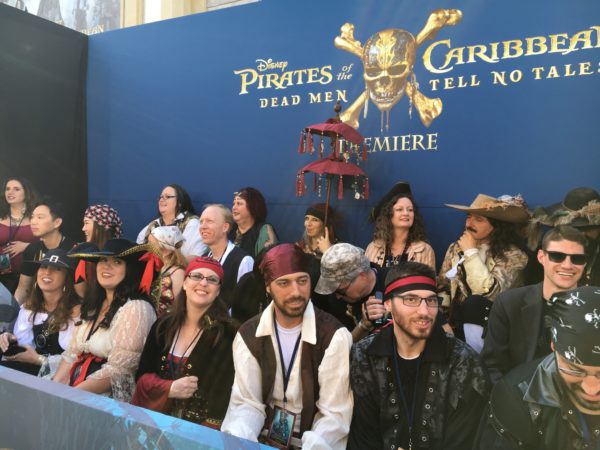 The galleries were filled with pirates and wenches hoping to catch a glimpse of cast members, as jugglers, stiltwalkers and an assortment of colorful marauders entertained the crowd on the teal carpet. Disney truly does red carpets like no other, and the stars that came out that night were proof, that no matter how young or old you might be…everyone loves an adventure.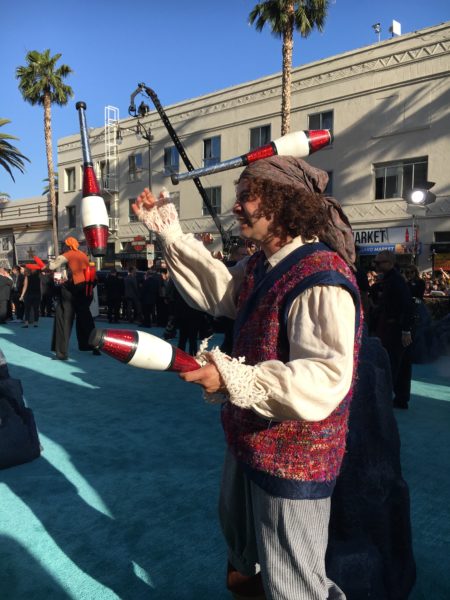 Drinks and a few appetizers in hand and we were ready to explore the bounty that was available for us to enjoy inside the theater. With four levels of fun and sponsors from Lorac make-up touch ups to green screen photo booths and treasure chests of goodies, we spent our time trying NOT to look obvious as we whispered – hey look over there it's Terry Crews or OMG! Jon Voight (politics aside – I got to be fan girl for a moment). Of course when a daytime TV star thinks they know you, it makes for all the more fun (as happened to Rachel as we were walking the stairs to the next level).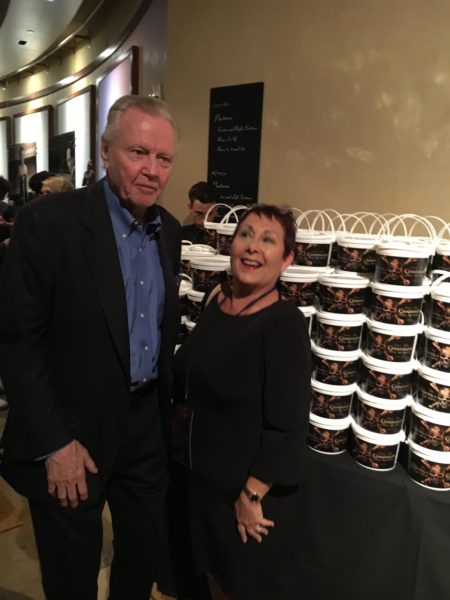 While I'm normally the first to arrive and the last to leave (I just love a good party), this time…I couldn't WAIT to get to my seat and learn what my favorite ne'er do well would be up to in this fifth installment of Pirates of the Caribbean: Dead Men Tell No Tales.
We could almost touch the cast as they walked on stage (thank you Disney for putting us in the third row) to introduce the movie.
Grab your popcorn – here's what to expect.
Our favorite anti-hero is back, as Johnny Depp's Jack Sparrow returns in Pirates of the Caribbean: Dead Men Tell No Tales. The pirate's life seems to really compliment Depp's style as the edgy, always slurring, pirate with an eye for the ladies. The character seems to come very easy to Depp, and the comic-book over the top feel makes for some great laughs.
Luckily, our newest villain Captain Salazar, played by the handsome Javier Bardem with a head of hair that you have to see to believe, complements Depp's on-screen lines with his ghostly performance. Our new villain is hell bent on eliminating Jack which sets us up for some real excitement.
The plot
Johnny Depp returns to the big screen as the iconic, swashbuckling anti-hero Jack Sparrow in the all-new "Pirates of the Caribbean: Dead Men Tell No Tales." The rip-roaring adventure finds down-on-his-luck Captain Jack feeling the winds of ill-fortune blowing strongly his way when deadly ghost sailors, led by the terrifying Captain Salazar (Javier Bardem), escape from the Devil's Triangle bent on killing every pirate at sea—notably Jack. Jack's only hope of survival lies in the legendary Trident of Poseidon, but to find it he must forge an uneasy alliance with Carina Smyth (Kaya Scodelario), a brilliant and beautiful astronomer, and Henry (Brenton Thwaites), a headstrong young sailor in the Royal Navy. At the helm of the Dying Gull, his pitifully small and shabby ship, Captain Jack seeks not only to reverse his recent spate of ill fortune, but to save his very life from the most formidable and malicious foe he has ever faced. – Courtesy of Walt Disney Pictures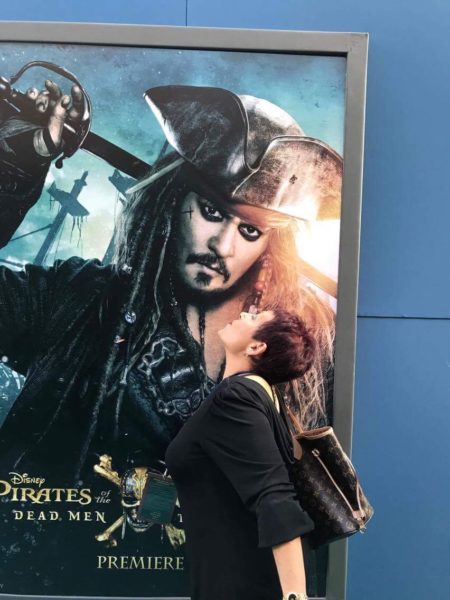 I just can't resist a man in uniform
…even when it's disheveled, and this movie is IRRESISTABLE.
My only question now is
Will there be a sixth installment into this swashbuckling adventure of everyone's favorite n'ere do well Jack Sparrow?