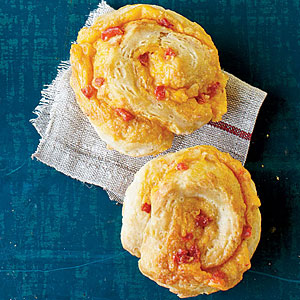 The debate between whether to cook completely from scratch, or getting a little help from packaged foods rages on, but when you're in a rush and guests are arriving for your brunch, dinner party or Valentine's Day spread, there's nothing like taking a few shortcuts. ESPECIALLY when this version is every bit as good as the scratch one.
Makes 1 dozen
Time from start to finish: 1 Hours, 15 Minutes
Ingredients
1 (25-oz.) package frozen Southern-style biscuits (I like Pillsbury Grand)
All-purpose flour
2 cups pimiento cheese
Prep
1. Arrange biscuits, with sides touching, in 3 rows of 4 biscuits on a lightly floured surface. Let stand 30 to 45 minutes or until biscuits are thawed but cool to the touch.
2. Preheat oven to 375°. Sprinkle biscuits lightly with flour. Press edges together, and pat to form a 10- x 12-inch rectangle of dough; spread dough with pimiento cheese.
3. Roll up, starting at one long end; cut into 12 (1-inch-thick) slices. Place 1 slice into each muffin cup of a lightly greased 12-cup muffin pan.
4. Bake at 375° for 20 to 25 minutes or until golden. Let cool in pan on a wire rack 5 minutes; remove from pan, and serve immediately.
Of course you can always make them with a great cheddar pub cheese as well.
Enjoy!
Save money by using coupons for Pillsbury products and Snapple Ice Tea to go with. The perfect Southern combination. This recipe is available as a result of being a Southern Living Source. For more recipes and great home ideas check out their website or magazine.