The way to impress me is to buy me some beautiful sparkly things for Valentine's Day. I know he bought the chocolates for himself and the flowers he probably picked up at Publix along with his weekly lottery ticket. But, if he makes the effort to go in to a jewelry store and find the PERFECT gift…it says something.
When Mr. S walks into Mayor's Jewelers I know it's going to be exactly what I want. Am I sneaky about getting him in there? If you consider setting the GPS in his car the day before Valentine's Day to send him to Mayor's when the car starts, or if I put my favorite salesperson's card into his wallet…I suppose so, but a girl's got to do what a girl's got to do.
Here are my hints for him this year….
Under $600: A Little Something Gold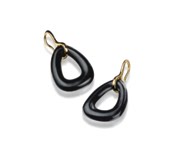 Why she'll love it: The fun shape of the Birks Links earrings is sure to impress the most discerning jewelry collector. "The black onyx and yellow gold drop earrings are a stylish addition to her collection of jewelry; their asymmetrical shape makes a fashionable impact," says Style Expert Irma Martinez.
Birks Links Collection Black Ony Drop Earrings with 18kt Yellow Gold, $575.
Under $1,000: Fresh Take on a Classic
Why she'll love it: This modern take on freshwater pearls offers a chic update to every lady's jewelry box. Contemporary career ladies love the many options of this multifunctional piece: double it up and wear it as a choker, wrap it several times around the wrist for a multi-strand bracelet or leave it long and loose in a Coco Chanel rope style. "Pearls are the ultimate classis – they look stunning on their own or layered with other pieces," says Irma Martinez.
Birks white freshwater pearl strand, 61 in., $895.
Over $1,000: The More the Merrier (MY FAVE…the hints have already started)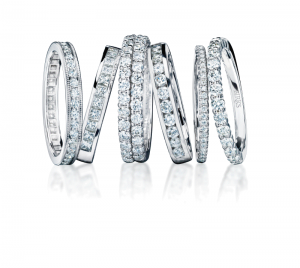 Why she'll love it: This is a gift that keeps on giving. Why not celebrate each milestone with a new variation? Elegant band rings embedded with expertly cut diamonds can be worn separately or in stacks, so she can alter her look according to her whim — or outfit. "Diamonds are always sure to please, and they are an ideal complement for any look, whether worn for day or night," says the Mayors Style Expert.
Diamond band rings in 18k white gold, from $1,300.
Reach for the Stars
Why she'll love it: When the sky's the limit, you can reach up and give your lady a sparkling star — or at least the next best thing. When you're down on one knee, stand apart with a distinctive yellow diamond, a testament to Mayors' diamond authority. "A ring as magnificent as this one speaks of beauty as rare as she is," says Irma Martinez.
Birks cushion-cut yellow diamond ring with pave diamonds set in platinum and 18kt yellow gold, from $21,600.
About Mayors

Birks & Mayors is a leading retailer with 59 luxury jewelry stores in Canada and the United States. The Company operates 32 stores under the Birks brand in most major markets in Canada and 24 stores under the Mayors brand in Florida and Georgia, two retail locations in Calgary and Vancouver under the Brinkhaus brand, and one retail location in Orlando under the Rolex brand. Mayors was founded in 1910 and has maintained the intimacy of a family-owned boutique while becoming renowned for its fine jewelry, timepieces, giftware and service. Birks was founded in 1879 and developed over the years into Canada's premier retailer, designer and manufacturer of fine jewelry, timepieces, sterling and plated silverware and gifts. Visit www.mayors.com.