Disclosure: I received product &/or compensation to facilitate this sponsored post. All opinions are strictly my own.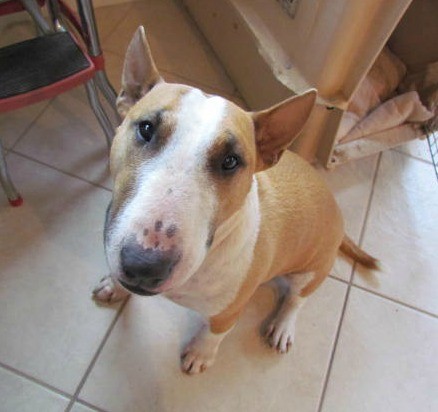 You all know that I adore my 10 year old miniature bull terrier named Clem, and that I am as meticulous about his health, as I am about my own!
Unhappily, spring is the season for all kinds of insects, and for dogs, cats and their owners, the key word is pests!  Fleas and ticks infest the yard, the mansion, and our family pets and cause disease and infestation as the temperatures and humidity go up!
 What to do? 
When I go shopping at my local Walmart, I pick up Adams™ for Dogs Flea & Tick Spot On®.  This topical treatment comes with the Adams™ Smart Shield® applicator when you purchase the treatment at Walmart.  With the applicator, I can instantly apply Adams™ for Dogs Flea & Tick Spot On® right on Clem's shoulder blades, thus providing flea and tick protection for up to 30 days. This application kills adult fleas and ticks.  However, fleas leave larvae that hatch into adult fleas, and Adams™ for Dogs Flea & Tick Spot On® also prevents flea re-infestation by breaking the flea life cycle, which kills flea eggs and larvae that could hatch later on. And it also kills mosquitoes, which bring their own diseases!  I don't have to worry about Clem in the bushes and beaches of South Florida!  PLUS – Mr. S and I get to know that the Mansion is flea and tick free, so we don't have to worry about those nasty insects jumping on our family and guests!
With the patented Adams™ Smart Shield® applicator, it is so easy to directly apply this product directly to Clem; the applicator parts the fur keeping my hands dry and clean and there is no mess, no fuss.
Flea and or tick infestation is no joke.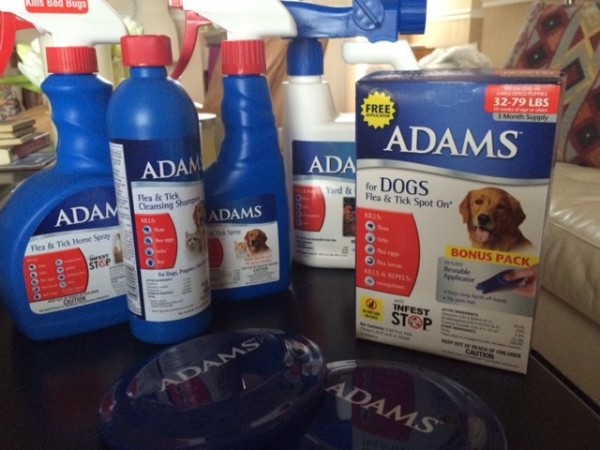 The best way is to avoid an infestation in the first place.  Since weather affects flea and tick infestation, any time the temperature climbs above 70°F, you need to be aware of flea and tick season. I have a tough time keeping track of what's for dinner, so I love that Adams™ Flea & Tick Control Products helps pet families stay on the alert by providing Adams Flea & Tick Outbreak Alerts beginning March 4, 2015 (by zip code).  FREE Adams Flea & Tick Outbreak Alerts provide helpful heads up about local weather changes and the related threat of flea and tick outbreaks (Fleas and ticks become widespread when temperatures are above 70°F).
Sign up for free Adams Flea & Tick Outbreak Alerts >>> HERE and get automatically entered in the Adams Start Smart, Stay Smart Sweepstakes, and be entered for a chance to win:
Monthly gift card and product prizes now through July 31, 2015
See web site for complete rules and details – ADAMS™
Although prevention is absolutely the best way, sometimes fleas happen.  My local Walmart makes sure that I have these products that were sold by vets for more than 30 years on hand…just in case~!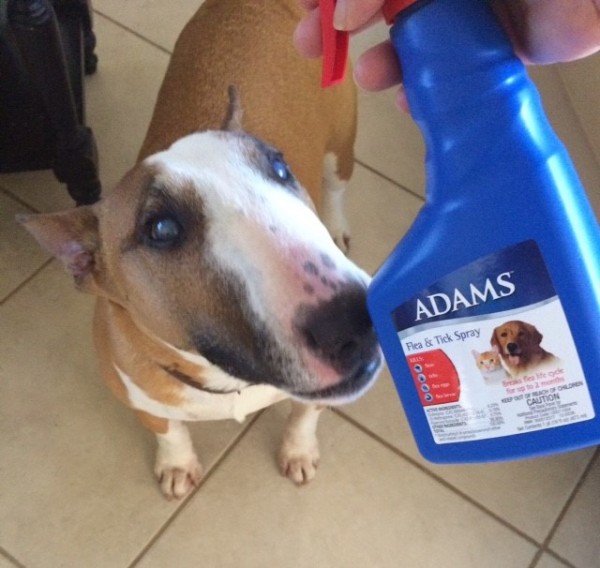 I know that flea & tick control is not a ONE and DONE, so along with treating Clem monthly I keep THESE great products on hand as well:
Adams™ Flea & Tick Spray 
The formulation contains ingredients to kill fleas, ticks, as well as flea eggs & larvae and help prevent flea re-infestation on your pet. It works on cats, dogs, and kittens and puppies over 12 weeks old, and is available in 16oz and 32oz pump spray bottles. I like larger sizes, so I have them on hand in those "itchy emergencies."
Adams™ Flea & Tick Cleansing Shampoo 
Designed to kill fleas, ticks, and lice, and prevent flea eggs from hatching for 30 days. It's used just like you would use any other pet shampoo – wet the pet's fur, lather them up, and rinse. Just be sure that your cats, dogs, kitties and puppies are over 12 weeks old.
Adams™ Flea & Tick Home Spray 
This winner of a 2014 Product of the Year award, was voted BEST by consumers like you and me. It protects your home from infestations by killing fleas, ticks, cockroaches, ants, spiders, mosquitoes and even bed bugs. It starts killing in 5 minutes and offers up to 7 months of protection. Take THAT you little bugs.
Don't forget to protect OUTSIDE of your mansion as well with:
Adams™ Yard Spray
Keep those critters from even walking in the front door by blasting them OUTSIDE (BTW, this is also great for keeping bugs out of your garden as well).
Clem is happy not to scratch and roll from the misery of insect bites.  I worry less about Lyme disease and other problems associated with fleas and ticks.  And we all get to play instead of pay during our summer fun!
Flea and ticks are not fun, for me or for Clem.  It's easy to be aware and protected as the weather turns hot and humid, by staying one step ahead of those nasty little pests with the Adams™ line of Flea & Tick products.
DETAILS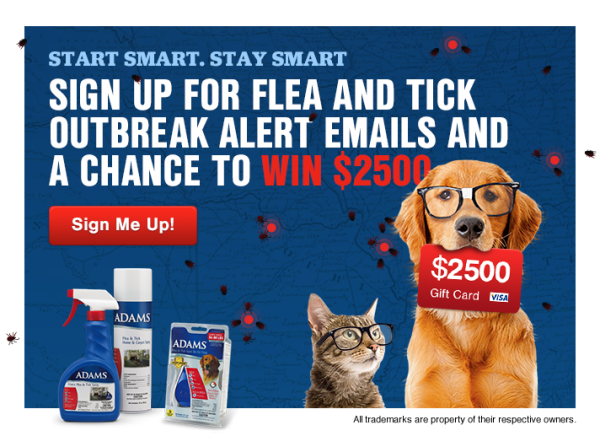 Learn more about Adams™ Flea & Tick Control Products at: AdamsFleaControl.com
Don't forget to enter the Adams Start Smart, Stay Smart sweepstakes!!! You could win $2500 Gift Card (see website for complete details).
This is a sponsored post written by me on behalf of Adams™ Flea & Tick Control Products.
Smart Shield and the Adams blue bottle are trademarks of Farnam Companies, Inc. Spot On is a registered trademark of Wellmark International. All other trademarks are the property of their respective owners.