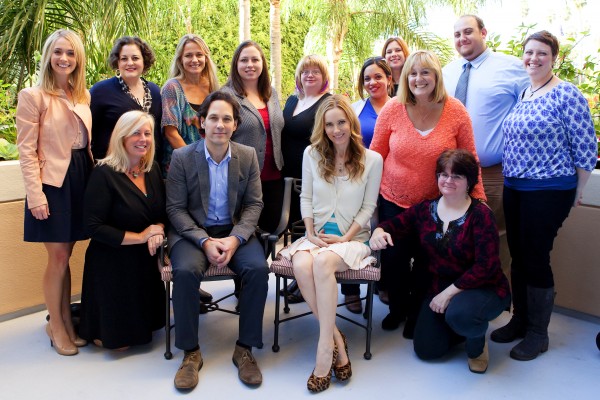 Champagne Living sent Ben to Los Angeles to screen This is 40 and to interview the director (Judd Apatow) and stars (Paul Rudd and Leslie Mann). While we knew in advance that he'd be the ONLY guy in this group of women bloggers, we didn't know JUST how Paul Rudd would react when he walked in and scanned the room, realizing that he and Ben were the only ones driven by testosterone there.
When I asked how it went, one of the bloggers told me that Ben made Paul Rudd feel more comfortable. That made me happy. 
Here are Ben's 20 minutes with Paul Rudd and Leslie Mann.
My day was spent mostly fielding text messages that read "You should kiss Paul Rudd" or "Tell him he tastes like a Burger."  (the second is a reference to a film called Wet Hot American Summer).  But as he walked into the room we locked eyes and we had a "bro" moment yelling about football, specifically RG3's sprained knee.  Then we were both transplanted back into a room full of women.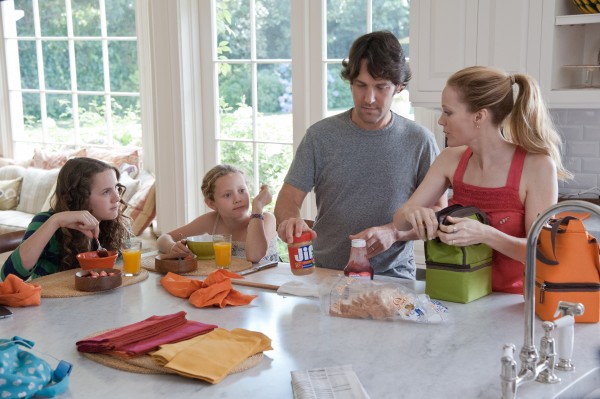 Leslie Mann:  Hi, guys.
CL:  Great to see you guys.
Paul Rudd:  How's it going, man?  Did you catch any of those games yesterday?  Can you believe that?  RG3, man, hurt.  I wonder if he's going to make it in time for the playoffs?
Blogger:  He's with the mommy bloggers.
CL:  How do you stop your husband from writing some of this stuff like the therapy stuff, or do you just go like, "Really?"  At what point does he reach a point where you're like, "No, no, no" before the checking for the hemorrhoids, which was awesome?
Paul Rudd:  He never even attempted to put the brakes on that scene. .
CL:  –But at what point do you tell him that "I don't really think we need to reveal that"?
Leslie Mann:  Well, he doesn't write anything without–I mean, it's a conversation between us, so, everything is discussed–.
CL:  So, I'll have to ask, who played with forts and sticks when you were younger?  Do either of you actually play with forts and sticks?
Paul Rudd:  Well, forts.  I built forts with sticks.
Leslie Mann:  I played Kick the Can.
Paul Rudd:  You did?
Leslie Mann:  Yes.
Paul Rudd:  I just remember as a kid always seeing those images of usually that kid with the stick rolling a tire down the road. I remember that image in my head as a kid, and even thought, "What would be fun about that?"  And I don't think I thought of it since then.
CL:  So, I read that Judd mentioned to you he thought it would be tricky for a likeable person like yourself to be this detached husband.  So, how are you able to channel that–.
Paul Rudd:  –Judd said that?
CL:  He said it in his production notes.  He said you are so likeable, it's going to be tricky for you channel that.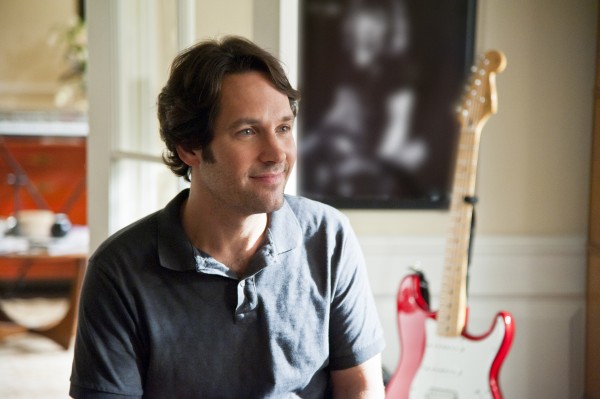 Paul Rudd:  If he's ever expressed any of that, I've never heard it.  And as far of kind of detached and how am I going to play it, I thought was established within about five minutes of meeting Judd.  And then with doing Knocked Up and working on all this stuff before, I mean the one thing that I think that we both talked about and have always wanted to convey with this relationship in both this movie and in Knocked Up was a married couple that was dealing with things that married couples that we know and that we are deal with in a way that you don't see in movies all that much but maybe are realistic and heightened and funny. There is no winner, and there's no real loser, but you understand both points of view equally. You like and then dislike aspects of the personality within each of us.
CL:  So, when Leslie walks out and her boob's hanging out and her husband's there, was that at all awkward in doing that scene?
Paul Rudd:  I think by that point, we had already done the shower scene, so, it's really not that awkward.  And we'd also done the hemorrhoid scene I think too, which–.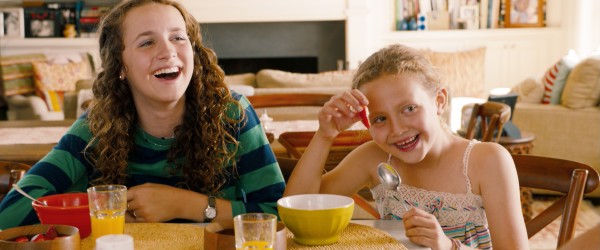 CL:  Your daughters do an amazing job.
Leslie Mann:  Thank you.
CL:  When they did Knocked Up and it was just fun, and then this one's so much deeper, were you worried that they might get worried that you and your husband were fighting or at that point because it's obviously your life, but it's an extreme of your life when he writes about some of your stories that happened in real life.  When he puts it on the screen, it's so much more magnified or outrageous.  Were you worried that the girls would take that to heart?  Like, "Oh, my God, they were going to get divorced. How do you separate that?
Leslie Mann:  I don't know how he describes it, but to me, it isn't our life.  It's more like everybody's life.  It feels emotionally that it's truthful to what we go through, but it's also truthful to what all of my girlfriends are going through right now and what they struggle with.  And so, it doesn't feel–.
CL:  –And how do you explain that to your girls that this isn't your dad and I or this isn't, you know?
Leslie Mann:  –Well, our girls are pretty smart.  And after work, we'll sit down and have dinner together and have creative conversations about all of this stuff and we talk about it in a different way.  We understand that it isn't Maude's in on it and Iris is in on it.  They're both like just fantasizing about what they would like to do.  Like for me, I sometimes fantasize about screaming at mothers at school but I would never do it.  But we can have these conversations, these very imaginative conversations, about things we would like to do.  They know that it isn't mommy and daddy's problems. It's having fun with it and having fun with being emotional, and it's all okay.  All of these thoughts that we have are okay.  It's not bad to have thoughts of screaming at another mother at school
CL:  Since you've finished filming, have you had parenting moments that have been surreal to say, "We filmed the best, and now it's actually life but afterward," and found that you're living what you had filmed or interactions with your children in that way?
Leslie Mann:  That's where it's good.  And that's where it was good after Knocked Up too is I don't want to repeat that, so, yeah, I don't do that.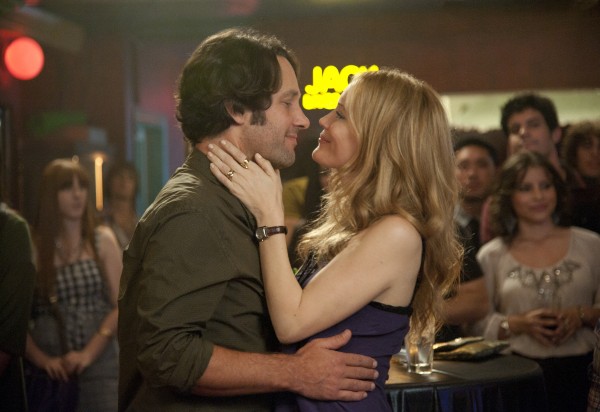 Blogger:  So, you got the screaming out?
Ms. Leslie Mann:  Yes, no more screaming.  No, well.
Blogger:  So, I need to film a movie and then I can move–.
Leslie Mann:  –Yes.
Unidentified Woman: –past it, is that it?
Leslie Mann:  Yes, it's therapeutic.
Paul Rudd:  I had the reverse thing where my son when he was about three was going through that phase where he didn't want my wife and I to talk to each other.  And whenever we would just be at home and we were talking to each other, he would say, "Don't talk."  And I remember saying to him, "Your mom and I are going to talk.  We just are."  And he goes, "No, I don't want you to."  And I said, "Well tough, you're just going to have to get used to it.  It's good that mommy and daddy talk."  And so then, we would continue the conversation, and he would just at this said, "No, stop talking.  Stop talking."  We kept talking.  He kept saying stop talking.  We kept talking.  And finally, he yelled, "Action."  And we looked at him, and he said, "When I yell 'action,' you're not allowed to talk."  And I realize he's been to too many sets that I have been working on.  And then I started laughing so hard at that, and then he started laughing, and then he just went, "Cut."
Ben has chosen This is 40 as one of his picks of 2012. WHAT ARE YOU WAITING FOR? Go see it!
Ben represented Champagne Living on a recent press junket sponsored by Universal Pictures and This is 40.