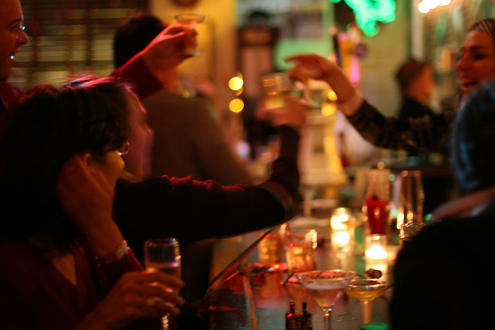 New Year's Eve is always one of those nights where it's great to gather friends and family and see in the New Year while celebrating the events and memories of the year we're about to leave behind. What better way to do it with an extravagantly themed party? The more creative the better but here are a few ideas for inspiration:
Casino Night: Think Ocean's Eleven (and if you can secure George Clooney and Brad Pitt as celebrity guests, please don't forget my invite!) style. Hire a roulette table, set up a poker room and get dolled up to the nines! The dress code should be formal with men in black ties and women in evening gowns. You could even go as far as to have a red and black dress code. Decorate with decks of cards and balloons and if you have time, you could even ice some biscuits and nibbles in the style of poker chips.
Murder Mystery Night: This is a great one for smaller groups as most available games are usually designed for around six to ten players. Let your guests know in advance which character they'll be playing in order to give them time to organise a costume and (if applicable) start work on practicing their accents! Food wise, it's best to have courses with you can prepare before hand and serve quickly and easily to allow minimum disruption of the game.  If it's a little more impromptu then a cocktail evening also works.
Hollywood Boulevard:  Get your red carpet at the ready; the stars are coming to town! This theme is ideal if your family and friends love to dress up. In terms or colour scheme, silver and gold is on theme. In terms of nibbles, popcorn makes a brilliant addition to the table.  A great game is to assign each guest or set of guests a letter from the "Hollywood" sign to make and bring along to be put together as everyone arrives. The more mismatched the sign is the better! Charades is another fitting game for this occasion.
Visit the website www.parteaz.co.uk today for a great selection of themed party accessories.

Photo credit: ego technique. / Foter / CC BY-NC