Our West Coast writer Kathy Chin Leong ventured out to the Paso Market Walk recently. Here's what she found.
Not long ago, whilst traveling in Oslo, Norway, I fell in love with the Mathallen Food Hall, an enterprise that gave an opportunity for specialty food purveyors to showcase their wares. So you can imagine how intrigued I was when I entered Paso Market Walk, a light-filled, indoor pavilion on California's central coast that mingles food, drink, shopping, and lodging all under one roof.  Linking the dozen or so vendors runs the theme of small business entrepreneurship. To exhibit in one of the spaces or "pods," sellers must also live or operate in the region and tout a niche in food or beverage, or carry wares that are somehow food-related.
And since COVID-19 has adversely impacted mom-and-pop shops throughout the country, all eyes are on this fledgling enterprise in the town of Paso Robles. Paso Market Walk caters to a generation that loves all things organic, fresh, sustainable, and eco-friendly.  All eyes are on this tiny womb of hopes and dreams of those who want to make a good, clean living doing what they love.  Visitors like myself are rooting for every single one of the startups to succeed.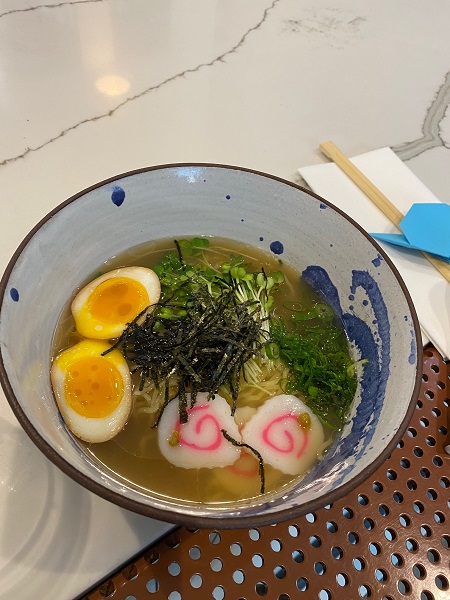 Some have never had their own brick-and-mortar spaces before, and this chance to go public is a big deal.  Take for instance Jennifer Golden who earlier sold her vegan cheeses at farmer's markets and jumped at the chance to open The Vreamery where folks are already lining up patiently for its vegan turkey panini sandwiches and $22 Grazing Boxes filled with artisan vegan cheese and crackers. And then there's the partnership of Mateo Rogers and Brittney Yracheta who launched Momotaro Ramen noodle bar representing the first ramen house in Paso Robles.
The brainchild of proprietor Deborah Mann, the co-founder of the popular Justin Winery (also in Paso Robles), the 16,000-square-foot mixed-use development has been four years in the making. It opened last August, about a half-mile from downtown Paso Robles.  Even during COVID-19, Paso Market Walk managed to keep the majority of its tenants who have committed to a three-to-five-year renewable lease.
Jill Alexander, who has worked for Mann for at least a decade, is involved in every Mann project.  She began as a personal assistant to Mann and has a background in design and architectural support. Paso Market Walk was very close to Alexander's heart, and she personally vetted every business that wanted to lease space.  She was born and raised in Paso Robles, and her family often patronized the site for its plants, trees, and garden supplies at the old Hometown Nursery.  In the pre-Home Depot era, Hometown Nursery was the only place to go for seeds, plants, trees, and gardening tools and gifts. 
Now there's Gather Garden Company, helmed by founder Laura Morgan. She finds the location very special since she worked at the former nursery during her college days at neighboring Cal Poly in San Luis Obispo. Her tiny outdoor nursery with colorful flowers and trees in the front of the property is a showstopper. Morgan plans to host gardening workshops in the near future.  She also has leased an inside pod selling pots and affordable garden giftware such as tin fairy houses for $5.95.
Certainly, trendy multi-use developments are nothing new, but it's a rarity for the laid-back Central Coast.  Already in Napa, Oxbow Market is renowned for quality eateries and gourmet food stores under one roof; in San Francisco, the Ferry Building is home to dozens of bakeries, delis, shops, restaurants, and a convenient ferry hub for across-the-bay transport. New York promotes Eataly with Italian eats and all-things-Italian.
The Paso Robles' one-acre lot fills the length of a block, and the space will soon be filled by two up-and-coming restaurants – In Bloom for fresh, contemporary California cuisine on one corner, and Mexican "cocina California fare" dubbed Finca in a restored, mint green 1890s Victorian on the other. Planned for a 2021 debut is a town park situated right across the street which should entice more fans to step into the marketplace to imbibe in a glass of wine or buy a pastry or two.
According to Alexander, Paso Market Walk is designed to be a casual "grab and go" hip gathering spot. Imagine friends converging for a cup of coffee or a bite to eat.  In the front of the modern steel, glass, and stone structure is a vast patio with round wood tables and chairs. Metal planter boxes filled with seasonal flowers and plantings soften the hardscape. Rows of lights suspended above the patio and winding around the trees illumine the premises.  Last summer, musicians graced the space with upbeat tunes.  This summer, plans call for outdoor movies at night and yoga at sunrise.
Inside the new build with ethereal ceilings, you discover a smattering of vendors such as Just Baked Cake Studio and Bakery tempting with many treats including a signature giant chocolate chip and toffee cookie; Leo Leo Gelato with at least a dozen clever gelato flavors; gourmet burgers at Third Degree Grill; organic coffee at JoeBella;  SLO Cider for craft cider; Hog Brewing Company for craft beer.  Of course, you have to have a wine vendor in Paso. Hence, the Paso Robles Wine Merchant is here to service those with a penchant for the vine.






Upstairs, no space is wasted. The Lofts at The Market represent a series of six modern, French chic dwellings, designed for couples and families.  Ranging from studios to one-bedroom and two-bedroom suites, the upscale rooms are distinct, but all feature linoleum wood plank floors, mini-kitchens with lengthy, white simulated marble countertops, and hand-painted print tile backsplashes, microwaves and wine storage refrigerators, and dishes and utensils.  Very practical are the large round dining tables for both eating and doing work during this COVID season.
To gain access, you go to the back of the building near the parking lot, enter a code, and haul your gear upstairs to your room.  It's kind of a cool, secret entrance where you will only tell the chummiest of your friends where you are hiding out.  Don't expect a concierge or desk attendant.  All information is delivered to you via email or text, so you simply head to your furnished apartment and enjoy.  As you get settled in your new digs, the idea is that you buy your food and drink downstairs and bring it up to consume or warm-up later to satisfy those midnight munchies.
Living rooms with plush couches, coffee tables, and cushy sitting chairs are very salon-like.  I think of it as a perfect place to host a book group and discuss the latest sci-fi thriller or Jane Austen selection.  I love the Euro-posh bedrooms featuring an accent wall of bold wallpaper, nail-edged cushioned headboard, pendant chandeliers, and simple side tables with wall-mounted light fixtures.  Bathrooms are laid with tiled showers and sleek white faux marble countertops.  Capping the look are modern paintings with strong brushstrokes, human figures, or abstract images.
Yes, being on busy Spring Street can mean noise, but there are double-paned windows to soften any rumblings.  The two nights we stayed mid-week, we did not encounter any disturbances.  Plus, complimentary earplugs are tucked in your welcome basket if you happen to need them.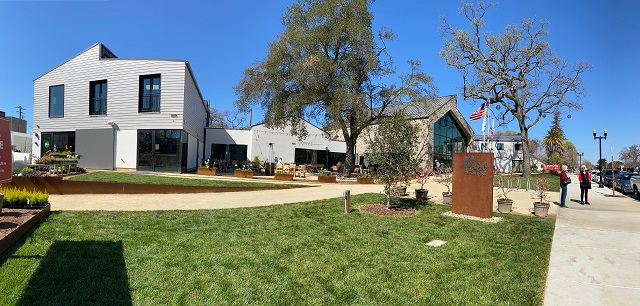 In the meantime, one last vendor, the Paso Mercantile, selling kitchen boutique giftware is scheduled to move in soon. When the two detached restaurants open by the summer, everything will be complete.  Proprietor Debbie Mann has often described her vision for the property as two-fold: first, as a gathering spot and destination for residents and tourists; second, as a launching pad to fulfill the dreams of local merchants.  If all goes as planned and us bleary-eyed citizens emerge from our homes to resume traveling, dining out, and shopping, Paso Market Walk will become a dream come true for everyone.