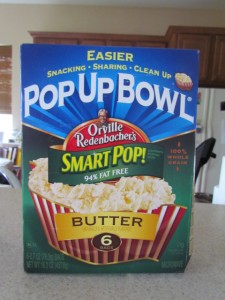 Bye, bye Junior Mints.
I love you… a little TOO much. It's time for me to make a clean break. Our relationship is getting a bit NEEDY (with me needing you, more than you needing me), and I don't want to regret staying in a bad relationship. So it's hasta la vista baby! Evenings are going to be a bit difficult for a while, but in time I'll get over you. Don't worry though, I've got a new relationship starting and although we're only in the honeymoon phase, I have a feeling that it will last.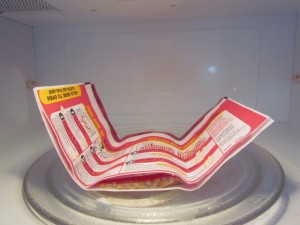 Evenings – meet Smart Pop! At only 100 calories a serving and low-fat whole grain fiber, I will still be able to give in to my evening snack cravings and do it in a much healthier way. Orville Redenbacher's SmartPop! is 100% whole grain, a good source of fiber, low in fat and has zero grams of trans fat. It's satisfying, fills me up and I can eat it mindlessly without worry. Plus, with the new pop-up bowls, I don't even have to wash dishes afterwards (because with late day snacking – I get VERY lazy and leave the dishes for morning).
The ease of just popping (sic) it in the microwave makes it a fast, convenient way to enjoy freshly popped goodness. Plus…
 Six cups of Orville Redenbacher's SmartPop! popcorn has just 100 calories
 Orville Redenbacher's popcorn provides three times more fiber per 1-ounce serving than other snack foods, such as pretzels or potato chips
 A ConAgra Foods study reveals that a daily snack of Orville Redenbacher's 94 percent fat-free SmartPop! popcorn can help dieters maintain reduced calorie eating plans while still feeling full and satisfied
 Popcorn is a whole grain. Research shows that consumers who eat popcorn come much closer to meeting the dietary guidelines recommendation for whole grain consumption of three servings a day. Just three cups of Orville Redenbacher's popcorn provides an entire serving of whole grain
 One serving of SmartPop! has two servings of whole grains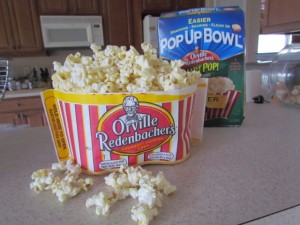 To top things off, I'm going to save money
with this switch, since right now you can save
$1.00 off by downloading the coupon
on the Orville Redenbacher Facebook page and if  there's nothing good on TV to snack to, I can always play the Pop Cam Game!
GIVEAWAY
Extra Entries
Follow me on twitter @zipporahs and tweet about this giveaway
Comment below with your tweet
Subscribe to Champagne Living,  follow me on facebook or twitter – all found on the sidebar (each counts for 1 extra entry)
Tell your peeps on your blog, facebook page or twitter about this or any post (each counts for 1 extra entry) and link to us.
Share this giveaway on any contest/sweepstakes/giveaway site for 5 extra entries..
This giveaway is open to US residents, 18 and over and ends on May 29, 2012
No purchase is necessary.
Odds of winning are dependent upon the number of entries received.
Void where prohibited by law
I wrote this review while participating in a blog tour by Mom Central Consulting on behalf of Orville Redenbacher's. I received an Orville Redenbacher's SmartPop! product as well as a promotional item as a thanks for my participation