This post is sponsored via my partnership with Perdue Farms. Read on to find out JUST why partnering with them has been so important to me.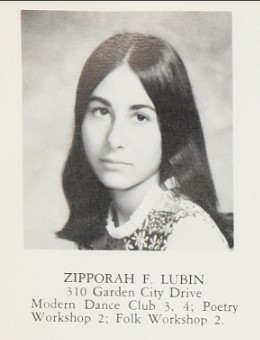 Runs and hides
I can't believe that I'm sharing my high school yearbook photo, but if you look at the clubs that I was in, you have a good idea of who I was at the time and where I was going. Two weeks after graduating took a job in a children's theater troupe and live on a commune (known affectionately simply as "the farm"). YES to my parent's chagrin, I moved in with a bunch of other actors and artists to live together, work the land and find ourselves. Even back in 1972 I was willing to go for my dreams and take the path less traveled and I have stories to tell (and others that will stay with me forever).
I had principles
When you feel strongly about issues they stay with you forever, and while I've moved on from grabbing the neighbors piglets when they escaped in the middle of the night, growing our own (hey, it's legal now), gathering eggs from the coop each day, etc., I still know that supporting small farms, eating food that was grown with care, making sure that I support sustainable agriculture and eat wholesome, organic foods is as important to me now as it was 48 years ago.
Life was simpler then
And our choices when it came to what we ate were a lot easier. We grew our own, traded with nearby farms, and bought from the farmer's markets/farm stands around us. What is now Whole Foods was a small store called Bread & Circus in Brookline, MA and we'd go stock up by shopping when we were in the city, making a stop to window shop and eat in Coolidge Corner while we were there.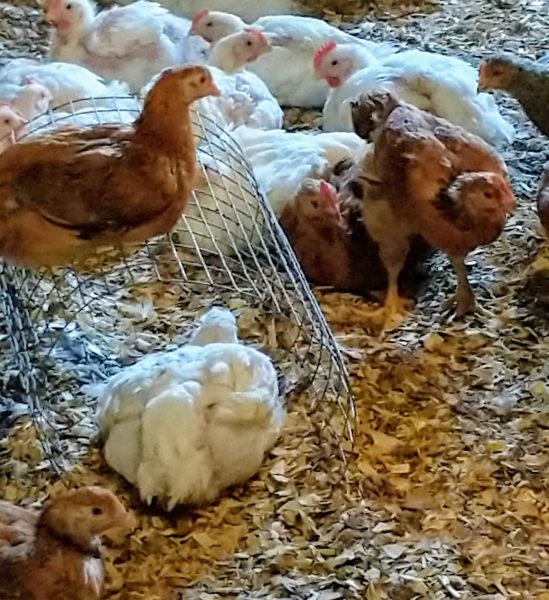 I believed it then and I believe it now
I still believe that supporting small farms, sustainable agriculture (although I no longer "grow my own") and eat organic whenever possible. While some choices are difficult, knowing that I can do all of these with Perdue Farms makes it even easier than it was back in the day. I've been lucky enough to sit and talk with a few of the farmers on a visit to Maryland and their sense of pride in how they care for their livestock and what it means to them to be able to provide you and me with the absolute best tasting chicken, beef and pork that we can buy. I was touched by their stories, their pride and their commitment to the tradition of the small family farmer.
I toured the chicken houses
and was amazed at how much room, both inside and out that the chickens had. There were windows and toys to keep them amused and were nothing like I had expected. I learned that this translates to happier chickens, which in turn translates to more delicious ones.
Perdue Farms is the only chicken that we eat
Not only is it what my mother bought (and she was the pickiest person that I knew when it came to putting the best food on our table), but having spent time with the farmers and having toured the farms I know that THEY BELIEVE IN THE SAME beliefs that I do.
All of the chickens are grown on small farms
They offer organic options in so many varieties
They don't sacrifice their principles!
They NEVER EVER EVER use antibiotics or growth hormones
Good food raised with a conscience is as important to them as it is to me
I should be sharing a recipe here
But I'd rather you go to Perdue Farms and try them for yourself. Right now you can get the $120 bundle of Organic Chicken for only $49.99 (this is a very limited time offer).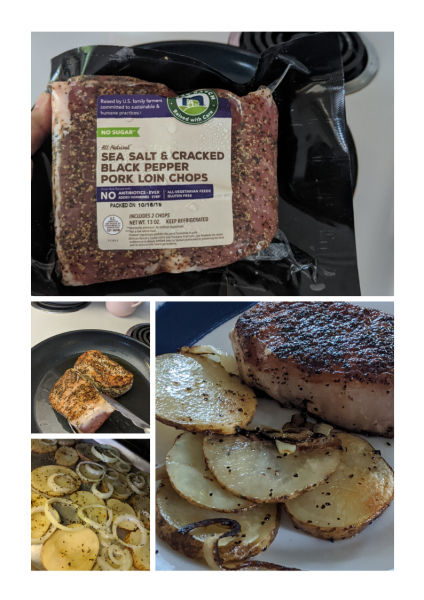 Happy Valentine's Day
While you're on Perdue Farms site, check out some of their other bundles and add on to that great deal with MY ALL TIME FAVORITE Pork Chops from Niman Ranch. It doesn't get much easier (or tastier) than pan-frying these Sea Salt and Cracked Black Pepper chops. I served them with a salad and sliced broiled potatoes & onions.
Niman Ranch Sea Salt and Cracked Black Pepper Chops
Drizzle olive oil in a small frying pan
Cook over medium heat for about 7 minutes per side
Cook until the internal temperature reaches 155 F
Serve with Easy broiled potatoes & onions
Easy broiled potatoes & onions for 2
Sliced a large baking potato
Slice an onion
Drizzle a baking sheet with olive oil or use an olive oil spray
Layer potatoes & onion on a baking sheet
Drizzle with olive oil
Add salt & pepper to taste
Place them under the broiler until the edges browned
Shop with your conscience
Shop via this link: Perdue Farms and get that amazing Organic Chicken deal today!