Note: Books have been provided by the publishers for Ava to review. All opinions are those of the reviewer.
Ava's BACK and she's been stocking our bookshelf with the best book reviews this winter. So, grab a cup of hot chocolate, put on your pjs and snuggle up on the couch with one of these Winter made wonderful books.
Ava Says
Let it snow I say for I have a room full of books. Here are two great reads for January snowtime!
Provocative and evocative, The Talisman slams a panorama of a native Inuit family within the harshest landscape of British Columbia. The brutal landscape incinerates itself into the characters of black and white representing the harsh struggle for life beyond survival and despair. As he battle to survive and transcend the darkness to give their two young sons a better life, The Talisman offers hope through the persistence of this Inuit family caught between two worlds. Magnificently portrayed.
John and Marie Eagleton and their sons Chris and Mitch live in Tumbler Ridge, on the Eastern fringe of the Rocky Mountains in British Columbia …they have been here one year, moving from their home in Alaska to provide a better life for themselves. Native Inuit customs pervade their lives, and their young sons struggle with the new and the old. When Marie discloses to her sons that she is in possession of an ancient family heirloom, an Inuit talisman passed down in her family since the 1500s, the boys are suddenly made aware of their dual inheritance. Marie wants to sell the artifact to send her sons to college.
Marie goes to a local businessman, Justin McCabe, for an appraisal.
As the author weaves a chiaroscuro of good and evil, wilderness versus culture, white man versus indigenous people, and loyalty versus betrayal, we are immersed in Marie's struggle to her family as they fight for their lives amidst frozen tundra and human evil.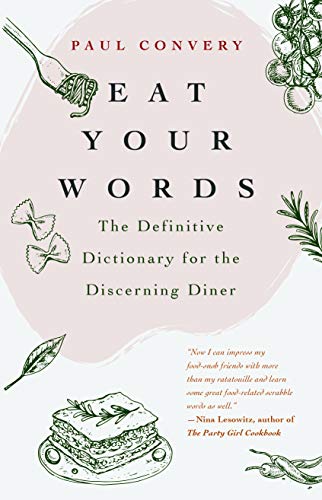 If you own a kitchen you need this book! If you are in Mensa you want this book! If you are normal, you want it even more!!!! Want to know what dredge and mince mean? Interested in the secret life of culinary words? Want to impress friends, family, and Julia with your knowledge of culinary words for everything under the sun? This book is 357 pages of words pertaining to the Julia Child lifestyle. Great for the coffee table, necessary for the kitchen.
Both of these books are available at Amazon.com or your local bookstore. We do get a small commission when you purchase them through our links.