When I turned 60 I felt empowered.
When I turned 61 I started focusing on fun.
When I turned 62 I began traveling all over the world.
When I turned 63 I started to slow down…just a little.
When I turned 64 I got scared….65 is right around the corner and I felt OFFICIALLY old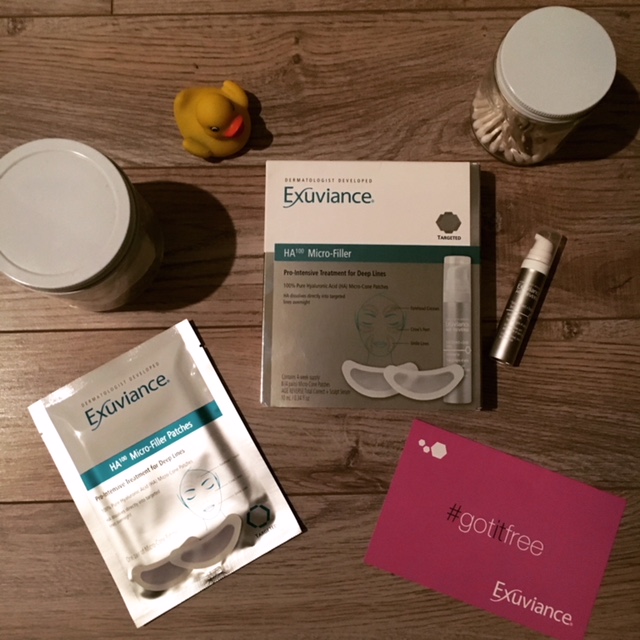 Those of you who've been following my escapades for the past 10 years know that I rarely slow down, rarely act my age, and never give up. But, there was something different about 64. Maybe it was the decision to strip our all of the color in my hair and go gray (an experiment that I found freeing), maybe it was the fact that the aches and pains of aging were creeping up on me, or maybe it was those HORRIBLE LINES AND WRINKLES that have set in to remind me each time I look in the mirror that I'm OLD.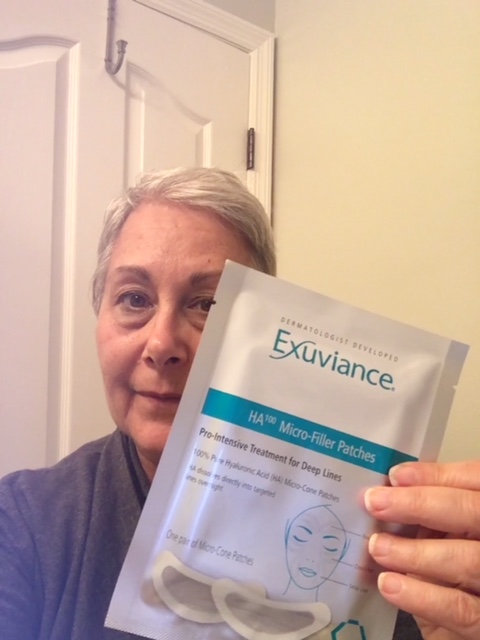 Never one to just give in
I pulled up my big girl panties and am walking the path of Ponce de Leon. While I know that I won't ever wake up being 35 again, I can eat right, get exercise, and find products that will help me with those signs of aging.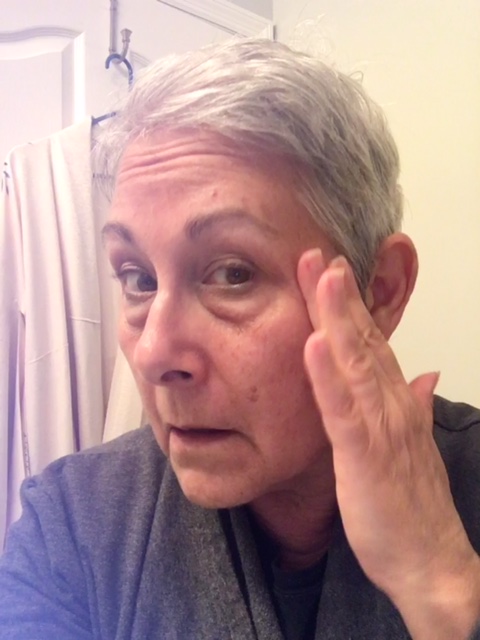 I already knew of the benefits of using hyaluronic acid on my skin to help with lines and wrinkles, but I wanted a more intensive treatment, so I turned to Exuviance to try their dermatotologist developed HA100 Micro-Filler.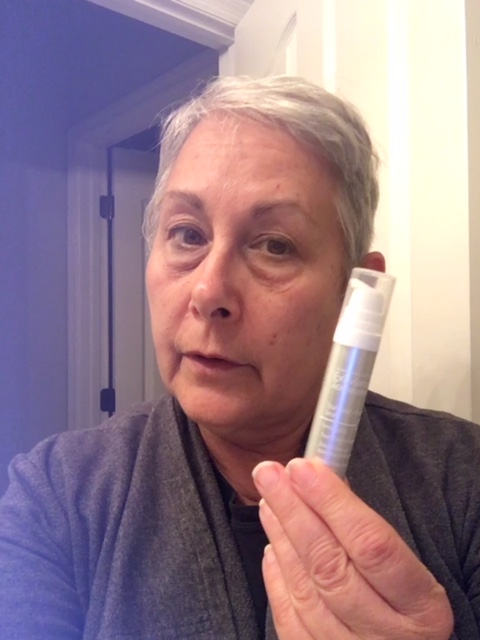 A 2-Step process
One of the things that keeps me from using products is the amount of time using skin care products can take. I'm a pretty set it and forget it type, so if it involves more than washing, drying, moisturizing and maybe a serum…you've lost me. What I like is that you apply the AGE REVERSE Total Correct & Sculpt Serum after washing (concentrating on those lines & wrinkles) and then once a week you apply patches to the area that needs it the most. I have this deep line that goes from over my eyebrow around the side of my eye/temple area. You simply put the Pro-Intesive Treatment for Deep Lines patch on, follow with your usual moisturizer and go to sleep (unless you're in the throws of menopause, and then you lie awake WAITING for sleep).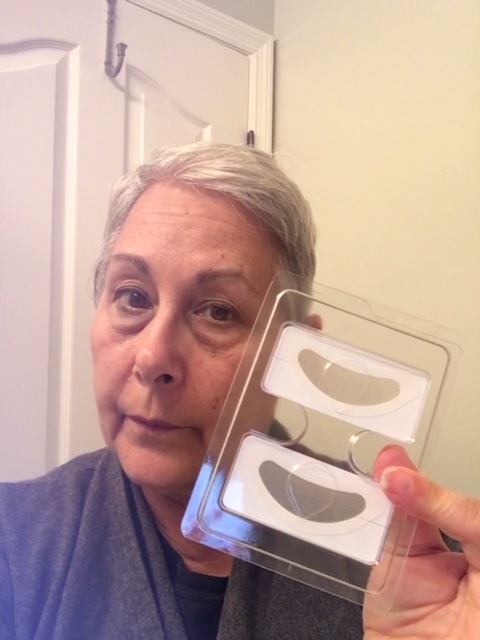 100% Hyaluronic Acid
The patches are filled with 100% PURE hyaluronic acid and the patch allows the formula to target the look of deep lines while you sleep. If the patches haven't fallen off during the night (don't worry, the patches have micro-cones which disolve in about 3 hours anyway), you simply peel them off and go about your usual morning routine.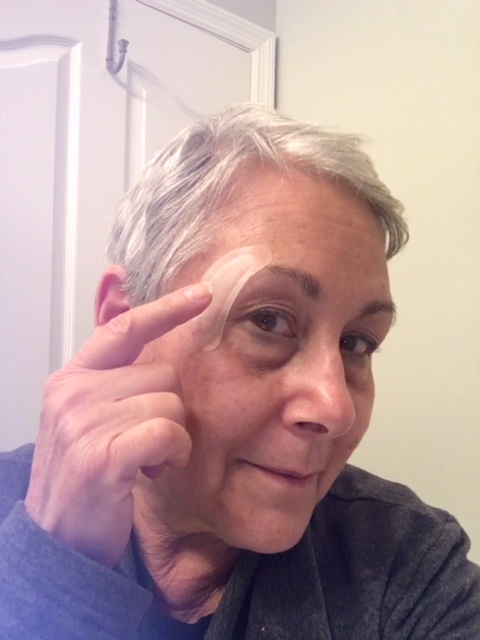 I'll be keeping you updated
So far I like the ease of use, and I feel confident that I'm using a great product on my skin. Why? Because Exuviance was created by the same scientists who discovered Glycolic Acid and patented the first Glycolic Peel, so they have a dedication to state of the art dermatology and great skin care products…all backed by clinical trials.
After my first use, the area where I used the patches had plumped making the lines appear softer. I'm looking forward to seeing what the next three weeks using the product will bring, and if you follow me on social media, I'll let you know/see the improvements.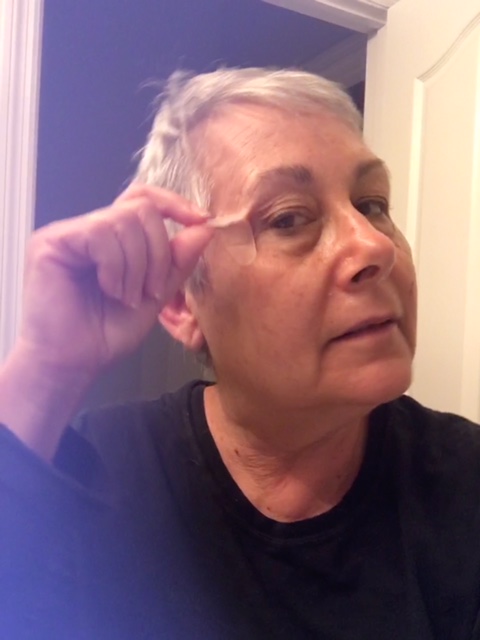 Where can you get Exuviance?
I was excited to learn that they've been featuring Exuviance HA100 micro-fill 2-step-regimen-serum patches on HSN, so you know that you'll be getting a great price (and I saw they had FlexPay as well).
Here's to chasing the fountain of youth!

Exuviance is available for purchase through HSN