Every new season I take stock of my closet. Weeding out the no longer in fashion, stitching hems, buttons and running to the dry cleaner with my classics and figuring out just what it is from this season's collection that I need to keep everything updated and fresh looking.
As you know, I've been doing a LOT of running around in and out of the stores at the Mall and I'm trying to figure out WHICH of the summer trends I'm excited about adding to my ever growing wardrobe. Making trendier choices are a bit harder than just sticking to the classics, but they're also essential.
So – What summer trends are you most looking forward to trying this year?
Some of my "go to" stores involve LOFT and the new Ann Taylor stores. This week LOFT and WhoWhatWear.com are teaming up to bring you their Summer Wardrobe Sweepstakes. All you have to do is 'LIKE' LOFT on Facebook they will be giving away a $1000 LOFT gift card every week in June — so you STILL have a chance to win! Just think about all the cute day dresses, skirts, t's, shorts, and chic sandals you could buy with $1,000.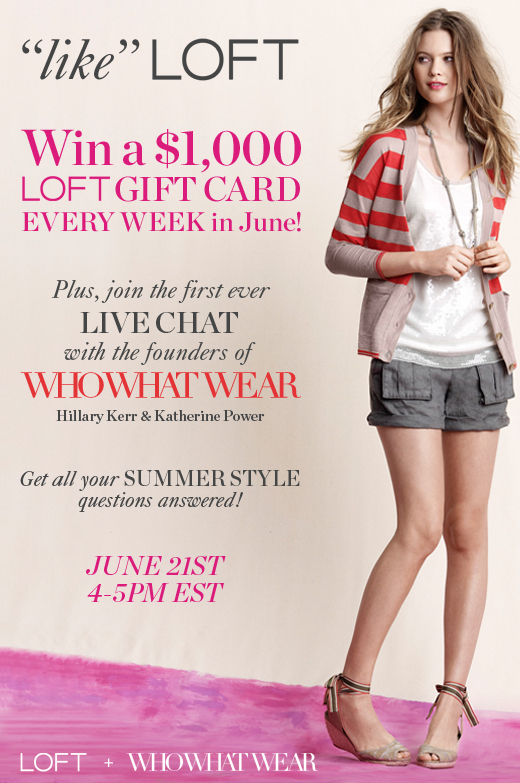 Plus, if you 'LIKE' LOFT, you'll get exclusive access to see WhoWhatWear.com's first-ever live chat on June 21st from 4-5 p.m. EST. Founders Hillary Kerr and Katherine Power (former ELLE magazine editors) will be answering all of your most important summer style questions – like how to wear this season's hottest trends so you can look effortlessly cool. Live chat viewers will also get an exclusive discount code to shop at LOFT for all of those must-have pieces. Now if that's not enough of a reason to be excited about summer, I don't know what is.
I've got a CHALLENGE for you, because I know that Champagne Living's readers are the most stylish of all. Just post a comment of What summer summer trends you're looking forward to and I'll be sure to check them out and let you know what I think the next time I go shopping!
Don't forget to enter Summer Wardrobe Sweepstakes for the chance to win a $1000 LOFT gift card and join the live chat on 06/21.
I wrote this as part of my partnership with LOFT + WhoWhatWear.com. All opinions are strictly my own.