Cilea is the only eyelash growth stimulator with ingredients that promote growth and help make the skin around the eyes healthier.
I'll be using Cilea Lash for the next 30 days. Because you can't put mascara on over the product, I'll be using it after washing my face in the evening. My plan is to only use it on my top lashes, although you can use the product on both top & bottom (my bottom lashes are quite long). As you can see it's VERY easy to apply. You just pull the brush out of the tube and run it across your lash line – just like you are applying eyeliner.
The ingredients in Cilea Lash boost hydration, stimulate hair growth and strengthen the eyelashes, while maximizing growth potential. Cilea Lash contains no irritants and unlike the prescription strength eyelash growth products, it has no side effects. It stimulates the follicle and helps the hair grow – similar to any hair growth product. Plus, it strengthens the junction (part of eyelid where the lash is held in place) so it's able to hold onto the thicker, heavier lashes.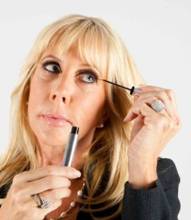 One of my favorites guilty pleasures – Vicki Gunvalson (from the Real Housewives of Orange County) is a BRAND AMBASSADOR for Cilea Lash. It's on tonight (Monday) and I'm going to get REALLY close to the television set to look at HER lashes. Seriously – have you SEEN her eyes? GORGEOUS.

I'll keep you posted with the results after I've used Cilea Lash for a while. If it works as well as they claim – you can save over HALF of what the prescription brand eyelash growth stimulators cost.
For more information, or to purchase Cilea Lash go to: http://www.cilealash.com
I received product to facilitate this review, all opinions are my own.