The Daily Grind
It's morning.
Some days it's 6am others it's 9, whatever time it is, the routine is the same. I stumble in the dark to the kitchen, after rummaging through the cabinet for a mug I shuffle to command central. I used to have to dig for a K-Cup, these days I twirl my Oak Leaf Coffee Pod Holder, choose my brew, and within seconds I'm sitting in front of the computer saying "HI" to you on facebook.
You turn the light to find some clothes
You put them on to go to the stove
You place some water on the flame
The faucet drips into the drain
You clank a spoon inside a cup
A cigarette you know you're up – Aztec Two-Step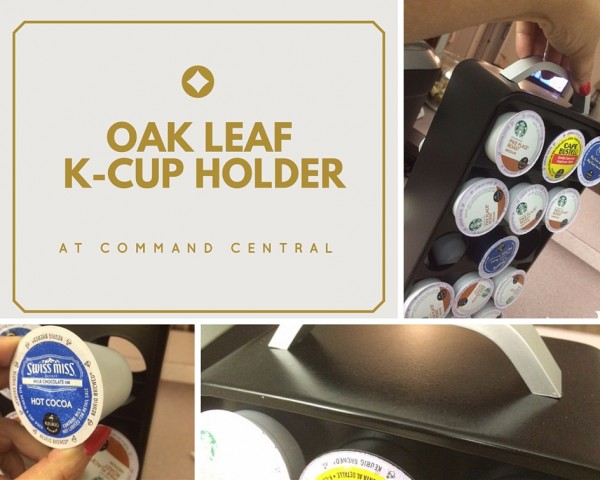 NOTHING happens before coffee…NOTHING! 
Every month I tell you about my favorite coffees. My cabinet is full of Sumatra, Colombian, Italian Roast & Kenya AA. The pantry has boxes, there is a drawer filled with K-Cups, and yes, there are even some on the counter. Organized? Until recently, you could not accuse me of being organized. It's not in my genetic makeup. That's why I have to FORCE myself by setting up processes that allow Mr. S to find things when he needs them. I needed a new way to keep all of my K-Cups orderly. Enter the Oak Leaf Coffee Tower.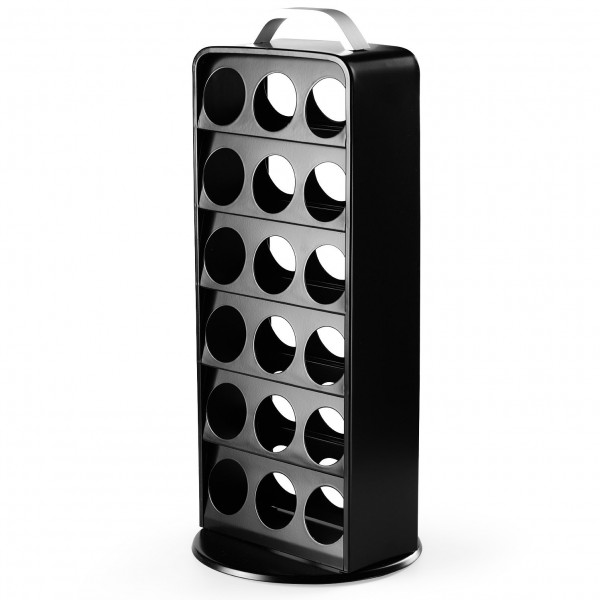 I got a little giddy when my new K-Cup holder from Oak Leaf arrived.
It spins – I'm still a kid at heart & LOVE things that spin (like bar stools, tops and now my K-Cup holder)
Choices – I can easily look at my collection of coffee, hot chocolate, etc. and choose the one I want easily
It's sleek & modern – and even a little fashionable (unlike me at 6am)
Space saving – I no longer waste precious drawer space
It fits in the cupboard – but who would want to hide it? Not me
3 dozen K-Cups at my fingertips
It grips the counter – With rubber grippers, I can spin to my heart's content & it will stay upright.
It's FUN – Fun AND practical!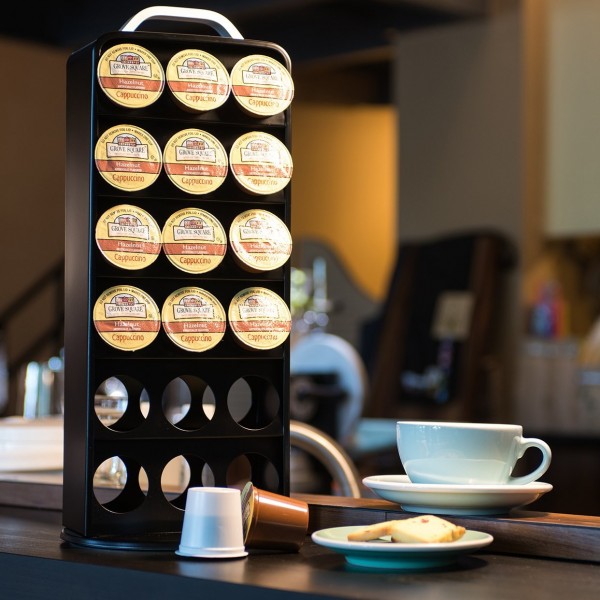 I've bought holders for my coffee pods before. The prices were all higher (double actually) and held less product. When I ordered this one from Amazon, I expected the quality to match the price (low), but I was pleasantly surprised to receive a beautiful chrome stand with a brushed chrome handle. The best part? The Oak Leaf Carousel Holder is backed by 3 Year NO-HASSLE FREE-REPLACEMENT GUARANTEE!
Want one for YOUR Command Central?


The Oak Leaf Coffee Pod Holder is available at Amazon.com
Price for the 36 K-Cup holder: $15.99
DISCOUNT CODE for 30% off: V77P2763 (through March 31, 2016)