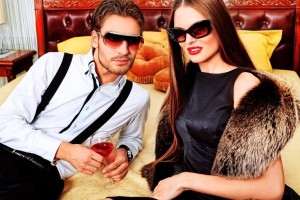 Most of us have a lot of lavish goals, but living for today and chasing your dreams can get expensive fast. Though indulgences like travel and fashion are endlessly exhilarating, not everyone who seeks life's riches boast a bursting bank account to accommodate them. The Champagne life can go flat in no time without proper financial planning.
Fortunately, you don't have to take the sparkle out of your lifestyle by being financially conscientious. Frugality doesn't take much work, and done right, it can even allow you to improve upon your lavish standard of living. Here are four easy tips to help you learn to save while enjoying all of life's little luxuries.
Check Your Perceptions
Imagine, if you will, rich people. Most likely, you picture a man and a woman dressed in sophisticated designer clothing, riding in limousines and vacationing on yachts, enjoying expensive wines and never worrying about their budgets. However, for most wealthy people, this idyllic image is far from the truth.
People who spend their money lavishly and people who have no money to spend often have identical-looking, woefully empty bank accounts. Meanwhile, the truly wealthy and the majority of wage earners in the United States also look eerily similar, as both tend to still live paycheck-to-paycheck. The fact is smart financial planning often necessitates a sense of financial lack, as any excess income is benefiting the future in emergency savings accounts, retirement accounts, home down payment accounts, and more. Financially savvy wealthy people have little excess to devote to fine luxuries every day of the week.
Thus, your dreams about a life of limitless luxury will almost certainly remain dreams, even if you manage to increase your income to six figures. Instead of picturing yourself bedecked in diamonds, you should look forward to occasional splurges on Champagne and plane tickets that won't break your bank account and send your credit reeling.
Evaluate Your Income and Expenses
This step takes a little time and a lot of organization, but once you fully understand the money you have available, you can begin preparing in earnest for the lifestyle you want. Thankfully, there are a number of resources to help you compile the information you need to analyze your finances. Some of the best are smartphone apps that automatically collect data on your various accounts and spending habits; you may look into downloading:
Mint
Pocket Expense
Mvelopes
BillGuard
You may discover that you are living outside of your means, spending more than you earn. You may need to develop a budget to thwart unnecessary spending or attain a second (or third) job to cover your basic costs. Alternatively ― but just as detrimental to your luxurious lifestyle dreams ― you may be accumulating excess cash in your checking account, but without a smart savings plan, that money almost certainly goes to waste. Once you comprehend your financial situation, it is time for step three.

Save First, Spend Later
The more extravagant your desired lifestyle, the more important it is to devote money to savings before you spend anything. Financial experts stress the need for various accounts that will protect your financial future. For example, your emergency savings account should include about nine months' worth of salary, and you should put between 10 and 15 percent of your income into retirement each year. Though these amounts might seem untenably high, the sooner you accumulate savings, the sooner you can comfortably spend on luxury.
You can set up automatic transfers from your checking account ― or even direct deposits from your paycheck ― to allocate money to these crucial accounts quickly and easily. Sooner than you know it, you will be able to afford to regularly splurge on your favorite things.
Set Reasonable Goals
Armed with a profound understanding of your income and expenditures, you can begin crafting realistic lifestyle goals. Every goal you make should be well-researched to include exact costs. For example, if you most anticipate the opportunity to travel, you should select destinations and calculate average rates for flights, accommodations, food, entertainment, and other common travel expenses. You should maintain strict rules for your indulgences to avoid breaking your budget and toppling your carefully constructed lifestyle.
Though the Champagne lifestyle might sound like driving sports cars and having bountiful bank accounts, the true route to riches is more often leads to occasional splurges on the activities that bring you the most joy. Once you find what you love and start working hard to attain it, the Champagne lifestyle will come to you.