Almost two weeks have passed and the buzz about the fabulous 4th of July party in Fort Lauderdale is still going. There's nothing like getting a group of good friends and close family together to celebrate. While the 4th may be gone, in my book a party is a party and at the mansion we don't need a reason to celebrate. Just being together is celebration enough.
Reddi-wip was there for me as my brother and I threw our annual 4th fête and allowed my fruit dessert to absolutely SHINE! Since that party, I've thrown together everyday desserts with Reddi-Wip like the 100 calorie Strawberries on a Cloud that took a minute to put together and LOOKED BEAUTIFUL. What a great change from just popping a couple of cookies in my mouth after dinner. YUMMY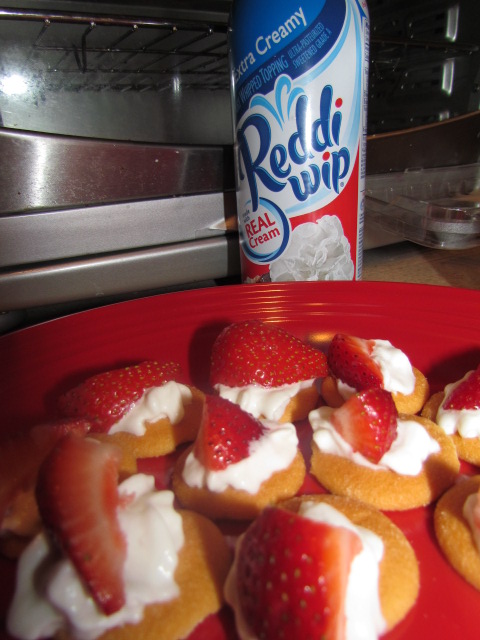 Ingredients
3 vanilla wafers
Reddi-wip Original Dairy Whipped Topping
1 large fresh strawberry, sliced into thirds
Directions
Place vanilla wafers on serving plate:cover each cookie with one-half serving (1 tbls) Reddi-wip.
Top each cookie with a strawberry slice on the Reddi-Wip.
Serve immediately
A couple of minutes and you have a delicious low calorie dessert.
My party may be over, but for one of my readers YOUR Reddi-Wip party is coming soon. That's because Reddi-Wip is giving one of Champagne Living's readers a FABULOUS prize, just like the gift that I received for my party.
It includes:
Reddi-wip coupons
Reddi-wip Recipe cards
Green Picnic Basket
Wire Fruit Bowl
Cocktail Shaker
Cocktail Recipe Book
Pitcher
Beverage Dispenser
$100 Gift Card for Florist
GIVEAWAY
Extra Entries
* Tweet me @zipporahs and tell me how YOU use Reddi-Wip. Use the hashtag #reddiwip
* Comment below with your favorite way to use Reddi-Wip. Recipes are always welcome
* Subscribe to Champagne Living
* This giveaway is open to US residents, 18 and over and ends on July 28, 2011
* Good Luck