While the Butterball may be the star of our dinner here at the mansion, nothing says Thanksgiving dessert around here more than a traditional NY style cheesecake.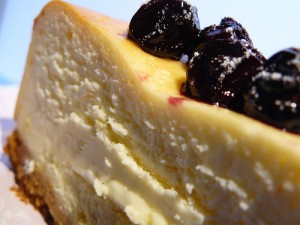 Ingredients
5 oz finely ground Graham crackers (I buy them already ground)
5 TBLS. unsalted butter, melted
1 C sugar
1/8 tsp salt
8 5-oz bricks of Cream Cheese
1 3/4 C sugar
3 tbls flour
grated zest of 1 lg orange
grated zest of 1 lemon
5 large eggs PLUS 2 large egg yolks
1/2 tsp. vanilla extract
Assemble
Base
Mix together – graham cracker crumbs, butter, salt and c. sugar
Press into a spring form pan
Refrigerate for 2 hours
Cheesecake
Beat together cream cheese, sugar, flour, and zests.
Add eggs and yolks, one at a time.
Add the vanilla extract
Put spring form pan with crust in a shallow dish and add boiling water to act as a water bath (this will keep the cheesecake from cracking).
Pour filling into crust and bake in the water bath in the middle of oven for 12 minutes.
Reduce the temperature to 200°F and continue baking until cake is mostly firm but still wet and wobbly in the center.
Cook for approx. 1 hour
Cool in the oven and then overnight in the refrigerator.
Bring to room temperature before serving and garnish with strawberries, raspberries, caramel syrup, or whatever you like.
Photo courtesy of Bloggyboulga.