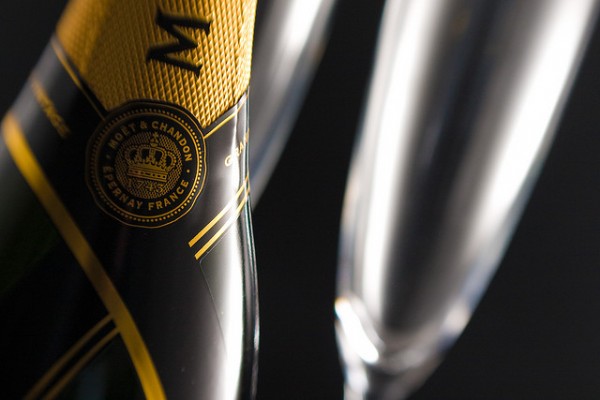 One of the best parts about New Year's Eve is breaking out the champagne or sparkling wine to cheer in the coming year. The difference between the two is that Champagne is made only in the Champagne region of France and sparkling wine is made everywhere else and people use the words interchangeably. Sparkling wine creates a wonderful signature drink for the night and adds a little festivity in a glass to any party.
Adding berries to a Brut Champagne or Sparkling Wine is by far the easiest way to create a bubbly cocktail.
Start with strawberries, raspberries, or blackberries – or a mix of all three – by filling the champagne flute almost to the top with the berries. Pour in the sparkling wine and allow the first round of bubbles to dissipate then pour in more champagne and allow it to sit for a couple minutes, allowing the fruit to absorb the wine. This bubbly cocktail is easy to prep a few minutes ahead of guests arriving and has a great light refreshing taste making it easy to drink all night long.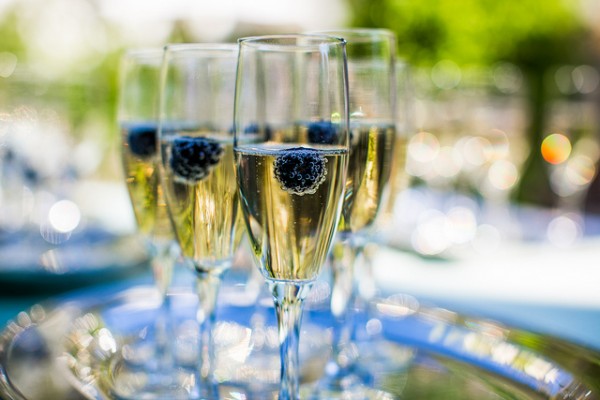 Another great bubbly cocktail that you can prep ahead of time includes muddled fruit.
This time instead of tossing in your berries whole, you will want to either blend them together and scoop about ¼ cup into each flute or smash the fruit with a muddler or a spoon after you have placed it into each flute. The fruit should have a smoothie-like consistency. Add in your favorite champagne and watch as the fruit mixes in with the wine as the bubbles rise to the top. This muddled cocktail will be sweeter as the sugars from the fruit blend easier with the sparkling wine. This bubbly cocktail is best with a Brut if you want a dryer, crisp taste or a Spumante for a sweeter drink.
One of my favorite ways to dress up a sparkling wine for New Year's Eve is with flavored liqueurs.
If you want to just have one liqueur on hand, you can't go wrong with either St. Germaine or Chambord as an excellent add in. Pour in 1 ounce of the liqueur to the sparkling wine and garnish with a lemon swirl or a couple blueberries. If you want to have a DIY Champagne Station, you can have other liqueurs available like elderflower, ginger, or Peach Schnapps and let your guests create their favorite bubbly concoctions.
New Year's Eve is a great time to let wow your guest with a great tasting bubbly cocktails. Remember when working with berries that are very ripe, they will be sweeter making your cocktails sweeter too. If you want a more tart taste, then use fruit that has just begun to ripen.
4 Bubbly picks that won't break the bank
Sigura Viudas – I'm enjoy a great CAVA and I've been sipping their Brut Reserva for YEARS now. $10.99
Tesoro della Regina Prosecco – This is a nice crisp Prosecco with a fresh, clean finish. $16.99
Freixenet Cordon Negro Brut – I love this CAVA so much, that I used to have Freixenet Fridays here on Champagne Living. Now, THAT'S a tradition that needs to come back. $14.99
VOGA Italia's Prosecco – This wine is refreshingly balanced with an explosion of citrusy fruit flavors. $13.99
Don't forget to aerate your champagne before pouring! Just like other wine's it needs to breathe. At the mansion we use the Vinturi White Wine Aerator for our sparkling wines and champagnes too!
While I was doing research (tough job, trying wine), I learned about a delivery service in New York called BoozeCarriage.com. They are the first local NYC alcohol delivery service that brings your favorite beers, wines, spirits and bubblies right to your door and the best part is delivery is fast (60 minutes or less) and free (no markups or ordering fees, so outside of your generosity to couriers, there are no shipping costs). OK, so I live in South Florida and I'm jealous, but if you FORGOT to pick up the bubbly for your celebration, you can always have it delivered.
photo credits: 96dpi via photopin cc and Thomas Hawk via photopin