Orange Mud HydraQuiver
I run.  I used to run for hours some times without stopping.  It's how I have rebuilt myself.  I'm not your prototypical runner either, I'm a big guy so I dehydrate easily but I still love to run.  This was how I did it BEFORE I received the HydraQuiver from Orange Mud to review.
I have a problem I like to hydrate while I go. It is annoying to carry a bottle with you or a backpack and most of my running shorts don't have any pockets so I would have to put a couple dollars in my sock and half way through my run stop at a gas station and buy a bottle for the rest of the way.  That kind of sucked because I would have to find my pace again. This will never happen again now that I have found the HydraQuiver by Orange Mud.
Holy crap is this thing cool! 
I can run and I don't even notice it and it has pockets for my phone and whatever else I need.  Being able to run hands free is a great feeling.  It fits like a glove.  I honestly think this has been missing from my runs for too long.  I use it on short and long runs every day.  Not having to put anything in my pockets is also a giant plus.
The bounce of the pack is really less than expected.   The quality of the materials and the processing seems to be good and durable.  I am able to keep my keys, money, ID and a snack with room to spare. Completely filling the supplied water bottle keeps it from not flop around and I'm able to reach back to grab the  24 oz BPA free water bottle that is included, and putting it back is easy and nearly foolproof. It also is kinda sleek and stylish as well all be it a bit unusually looking.
I'd never tried running with running packs before the Orange Mud Hydraquiver, and I can't imagine running without one now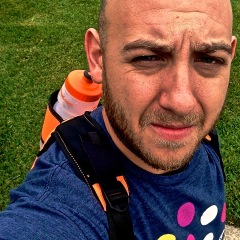 that I've been using it.
As the saying goes, you get what you pay for – this may seem expensive at first glance at $84.95, but something that works well and is of high quality is worth that sticker price.
Technical Specs
Cargo Capacity – 54 cu in
Weight with bottle – 314 grams
Super breathable nylon
Designed and made in the USA
Secure storage for smartphone, mp3, tape deck
Hydration capacity: 21 to 26 oz (bottle included)
Uber thick back panel for big air flow
Patent pending.
 Disclosure of Material Connection: I received the HydraQuiver for free from Orange Mud as coordinated by Deep Creek Public Relations in consideration for review publication