I received complimentary product from Orvis for this review.
I may live in South Florida, but I'll always be a New England gal at heart. With 50 years of my life spent in the Northeast corner of the country, I grew up with a Yankee sensibility. That's how I'm able to do everything that I do now. My mom always taught me….don't waste your money on cheap things because you'll pay more replacing them in the long run. Buy classic quality and you will enjoy many years of enjoyment.
Classic fashions are a time honored tradition here. Weekend drives to Kittery, ME meant that we could sneak into the Orvis Outlet and stock up on our favorites. They're the kind of clothing that is always instyle…casual, classic, and timeless. Pieces bought 20 years ago look just as good today.
My fashion sense
I'm just not the type to done glitter and animal prints. My fashion sense runs to striped boating shirts, simple blouses, and khakis, all with clean lines. Life in Florida is casual…sitting by the pool, strolling the beach, and taking Clem the bull-terrier for walks, with makes the new Spring line from Orvis a perfect fit for my lifestyle. Offering an array of lightweight and soft fabrics, the collection offers transitional pieces perfect for staying stylish during your spring travel or at home adventures.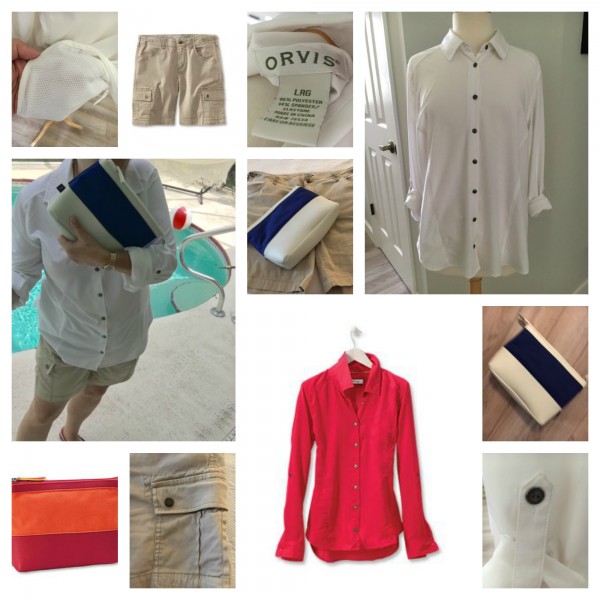 A pair of chino cargo shorts, a white Florence travel blouse in a wrinkle resistant fabric lined in the perfect wicking material to keep the moisture away from my skin on a hot summer day, all set off with a classic boat striped Fiji colorblock pouch, just large enough to tote my daily essentials.  The new collection specializes in providing women with functional and fashionable pieces that can be incorporated in everyday wear whether it is for a canoe ride on the lake, running errands, or an afternoon with the girls.
Details

Attention to features that are a mix of fashion and function are one of the keys to this new Spring line, and I love the little things that give the line that goes from Ogunquit, ME to Delray Beach, FL with ease.
Enter to win one of ten $100 gift codes to Orvis
Orvis
Refresh Your Wardrobe Giveaway
Enter for a $100 gift code that you can use for the new spring collection available at Orvis
Contest opens on March 28, 2016 and closes May 2, 2016
Enter by choosing a social media sharing option from the social media tool


SAVE $25 off a purchase of $50 or more with coupon: ICSPRING (good thru September 30th 2016)