One of the best ways how you can learn about the country you are traveling to is surely by attending their traditional festivals. Of course, there is a broad range of those located in every small corner of the world, but today we would like to emphasize one type of festival worth visiting – food festivals!
To be fair, these festivals are not ordinary food celebrations, where everyone sit down and eat. These are a little bit different, and as Travel Ticker team is going to prove that bellow, indeed are a bit strange and unconventional too. So, if you are ready to explore what interesting happens each summer all around the globe – get to the article right away and plan your trip according to those festivals too!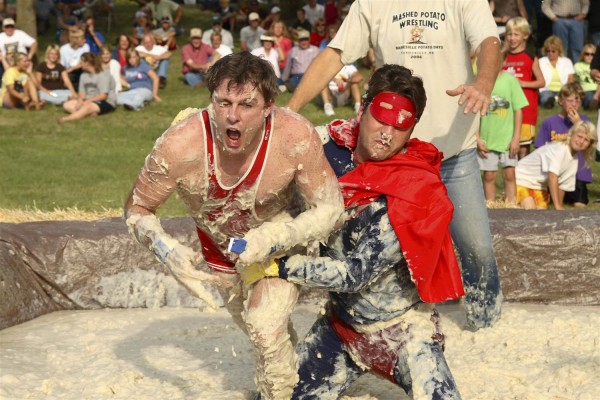 1. Potato Day's Festival, Barnesville, Minnesota 
If you love potatoes more than anything, than a unique festival dedicated to this treasure of nature is a must-visit for you! Barnesville in Minnesota each August throws a huge celebration of this beloved vegetable where people can not only eat dishes from it but attend various other activities with potatoes too. For instance one of the most famous attractions is a so-called Potato Wrestling Renowned. Here people are literally wrestling in a huge pit full of potato mash. Visitors to the festival should expect to experience two days of wacky activities and tastings after which you won't look at potatoes for a while for sure!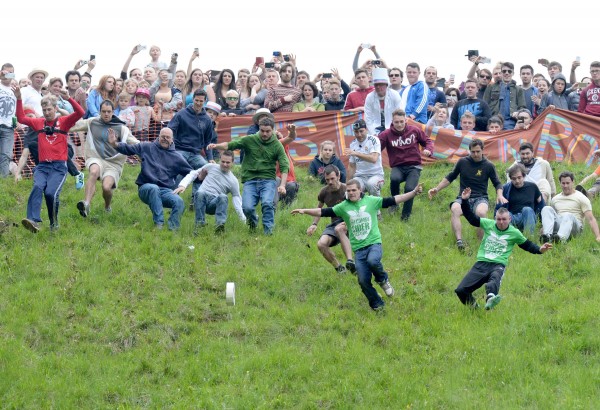 2. Cooper's Hill Cheese-Rolling, Gloucester, England
If you ever thought that cheese festivals are just all about sitting and tasting them, you should head to Gloucester and see with your own eyes how wrong you were. As the name of the festival gives a hint, this celebration is all about rolling the cheese down the hill, rather than just tasting it. However, this doesn't mean that the festival is somehow wrong – in fact, no matter if you are a contestant or just an observer, this festival that takes place each May is fun to watch for sure.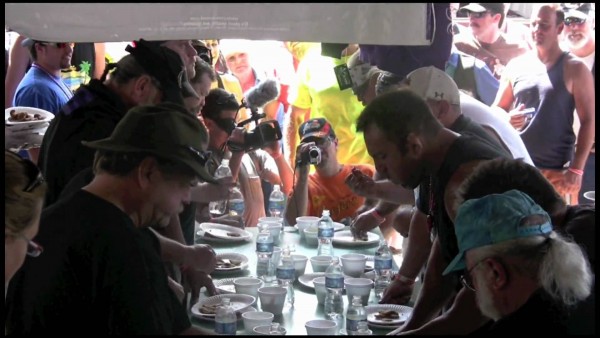 3. Testicle Festival, Rock Creek Lodge, Montana
Considered being one of the weirdest traditional America dishes, naively called 'Rocky Mountain Oysters' also has a unique festival celebrating this odd dish. If you are new to this, we would like to say shortly, that "oysters" in this dish are no oysters at all. As the name of the festival suggests, it is actually bull's testicles people cook in many different ways and eat. It is mandatory to mention, that this festival is strictly adults-only, for understandable reasons, and it should be attended to those people who are strong with will and stomach. Festival takes place each year towards the end of July and offers oil wrestling, wet t-shirt competitions and lots of public nudity. 'No Panty Wednesday' offered a free drink in exchange for underwear too, so if you would like to attend a food festival which is like no other – you know where to head this summer.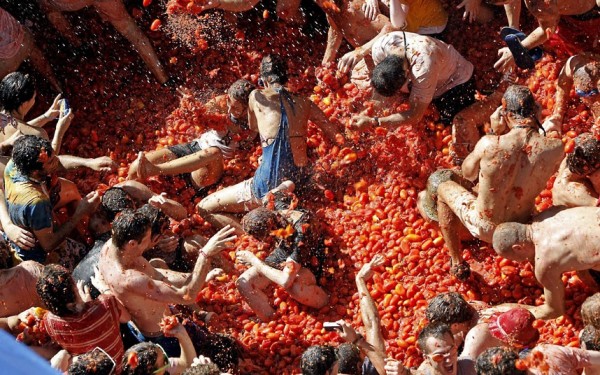 4. La Tomatina, Bunol, Spain
Surely you have heard just a bit about this traditional Spanish way of celebrating their harvest! Each year, in the very end of August, thousands of locals and tourists battle in a massive food fight with the main weapon of over-ripe tomatoes. So, if you would like to attend it – forget about wearing your best clothing! This one-hour long fight and celebration will never be forgotten for sure. And the only rules seem to be that tomatoes must be squished pre-throw to prevent injury and that the tomatoes must be dropped the moment the water cannon signals the end of the battle.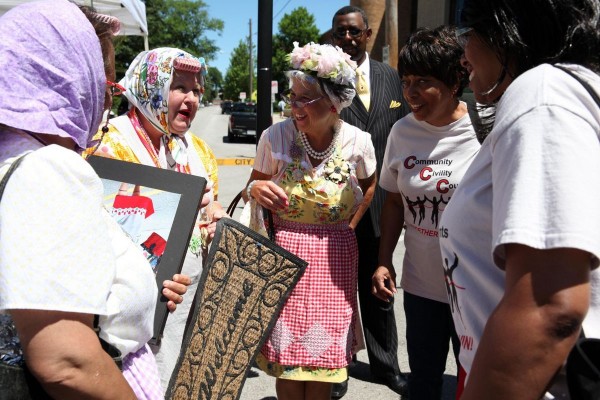 5. Pierogi Fest, Whiting, Indiana
The last food festival also takes place in The United States, but has a lot of European taste in it! If you have some Polish heritage or just love so-called pierogi, this festival is the perfect way to spend your last weekend of July. Each year, Whiting city in Indiana, and especially their women, dress like their babushkas (grannies) and head to the town center. So, don't be surprised to see a lot of ladies of the town covered with housecoats, curlers, and head scarves parading down the street dancing the polka. The parade is also usually led by emcee Mr. Pierogi and other food figures, including Ms. Paczki (a Polish jelly donut). So the festival is a perfect celebration of traditional Polish cuisine and their people where you can taste the most delicious desserts and dishes from Eastern Europe!