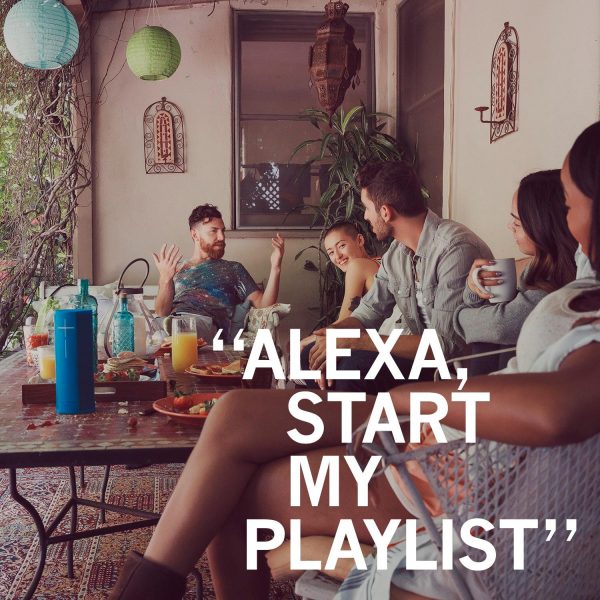 THAT PHRASE IS SOMETHING THAT I SAY ALMOST DAILY.
Whether I'm outside at the pool or sitting in the office writing, music drives what I do. It can be a background to my creative juices or a beat to work out to when I do my water-aerobics. So it's no shock that I'm excited about the theseUltimate Ears MEGABLAST and BLAST portable speakers.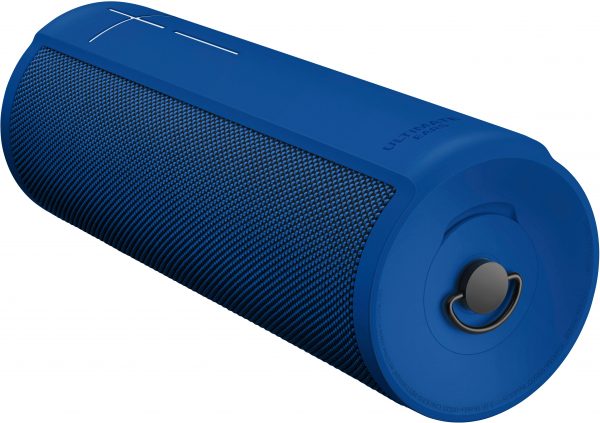 MegaBlast
Neighbors beware, because when I'm outside, I'm BLASTING my music and this Ultimate Ears MegaBlast is the most POWERFUL speaker. With clear as a bell sounds and a rocking bass, I can enjoy everything from the YoYo Ma to Poison and feel like I'm RIGHT THERE next to the stage. The fact that this speaker has Amazon Alexa built right in (making it hands free – perfect while I'm in the water) means that I can do everything from remind me what time I need to get out to make dinner to listening to my Amazon music. When the neighbors come out and stare, all I have to do is give the voice command to make it LOUDER or softer (depends on the look on their faces).
Because it is Bluetooth (it's got a 150ft range) and Wi-Fi capable (up to 330ft), listening as I swim means no wires, AND IT'S RECHARGEABLE, so I can sit on the beach or a nearby park and enjoy up to 16 hours of music. No worries about having to shut it off when you recharge it, as you can play and charge the speaker simultaneously using the optional cradle or included wall charger.
Blast
From the kitchen to the bedroom and back to the living room. When you work at home, you spend a lot of time juggling your time between housework and blogwork. I could be folding clothes in the laundry room one minute and tweeting on my phone while I watch TV the next. An hour later I'll be sitting in my office writing and have to get up when the alarm goes off in the kitchen.
Blasting 360° intensely rich sound, the Ultimate Ears Blast speaker has stunning clarity and deep, heart-pounding bass, brings music to life. Yes, the MegaBlasts relative gives great sound…plus it's water-resistant. I could set it in the living room (which is at the center of my house) and hear James Taylor singing Angels of Fenway from one end of the house to the other with a beautiful sound.
It's dust proof – and in this house (with a dog AND my lack of cleaning skills) that's a HUGE PLUS. I could take it outside with me, and the IP67 rated speaker can be immersed in liquid up to 1m for up to 30 minutes so I can bring this speaker outside with me as I'm in the pool as well. The beam forming technology and noise cancellation give this speaker a smooth far field voice recognition and control experience.
Coming SOON
I love that they are constantly working on upgrades for their speakers. New features on the near horizon include
Voice control on Spotify and more: Using voice control is as simple as "Alexa, play my Discover Weekly" or any music from Spotify on these two speakers. Spotify will soon join other Amazon Alexa supported music services such as Amazon Music, Deezer and TuneIn globally; and Pandora, iHeartRadio and SiriusXM in the U.S. Talk about being able to expand  your music choices!!!
A better way to listen with Spotify Connect: Both of these speakers will be the first Ultimate Ears speakers to integrate Spotify Connect. When on Wi-Fi, you simply open the Spotify app on your phone and play music directly to our speakers (under "Devices Available") without the need to pair through Bluetooth. Plus, with Spotify Connect, text message or make calls without interrupting the music and save your phone's battery.
So BRING ON THE BLASTS
With your college kids heading back to campus (or going for the first time) both the Blast and MegaBlast will be the speaker that will go with them from their dorm to the quad. It's the perfect "We'll miss you" gift that says HAVE FUN while you study.