Thank you to our West Coast writer Kathy Leong for this great piece on Yountville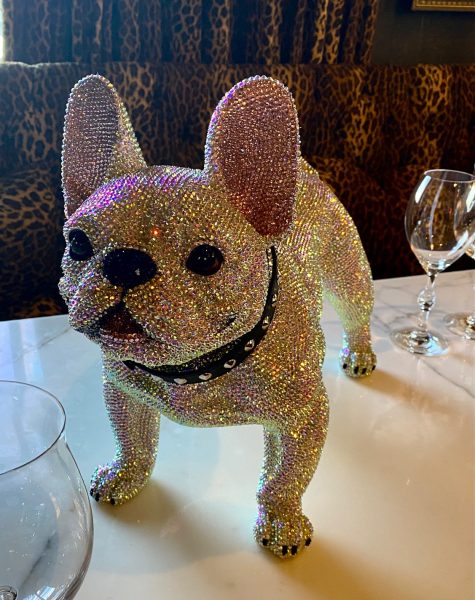 Take one French bulldog sculpture dripping in Swarovski crystals, add a glass of pinot noir paired with potato chips, and top it off with a $1,000 dinner tab. Mix them all together and you've got one heck of an eccentric weekend in Yountville, deep in the heart of Napa Valley, Calif.
Beneath the town's quiet façade, you'll find a witty, mischievous spirit expressed through its lodging, wine, food, and art. Located off Highway 29, Yountville's most notable artery is Washington Street, where everything falls into place.  All you need is here, from a main post office to an all-purpose market to posh boutiques touting jewelry and artwork. Only 1.5 miles square, Yountville reports a population of over 3,000, with half as residents in the nearby veteran's home. The remaining 1,500 or so are Baby Boomers and retirees basking in the good life of wine country.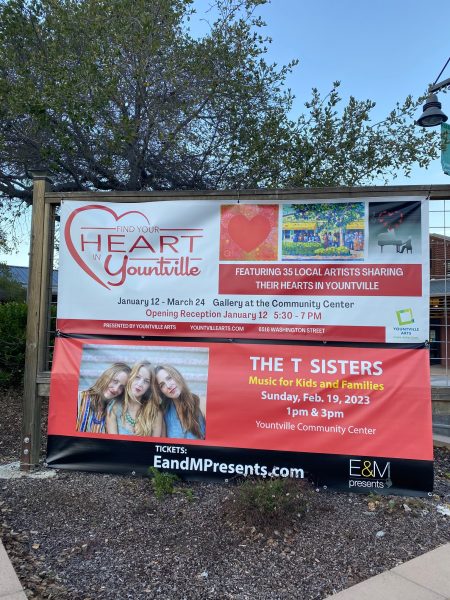 And life is good in Yountville. The upcoming Valentine's Day event called Find Your Heart in Yountville is a community favorite. The event features a scavenger hunt for little glass hearts strewn along the art walk. Over the course of a month on weekends through March 22, volunteers will hide some 200 hand-blown hearts created by artist Patty Wessman.  "I have to always make sure no one is following me," smiles Dr. Cindy Kapjian, one of the art docents who will be waking up early to hide the trinkets.
LODGING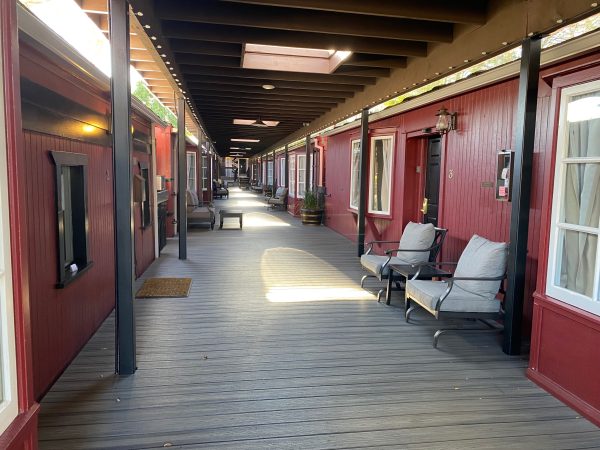 Yountville boasts an eclectic assortment of hotels, bed and breakfasts, and everything in between. One of those "in-betweens" is the unique Railway Inn where you can sleep in one of eight converted, 125-year-old railway cars.
Note: if you sleep in #4, note that it was the former caboose cabin for cattle. It is the bargain of Yountville for under $300. Moo!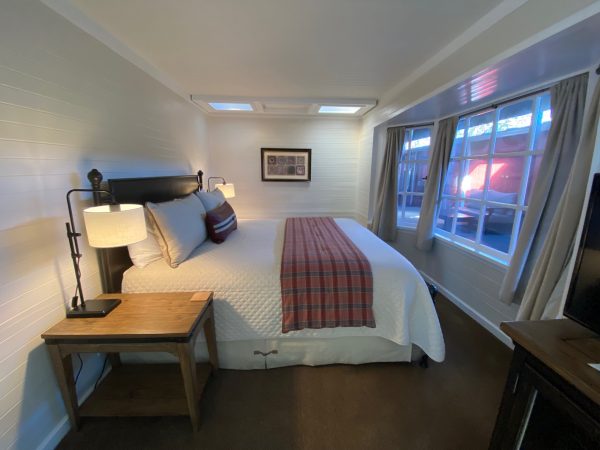 Decked out in country contemporary decor, each galley-length unit comes equipped with its own bathroom, refrigerator, flat-screen television, sitting area, and a pillow-topped king or queen bed. There's an innkeeper's attention to detail in providing wine glasses and corkscrews, plush robes, and thick, soft absorbent towels.  It's quite roomy, really.
WINE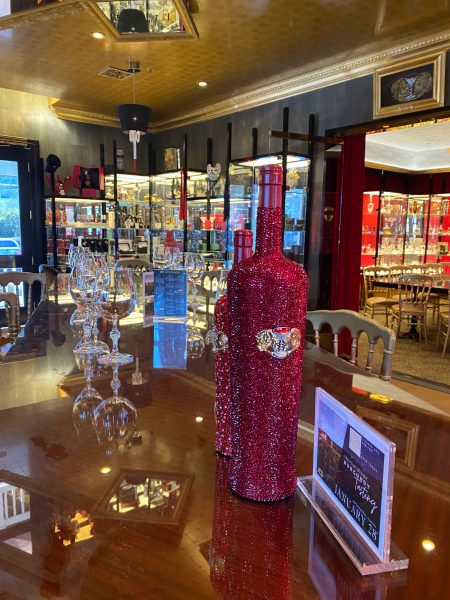 Adding to the palette of diverse experiences is JCB Tasting Salon. The surreal atmosphere will make you feel you are in a dream sequence of the Twin Peaks TV series.  The dark velvet drapes, crystal-studded bulldogs, and gold and glass tables (oh yes peacock feathers, lot of them) make up some of the most unusual eye candy you'll ever see in a wine room.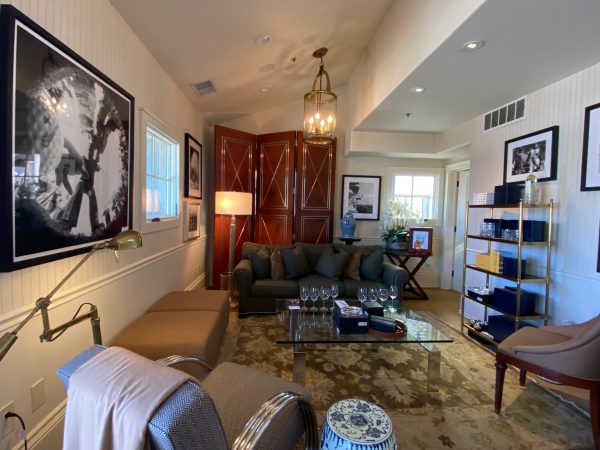 Steps away at Silver Trident Winery, a potato chip pairing with wine seems as natural as macaroni and cheese.  Sip five wines and inhale gourmet chips with a variety of Cajun spices.  Each space in this tasting cottage is like a room in a house, with a library, a dining room, a living room, and more. Turns out you can purchase anything you are standing on, sitting on, putting elbows on, as well as drinking from, thanks to the partnership with Ralph Lauren Home Collection.
And down the street, Heston Vineyards appears to be a cookware store, and you are partially right.  Heston cookware founders, Stan and Helen Cheng are passionate wine lovers, so in 2013 they opened the tasting salon to showcase both their beloved signature wines and sell their high-end cookery line.  While you check out the pots and pans, you can opt for a unique vertical tasting to sample the same grape from the same plot after several years or a horizontal tasting to try the same grape planted in different plots harvested during the same season.
FOOD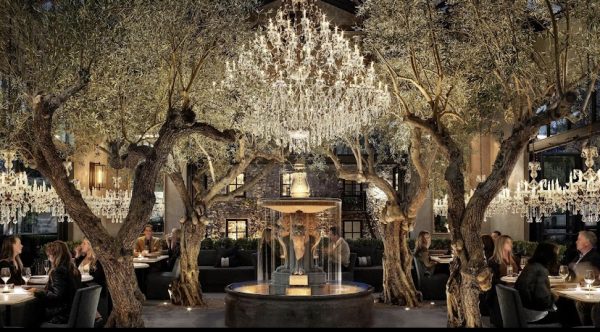 Whether it's the romantic ambiance you seek or bragging rights to expensive eats, tiny Yountville delivers.  Ever dine inside an olive grove? One that is indoors? You can at RH Restaurant, where mature olive trees and monster-size chandeliers transform the space into a magical forest at twilight.  Eats here include an old-fashioned lobster roll, charred ribeye, and black truffle fries.  Just for fun imagine the truffles were harvested by fairies and grated by kindly trolls.
Next time you have $1,000 to drop, consider French Laundry, Yountville's three-Michelin star pride and joy, which once was an actual laundry. Maybe you are a lottery winner or just received a surprise inheritance from a long-lost great-aunt. Try to stay alert during the three-hour extravaganza laden with ten courses for a food coma of epic proportions.
Meanwhile, there's something in that secret sauce at Mustards Grill that has kept patrons flowing through the doors for 40 years. Open seven days a week, it packs in crowds nightly under the watchful eye of founder and chef Cindy Pawlcyn. This roadside diner is a classic Napa Valley treasure with tummy-satisfying roasted half chicken and its famous seared Mongolian pork chop. The crazy long, wine list in tiny font and lengthy entrée menu just isn't fair for those of us that have difficulty making choices.
ART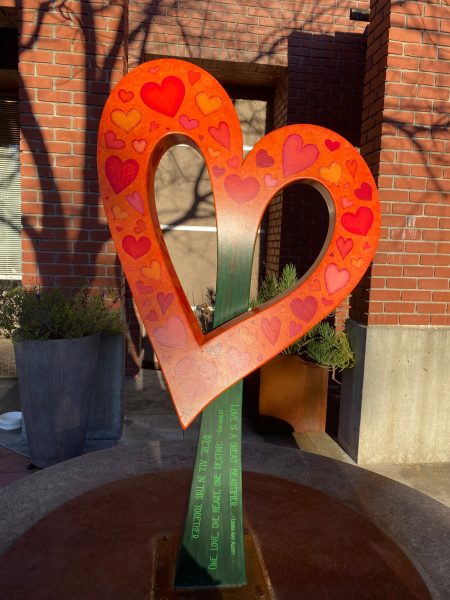 A feast of a different sort has hung the walls of Jessup Cellars and is stationed on the premises of Cliff Lede Vineyards.  Fortunately, the buffet of paintings and sculptures is always zero calories no matter how much you stuff yourself.  Fill your gaze to the brim at Yountville galleries offering fine and contemporary art.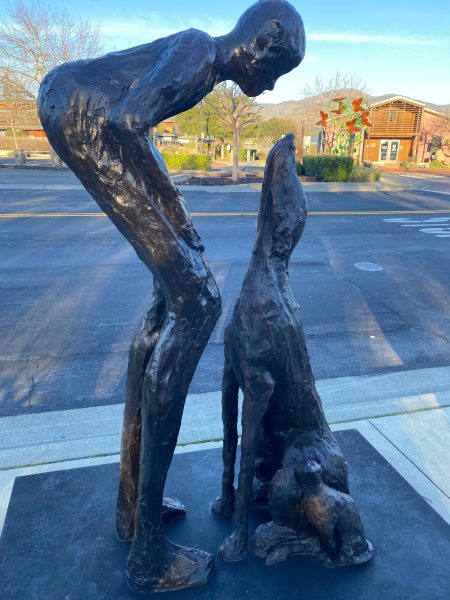 And outside, more than 30 commissioned sculptures line Washington Street. Go on an art tour presented by a Yountville Arts volunteer who will walk you past the grove of rock mushrooms and tell you the touching story behind the 'boy and his dog' sculpture called Who Rescued Who. And a short drive away, the Napa Valley Museum in Yountville features historical artifacts as well as rotating works from artists nationwide.  The gift shop sells toys listed from the exhibit Dangerous Games: Treacherous Toys We Loved as Kids. You'll never think of Twister the same again.
Anyone can find a reason to visit Yountville.  If not for the food and wine, go for the art and shopping, and especially for the French bulldog.