When I was younger, I used to think that aging meant giving up on your dreams and ambitions. settling into a more sedentary lifestyle, and generally just winding down. But I'm happy to say that I was wrong! In 10 days I'll be 69 years old, and I am enjoying life more than ever before and redefining what it means to age gracefully. With VERY few exceptions, I think that I live more fearlessly today than I did in my 20s.
Here's how…
When most people think of aging, they think of wrinkles, gray hair, and achy bones. But that's not what 69-year-old me is all about.
Most people my age are slowing down and taking life a bit easier, but not me! At almost 69 years old, I am as energetic and fearless as ever. Whether I'm exploring Thailand in a campervan or learning to speak French (again), I'm not your "typical" retiree – and that shows no signs of changing anytime soon. I have truly embraced the idea of aging gracefully without losing my zest for life. Although I may have some wrinkles and gray hair, I defy the expectations of what getting older looks like – continuing to be an active and vibrant example whomever I come into contact with, either here online or in my REAL life (whatever that means).
At my age, I am more active than ever.
I regularly go for 2-3 mile walks around my neighborhood, I go out with friends, and my career is going in the direction that I want it to.
I hope to prove that it's never too late to pursue hobbies and stay active. Every morning, I am up and off for a walk around my neighborhood at 9 am daily with my friend Jaimie, followed by an hour on my exercise bike (you know, the one that I found on one of my walks by the side of the road), and I credit these (along with working with a preventative health team and dietitian) which I credit for keeping myself limber and strong. That's still not enough for me though; I have begun some new writing projects, am doing wall pilates and more! I hope that I can demonstrate that age really is just a number when it comes to achieving great things.
What's my secret to feeling young at heart? For me, it's all about staying positive and keeping an open mind. I'm always learning new things and trying new experiences.
My attitude towards life and learning is second to none. Staying positive and keeping an open mind has been the pillars of my healthy life. I'm not content to simply stagnate in one place and am always looking for new ways to challenge myself and shake up my routine. Whether it's learning a new skill or just trying something new like going hang gliding (like a did a few years ago), I never stop staying engaged with the world around me.
It's never too late to try something new or embark on a new adventure – no matter your age!
Proving that getting older doesn't mean you have to stop doing the things you love or giving yourself new experiences is important to me. SI began my blogging career in my 50s, an age when most people would be content staying exactly where they are in their comfort zone. I want to prove that it's never too late to challenge yourself, take risks, and try something completely different – no matter your age! Unconstrained by traditional expectations of what growing older should look like, I want to show you that there is nothing stopping somebody from having an exciting and fulfilling life at any age if they're open to learning, growing, and trying things outside their comfort zone.
Age does not define us; rather, it is our attitude and willingness to take risks that truly shape us. It is so important to think outside the box and seek out new opportunities regardless of our age. Whether it's taking a yoga class or learning an instrument, trying something unfamiliar provides a welcome distraction from everyday worries and expands our horizons. Getting older doesn't necessarily mean slowing down: if we approach life with an open mind and heart, anything is possible! By viewing aging through a positive lens, we can live fuller lives that enrich our experience on Earth.
Never stop exploring and discovering new things – no matter how old we are! Oh and go ahead and use filters if it makes you feel better. You've earned the right to present yourself to the world ANY WAY THAT YOU WANT. LOL – that being said, I put an overly filtered photo of myself at the top that I hate. If you watch The Compass Girls show, you know what I really look like.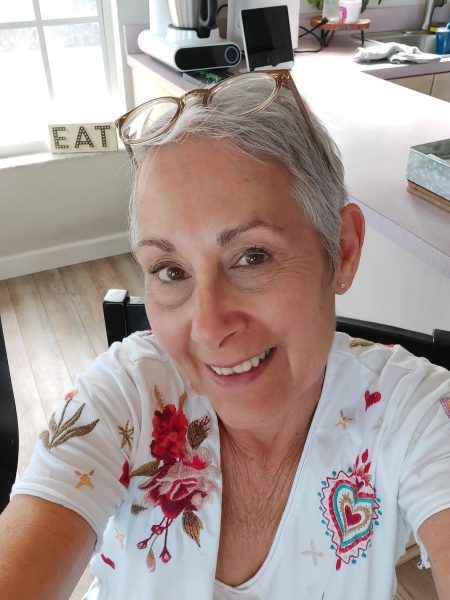 Like THIS (look at those crow's feet…I mean SMILE lines).