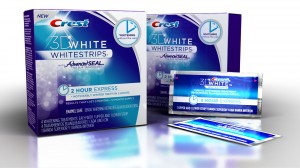 As I get ready for my mecca to Paris next week, I've had to go through my wardrobe and see what fits (and will be fashionable enough for the streets of Paris), schedule my mani/pedi and make sure that my smile is as white as can be. Time is an issue, as I have a LOT to pack into the next few days and a trip to the dentist for a tooth whitening was just NOT an option, so I decided to try Crest 3D White 2 hour Express Whitestrips. In only TWO HOURS you can whiten your teeth from
THIS
TO THIS

In just 2 hours (120 minutes) I went from a coffee stained smile to a brighter, whiter one.
They were easy to use and I LOVE the fact that I've got a YEAR'S supply of strips, so that I'll be ready for ANY occasion in the time it takes me to shower, do my hair and put on my makeup (see…I've got it ALL timed).
What's different about Crest 3D White 2 Hour Express Whitestrips?
Just 2 hours (rather than every day, week, etc.) to a whiter smile
ENAMEL SAFE
A thicker layer of the ingredient that whitens – you'll definitely notice the difference
Advanced Seal Technology – it notches around your teeth for more comfort
Easy removal – no messy goop when you take them off
Teeth stains are removed below thee tooth's surface QUICKLY
$54.99 a Box (but look below for a BIG coupon) – much less than a one hour whitening at the dentist (& you've got a years worth of treatments)
Available at drugstores, mass merchandisers, supermarkets, etc.
As PROMISED – here's your coupon for $7.00 OFF of Crest 3D White 2 hour Express Whitestrips.
For more information on this and other Crest 3D White products – visit their website 3D White.
Visit their FACEBOOK PAGE for a chance to WIN $25,000!
I am participating in a Crest 3D White 2 Hour Express Whitestrips campaign hosted by One2One Network. This is a sponsored post. All opinions are 100% my own