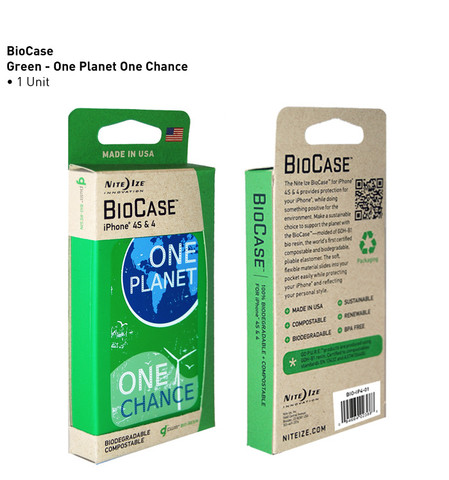 I don't know about you, but I'm on the phone WAY TOO MUCH (just ask my bestie Jewel, or my son Ben). Since what you might see when you're passing me on the street walking the dog, at a stoplight in the hybrid, or walking through the mall is the "other side" of my phone, I figure you should at the very least see something that's either amusing, makes a statement, etc.
In honor of Earth Day I'll be covering my mobile work center (um, my phone) with the Nite Ize BioCase with the "One Planet, One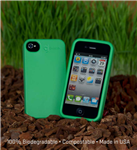 Chance" logo on it, as it's made ENTIRELY out of sustainable materials. The Nite Ize BioCase for iPhone (which is the one that I'm using) protects my phone while it does something good for the environment.
The BioCase is molded from a resin (GDH-B1) that's the FIRST compostable and biodegradable pliable elastomer. It's soft, it's flexible to get around your phone easily and it makes a statement.
The innovative, compostable, fully biodegradable Nite Ize BioCase protects your iPhone 4S/4, respects the environment, and makes a colorful personal statement all at the same time. Made in the USA of domestically compounded GDH-B1—the world's first certified compostable, biodegradable resin—the Nite Ize BioCase is a uniquely sustainable way to protect your iPhone 4S and 4. Soft and flexible yet surprisingly durable, its base is made of organic materials, not fossil fuels, and so its production creates a much lighter carbon footprint and creates fewer carbon emissions overall. The BioCase wraps snugly around your iPhone, slides in and out of your pocket easily, and comes in a variety of solid colors and patterns that reflect a wide spectrum of styles and moods. Wrapped in "anti-packaging," the BioCase comes in a simple sleeve made of 100% post-consumer recycled cardboard, printed with non-toxic ink, and meets the strictest domestic and European standards of biodegradability.
The Nite Ize BioCase in this pattern, solid colors, or statements like "Not made in China," a Peace Sign (for those of us with one foot still in the 60's), a yellow case with a VERY funky looking tree on it, and more are all available directly from the Nite Ize website.
I received product to facilitate this review. All opinions are strictly my own.