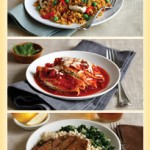 I have SO much to tell you about all of the cool stuff going on with Nutrisystem, but I've been crazy busy, and with the holidays and all of the cooking, baking and eating I've sort of put it TEMPORARILY on the back burner. Don't worry, I haven't gained weight, but I'm just trying to get through this crazy season.
While I've heard that Nutrisystem has some EXCITING new surprises in store for us, I wanted to take a minute to let you know about the new Chef's Table meals that they've developed. Better yet…let me show you…
WoW! This is like having a celebrity chef cook right here at the mansion, and I'll still be sticking to my program. What more could a girl want?
Remember that 2012 is coming QUICKLY and you can get a head start on those resolutions and save 20% on all 28 day delivery programs! Plus, right now you'll also get those new Chef's Table meals to try for FREE.
For more information – go to Nutrisystem.com – let's make 2012 our fittest, most fabulous year yet!