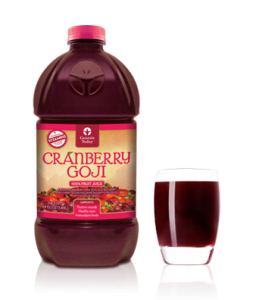 In my quest to make 2011 a healthier year for myself, there are certain products that I've come to rely on. As a Genesis Today Superfruit Ambassador, drinking healthy juices are a no-brainer for me. I make a habit of drinking Resveratrol and Acai on a regular basis.
But, it wasn't until Valentine's Day that I had the opportunity to drink my fill of Genesis Today's Cranberry Goji juice. I have to admit, that I was just not a Goji fan….it was something about the flavor that made my tastebuds go EWWWWW. But, this new formula with Cranberry turned me around. Now I get those great anti-oxidants along with the MOOD LIFTING power of Goji (um, I probably don't need MORE mood lifting, I'm a pretty "up" person to begin with). Plus, we all know how important that drinking Cranberry juice is for women!
Totally TART and TANGY, Genesis Today's Cranberry Goji is just another tool in my healthier me arsenal.
I wrote this post based on my relationship as a Genesis Today Ambassador….I really am trying to get healthy.