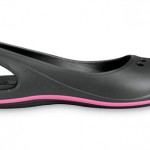 As you can see by the outer workings of Champagne Living, we're going through some changes. I'm on a mission to make 2011 the BEST year yet, and not only am I trying to make things better for YOU, but for myself as well.
You know me as the high heeled diva, that loves nothing more than donning my red heels, shimmying into gorgeous dress and tossing on one of my signature scarves. BUT, DID YOU KNOW THAT I'm a CLOSET CROC'S ADDICT? One look in my closet and you'll currently find FOUR pair of these über comfy shoes.
You all know that beginning on January 1st, I wrote down my INTENTIONS for 2011. As I've been saying over and over again, resolutions can easily be broken, but INTENTIONS are committed by action. Everything is happening in stages, so that the changes become HABIT without being overwhelming. I've changed my eating habits a little at a time, and now it's time to CHANGE the TONE of my daily fitness intentions, by donning the newest footwear from Croc's that combine comfort and toning in one rockin' shoe.
Croc's had challenged me to change the tone of my post title, and as you can see – I DID. Now they're helping me to change AND tone my body as I walk Clem the mini-bull-terrier along the paths of the golf course. I've got a BRAND NEW pair of Crocs Tone Skylar Flats – the PERFECT balance between FITNESS and COMFORT. These are like walking on two puffy clouds, they look CUTE and I'm hoping that they'll keep me from having to go for that PAINFUL Brazilian butt lift (kidding – I can't imagine having to sit down after having THAT surgery – OUCH).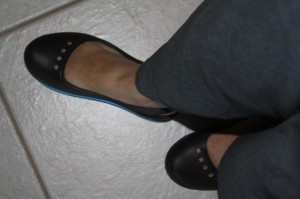 Croc's is trying to change the tone on facebook as well. Have you seen their page? It's so much fun to read as they change the tone of today's headlines, from negative to positive when you roll over them.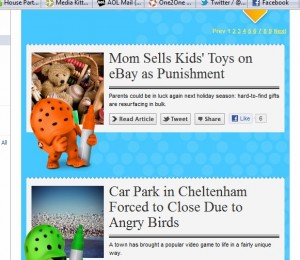 You'll have to go to their actual FACEBOOK PAGE to see the "Change in Tone" As for me…
This Diva ditches heels! —  Zippy adds Crocs Tone to her workout routine, for some extra oomph.
If you haven't TRIED these new toning shoes, you're in for a surprise.
Sculpted outsole creates a rocker-effect while you walk that initiates key muscle activity to provide toning benefits.
Toning ring provides stability and support.
Comfortable, lightweight Croslite™ material footbed provides all-day comfort.
Signature Crocs' holes on vamp allow for breathability and Jibbitz™ charms personalization.
Circulation nubs in the footbed deliver a massage-like feel.
Super lightweight Croslite™ material provides all day comfort from heel to toe.
Want to win some for YOURSELF? It's EASY (and a little different for Champagne Living).
GIVEAWAY
1. Go to the Crocs Tone Facebook page and see how Crocs has changed the tone of negative news headlines to positive headlines.
2. In the comments below create your OWN tone changing headline, make sure to include your e-mail address
3. Go ahead and enter again & again, as long as your "tone" changes with each entry.
3. That's IT!
* This giveaway is open to US residents, 18 and over and ends on March 8, 2011 11:59 EST.
* Good Luck
THAT'S IT! It's as easy as toning with Crocs Tone!
We received product to facilitate this review, all opinions are strictly our own.