This post has been sponsored by Appleseed's. All opinions are strictly my own.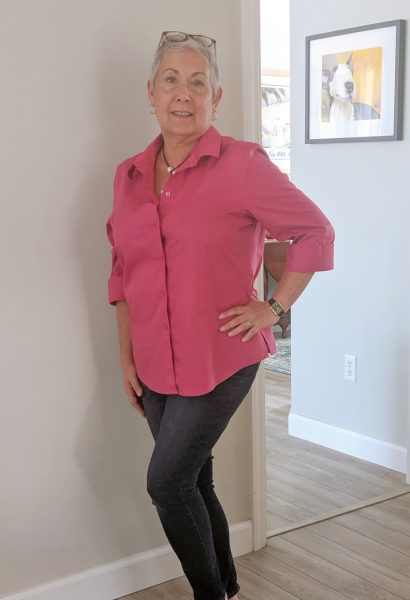 I am a New England gal
Yes, I live in Florida, but for about 50 years Rhode Island was my home. 
Things you should know about New Englanders' Fashion
We prefer classics over trends

We may still wear clothes at 60 that we did at 30

We prefer elegance over

trendy

We tend to be sensible

We always look put together

We believe that less is more when it comes to an evening out

We all have at least one set of pearls
When I arrived in Florida I was a little shocked to see
People shopping in pajamas

Clothing that wouldn't last one season

Very few outfits

that fit my sense of style

Quality pieces

A real lack of classic styles available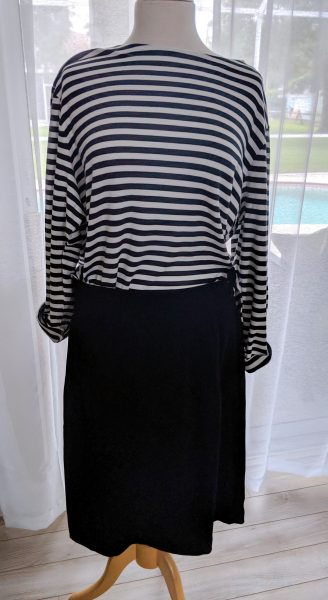 A little about my style
I need my striped shirts, jeans, and rich colors. I pair them with unexpected pieces and accessories to create a look that is distinctly my own. I guess you could call it elegance with an edge.  Consider black slacks with an animal print top or a pair of jeans with a button-down shirt paired with crazy earrings that I picked up in Thailand. I love to take a classic look and make it slightly unique. That way I can wear the items year after year, decade after decade while keeping my looks fresh.
Appleseed's to the rescue
If you are not familiar with Appleseed's here is a little about them. They have been providing classic, high-quality apparel for women across the United States for more than 70 years. Like me, they believe that "classic is ageless," and the focus of their clothing is on comfortable, casual, updated styles for the fastest-growing generation of women in history–US–the baby boomers of today. Sound familiar? Yes, just like Champagne Living, Appleseed's believe that we deserve the best of what life has to offer.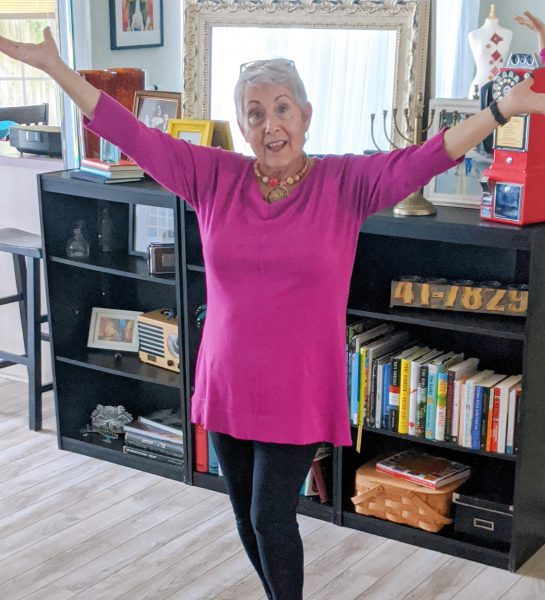 It is cruise season and I wanted a new mix & max wardrobe
I needed something that would get me from exploring the stops along the way to evening dinners onboard the ship. My wardrobe needs to be packable in a single carry-on suitcase and take me for a full seven days. It has to translate to regular at-home looks as well as holiday looks. Yes, I am extremely practical when it comes to my outfits. 
My goal – create an interchangeable wardrobe that will last 
I went to the Appleseed's website and choose 7 pieces that would be perfect for cruising, the holiday season and take me through the Fall & Winter this year. That seems like a tall order, but if you couple bright colors with basics like black and navy, it is actually quite easy.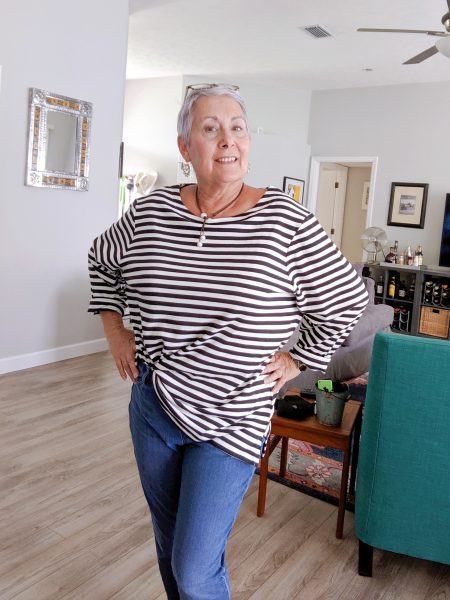 My Appleseed's Wardrobe
As you can see I kept the bottoms basic black and created a wardrobe with a bright berry/poppy as my color. I ordered a signature piece (because I'm known for my striped shirts) and ventured to one trendy animal print in a classic tunic style.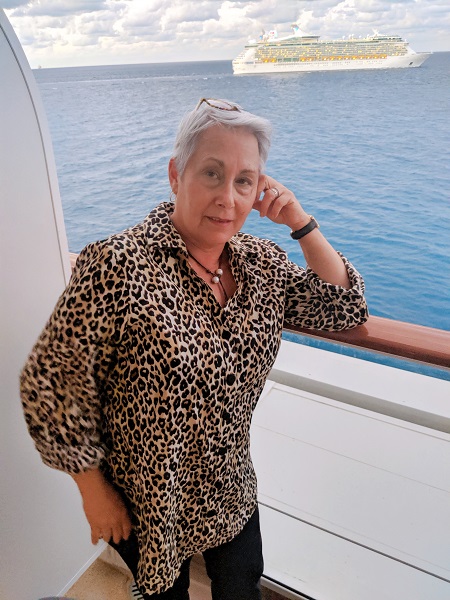 How I wore it
Day 1: I paired my Slimsation ankle pants with the Foxcroft Animal side button tunic. It was the day of the meet and greets along with a cocktail party with the CEO of the cruise line. We were outside and it was windy and a dress would not have been appropriate. It definitely made a statement and I got so many compliments on the animal print, plus the tunic is long enough to cover my not-so-perfect body and the slim ankle pants made my legs look thin.
Day 2: I paired the Simply Stripes Tee with a pair of my jeans. It was a day at sea and I had to do a lot of running around the ship to take photos. Photo days (at least for me) can be grueling and I needed to be comfortable standing on chairs, kneeling on the floor, etc.
Day 3: An evening dinner called for something dressy (we were at a French restaurant). Pairing the Tie Sleeve Crepe Dress with a pair of classic spectator ballet flats that I had in my closet was a great combo. All I needed was a strand of pearls (unfortunately, I forgot them at home, but it didn't matter).
Day 4: I would be doing some daytime wine tasting with a famous winemaker. The slim ankle pants paired with the Madison tunic was a great choice. I was comfortable and looked so put together (and it was easy). Classic gold hoop earrings to match the gold buttons on the sleeve were a great accessory.
Day 5: It was supposed to be a beach day on the private island, but the weather was too cold to don a bathing suit. I paired the Foxcroft 3/4 sleeve shirt with jeans and walked barefoot through the sand, enjoying a BBQ on the beach.
Day 6: Time to go home and the 2-hour drive from the port to home meant that  I needed to be comfy. For me that always means stripes, and pairing the striped shirt with the ankle pants (they have stretch to them) was great for sitting in traffic (it took us 4 hours to get back – I forgot that it was rush hour when we departed the ship).
Day 7: Everything got tossed into the washer/dryer. I specifically choose items that were easily washable with no ironing (who has time for that)! When I unpacked I realized that I hadn't worn the soft tuck skirt (I had planned to pair it with the ¾ sleeve shirt)….oh well, there's always the weekend!
Baby boomers rejoice
Classic elegance is easy and affordable. From beautiful classics to modern prep that are timeless with a twist and true to your style, Appleseed's classic roots offer a modern outlook on a style that is ageless and elegant.
Whether you'll be traveling soon or are looking to add something new to your current wardrobe, Appleseed's offers clothing that will adapt to your current wardrobe or allow you to create an entire new one.
To order your new clothes go to Appleseeds.com like I did