I created this post as part of a campaign by Teva Pharmaceuticals. I received an American Express gift card for participating. Also, Jennifer Morrison is a paid spokesperson working with Teva Pharmaceuticals to raise awareness of the More To Migraine campaign.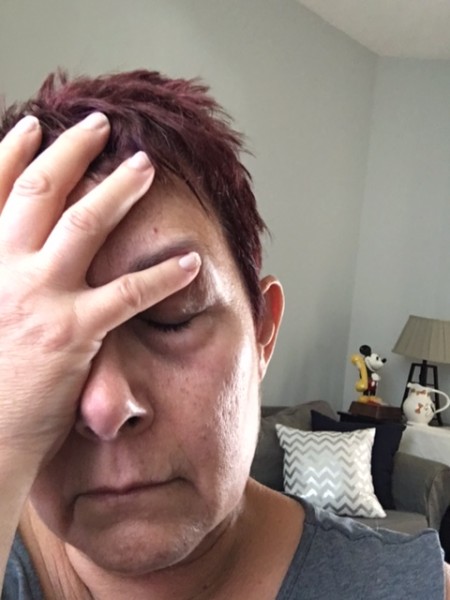 My best friend Rachel and her husband were finally coming to visit.
I've been to their house numerous times, but getting them to Florida was tougher than me getting up to New England. We spend a lot of time together traveling, but being able to just kick back, light the grill and sit around the pool chatting was something that I was REALLY looking forward to.
They found the house
I didn't even have to call them with directions, and I had my FUN flag flying out front, so once on my street it was easy to find (that and the fact that I still haven't painted the pink trim an appropriate color yet). We had an easy dinner, sat down to chat, and everyone turned in early after their long day of travel.
The next morning
I could see it on her face, and when she began to hold her head I knew for certain. Rachel has a long history of migraine headaches, and here she was on the first full day of her vacation with sensitivity to light, feeling sick to her stomach, with a serious headache. Rachel was down for almost three days.
I completely understood
When I was younger I suffered with migraines. Once I had Ben, they stopped. But, I remember how they felt. How light would make me nauseous, the television, radio, or even Mr. S talking would sound louder and just tear through me. I would be down for a full day with each episode. At the time I was an actress and a dance teacher, so I not only hurt, but I'd lose a day of work.
When I had them, I was clueless… I had no idea that.
Nearly 36 million Americans suffer from migraine.
There are several known triggers of migraine, such as changes in weather, lack of sleep, bright lights and stress that migraineurs should be aware of.
I've since learned a few things to do
A migraine diary to record your daily activities and identify patterns in what preceded a migraine can you be more aware of any patterns.
Write down what potentially triggers your migraine; avoiding these things may lessen the frequency and/or severity of your migraine.
Create a migraine "kit" to prepare for a sudden attack. For example, sunglasses can help with light sensitivity, and a plastic bag or basin may be necessary if any nausea or vomiting occurs.
Don't forget to keep your doctor prescribed medicine handy as well.


For more about battling migraine headaches visit: MoreToMigraine.com
Visit the More To Migraine Facebook page.