How to Help Him See You in a New, Loving Light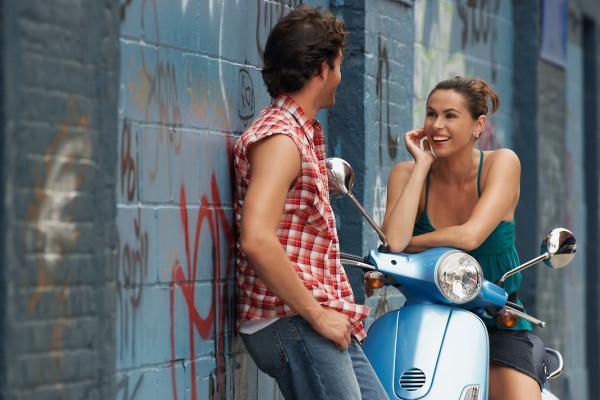 They say love is blind, but at times, it's just momentarily obscured, meaning those who are 'just friends' could eventually become hot and heavy lovers.  If you're beginning to see your guy friend in a new light, wanting the friendship to end and the love lights to turn on, consider ways to help him see you in a new way.
Coveted By Many
Akin to wanting their favorite football team to win the Super Bowl trophy instead of the next guy's, men are inspired by competition.  If you show him that you're a good catch and other guys are pining to go out with you, his sense of competition may kick in, and he'll begin to realize that he doesn't want others to win but wants you for himself.  Don't be shy about letting him know that you have the goods and that other guys notice that fact.
Play it Casual
Like women, guys have a sense of intuition.  If you're constantly calling him and asking him to get together, he may get a sense that you're interested.  However, if you play it casual, he will be in a state of wonderment, so keep cool, especially if you think he has potential feelings for you.
Furthermore, if you do have a sense that he is potentially interested, play hard to get.  If you need some ideas as how to do it, read a few articles at A New Mode.  Harmless flirting is okay but don't make him think he definitely has a chance.  Make him show his cards first before you give in and give him that added sense of confidence.
Be One of the Guys
Guys are wired to be attracted to the opposite sex, yet when it comes to meeting socially, they especially appreciate girls who can be one of the guys when the occasion calls for it.  So, when you're around his friends, make an effort to be accepted.  It doesn't take much; have a sense of humor  and don't be so "girly" when it comes to topics of conversation.  For example, be more likely to talk about the Indianapolis Colts versus Kim and Khloe Kardashian.
Dress for Success
Of course, if you want him to see you as an object of affection, it doesn't hurt to look the part.  Wear form-fitting jeans rather than sweatpants when you're hanging out, or choose to spend a bit more time with hair and makeup versus going out like you don't care about being attractive.  Of course, you want him to ultimately like you for your personality, yet in getting him to notice you as a potential girlfriend, it doesn't hurt to look your best.
Exclusive Meetings
It's harder for him to think of you as a potential girlfriend when you're always hanging out in a crowd of people.  Rather, be strategic in choosing to do some things that require the two of you to be alone, such as shopping, taking a day trip, or hiking in the woods.  Being with others gives him too much opportunity to focus his attention elsewhere, yet when you're alone with him, he has no other choice but to place all his energy on you.
Be Flirtatious
You'll never get out of the 'friend zone' if you don't at least give him a hint of your sexual attraction.  You don't have to be blatant, yet make him feel like you see him as a person of interest.  If you never tell him he's cute or compliment him on his skills, he's likely to see you as just 'one of the guys.'  Don't forget to show him that, aside from being a great friend, you're also a girl with sexual tendencies.
Make Excuses
Make excuses to see him or get him alone.  This includes favors such as giving him a ride or baking him his favorite brand of cookies.  Depending on how long you've been friends, he may need some added encouragement to see you as a potentially great girlfriend.  If you do some nurturing, girlfriend type things, he won't be able to help but (at least) think about what it would be like to be your mate.
Be Honest
Let's face it; you wouldn't want a person to play games with you, and honesty is often the best policy.  If he is interested, you want the relationship to be founded on truth, not games and deception.  That means you should clear the air and be honest about your feelings.  Of course, no one likes being rejected, but if that is the case, at least you'll know,  and you can pursue the relationship as just friends.
Since 2009, Eric Charles has been writing love advice, dating tips and relationship women all over the world.  He's delved deeply into the psychology of how to understand men, what men want in a relationship and what makes men commit, as well as how to deal with relationship problems of all shapes and sizes. Eric has always been interested in the human mind and is passionate about helping people improve their lives on every level. Eric has contributed to several websites, utilizing his insights and skills to help both men and women find happiness within themselves as well as in their relationships. Today, Eric is the co-founder of A New Mode, A New Modes Ask a Guy and co-author of "He's Not That Complicated".