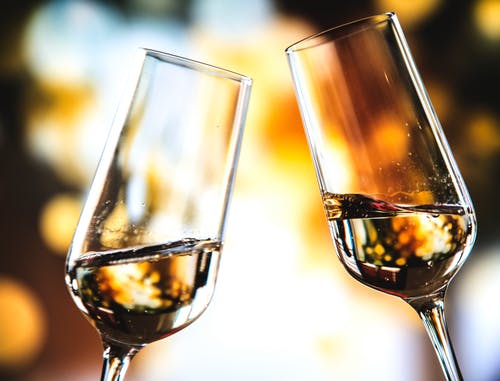 Champagne. You'll rarely find a person who doesn't like champagne. It has long been a drink that is reserved for special occasions, like New Year's Eve and a victory at the Grand Prix, and is best shared with people you deem to be special in your life. Yet, despite its popularity, it's surprising to find that many people still manage to ruin the drink, and in doing so, miss the experience of drinking champagne the way it was meant to be enjoyed.
Whether it's your first time or if you've been partaking in what is nothing less than nectar from the heavens, we think you're bound to find value in what you're about to read here. After all, you wouldn't want to waste a drop of expensive wine, would you? So, what are these mistakes that you're going to want to avoid committing? 
Pairing Your Champagne With Something Sweet
Champagne and chocolates may seem like a romantic combination, but, as you might soon find much to your dismay, they have just about the same chemistry as that of coffee and lime — they just taste bad together.
The flavor of dry sparkling wine is best enjoyed with food that is salty and flavor-rich. A very popular pairing with champagne comes in the form of caviar, but as a lot of us already know, caviar is expensive and the cheaper variants are barely even worth their price.
The more accessible foods that taste great with champagne are smoked salmon, asparagus, salty cheese, and even popcorn. 
Using The Wrong Glass Type
It's surprising that something seemingly trivial would have an effect on the taste of a luxury beverage, but the truth is that glass shape does have a significant effect. If you want to enjoy your champagne to the fullest extent, we recommend using a tulip flute, a glass that has a wide base with a narrower opening.
The wide base gives the aroma room to develop while the narrow opening helps preserve the bubbles as well as the spirit of the wine.
Opening It The Wrong Way
The most iconic depiction of champagne in pop culture is how most people, caught in a celebratory mood, tend to open champagne — by popping the cork and letting the beverage spray out of the bottle.
This is not only wasteful, it's also dangerous. A cork that is suddenly released from the bottle is nothing short of a projectile that could cause injury. Here's the proper way to open a bottle of champagne:
Remove the wire cage.

Cover the top of the bottle with a piece of cloth or a towel.

Gently unfasten the cork.
When the cork is released, the cloth simply catches it, thereby averting any would-be accident from happening. 
Serving It Too Cold
The ideal serving temperature for champagne is between 46.4°F – 50°F. The typical refrigerator has a temperature of 40°F. Serving champagne that's too cold will keep the aroma from evaporating and would leave you with nothing but a bland or worse, bitter wine. Allowing it to warm up to room temperature or 70°F will also ruin the taste but in a different manner. 
Because of this, it's also important to take note of ambient temperatures. The age-old popularity of sipping champagne by a fireplace is not unfounded. In fact, it's especially popular among major cities where most residents prefer to use firewood and coal as a means to heat their homes. A few good examples of these cities can be found by clicking here.
But, really, the most common mistake is taking champagne much too seriously. While this guide shows you how to best enjoy your champagne, you should never forget that champagne is just an add-on to a good time. The true spirit of celebration doesn't lie in the beverage you drink, but rather, with the people you spend those moments with. So, enjoy your champagne, but more importantly, enjoy the company you keep. Santé!