I received this dress to review. When I accepted it, I had not yet been invited to this party.
First comes the squeal of excitement…then comes that dark cloud of "WHAT THE HECK AM I GOING TO WEAR?"
This is the rush of emotions you feel when you're invited to a premiere and a PARTY with Morgan Freeman, Alan Arkin, Michael Caine, Ann Margaret, and Christopher Lloyd. A movie called "Going in Style" really put the pressure ON. I knew that being stylish at this event had to be KEY!
I've learned
If I'm invited to this scenario in Los Angeles, I have to go glam (gowns, cocktail dresses, ands lots of ruffles & lace). If I'm invited in New York, it's more of a classic elegance. Classic elegance is my thing (I struggle with the whole over-dressed L.A. feel…it goes against everything that I believe fashion should be).
Rumaging through the closet
After spending 10 minutes rummaging through my closet trying to decide what I could not only wear, but what would pack well in my little carry-on it hit me. Mikah Fashions had sent me their Boho Chic dress. A dress made of viscose, a dress I can wash in the hotel room sink and wear again, a dress that I only have to hang in the bathroom to steam the wrinkles from me just shoving it into my suitcase (I should have rolled it) would work perfectly.
I took a chance
I hadn't worn the dress before. This would be a FIRST time, and I wasn't sure that it would give me that casual elegant look that I wanted. Then again, I had a page of instructions to wear the dress more ways than I could have imagined.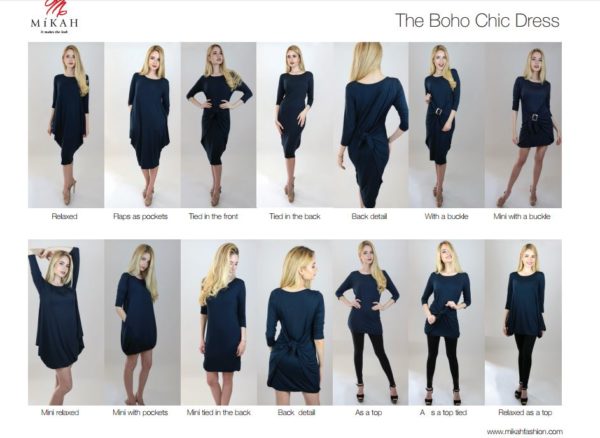 Decisions, decisions
Since this dress is
One size fits sizes 0 – 16 (I'm a size 12/14)
One length (the model wearing the dress is 5'8″, I am 5'1″)
Wash & Wear
Comfortable
Multi-style options to wear (see options chart above)
A Tunic
A Mini-Dress
A Tie Dress (front or back)
Casual
Dressy
Elegant
Boho
FUN
and most of all AFFORDABLE – only $89
I had to make the decision as to how I was going to wear it. Then it hit me. I'd toss on a pair of flats and wear it as a mini. That way I would be comfortable throughout the night (some times you just have to make a shoe decision first).
This is one of those dresses
That you can have multiples of. It's easy to wear. It looks great no matter where you wear it, from dinner out with Mr. S or a party with the stars. Plus with so many colors, it's a great staple in your wardrobe.
Black
Navy
Blue
Charcoal – MY DRESS (figured I could make it pop with red shoes)
Camel
Heather grey
Stone
Rose
Light blue
Purple
Military
Royal
Military/Creme Striped
Black/Grey/Silver Striped
Of course, I'm heading back to the Mikah Fashion site to see what ELSE I could add to my wardrobe, as I have a lot of travel coming, plus I need a dress for the rehearsal dinner that I'm giving in July.
While you're shopping
Do NOT miss the Mikah Fashion handbags! The leather looks so soft and supple, that I want to touch them through the website.


Travelers, party-goers, and those that just want a dress that looks FABULOUS no matter what the occasion, check out the beautiful dresses, pants and more at MikahFashion.com