I received a hammock from Grand Trunk to include in a story. I wrote this old school, inspired by the swaying with my pencil & notebook.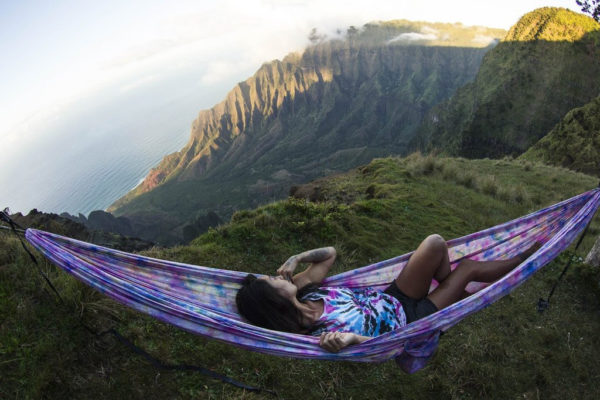 Bye, Bye Winter
Bye, Bye staring out the window and wondering if the pool is too cold to jump into.
Bye, Bye sitting outside with a cup of coffee all morning listening to the birds chirp
Hello Spring
I've been trying to convince Mr. S to buy a camper. Nothing big, just something that we and the dog can take to explore more of the country in. Mr. S hates to fly, and I just thought it would be a fun way to be able to go up to take the slow route from Florida to New England, stop along the way and have some summer fun for a month or two each year.
I have this vision of cooking outside, swinging in a hammock between the trees with a good book, and swimming with Clem in a pond.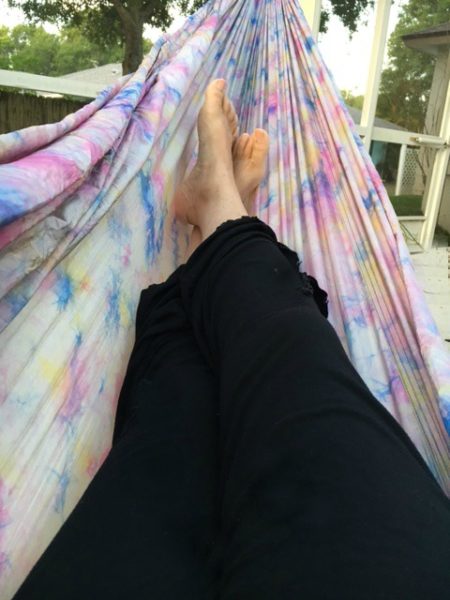 Then it hit me
I have a grill, a pool, and yes I can swing in a hammock in my own backyard. While I'm trying to convince him we NEED to do this, I have my backyard oasis to enjoy….right here, outside my window.
All I needed was
One of Grand Trunk Hammocks beautiful lightweight, durable hammocks. I chose this fun and funky Tie Dye in a fusion of pinks and purples (that's what he gets for letting me choose) that is reminiscent of my youth (I'm truly a child of the Woodstock Generation).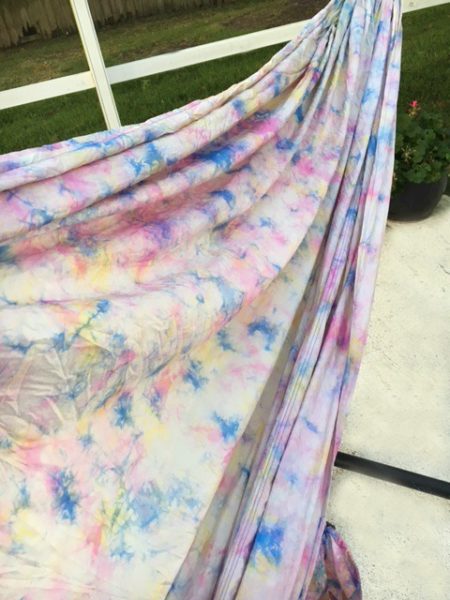 A Hammock Build for Two
I may not have that camper but I've got this trendy hammock that will fit the two of us, and it'a ready to pop back into its bag at any time to take with us when we do decide to travel…perfect to strap between two trees by the lake, the beach or even your own backyard.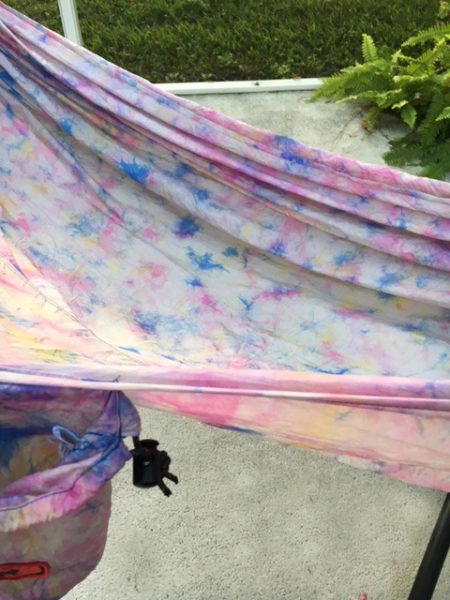 Grand Trunk Hammocks
With a variety of colors and patterns to make your inner outdoors-women jump for joy, you can be swinging in your hammock in their newest designs like:
Palms: Hang out in pretty palms with this lightweight, comfy hammock. Made for Florida living, or those who just dream of kicking back listening to a little Jimmy Buffet with a drink in hand. Created from 100% parachute nylon, enjoy the freedom to relax anywhere with this easy to hang, super packable product. Compressible down to the size of a softball, keep it in your bag or your car and get lost in your palm tree paradise wherever you go.
Yamabushi: Good night, sleep tight in these rock-a-bye colors of blue and golden yellow. Just grab it out of your bag and secure with trunk straps and you'llb e able to fall asleep in no time.
Heritage Red: Once you go hammock, you never go back. The moment I saw this pattern my friend Marshall (who lives in plaid). I may love stripes, but believe that keeping it classic with the heritage red plaid pattern while you get your outdoor snuggle on in this comfy creation is always appropriate. With a weight capacity of up to 400 lbs and nautical-grade carabiners included, this super durable material will keep you off the ground.
Firebelly: Show off your true colors with the beautiful blues and radiant red hues from this Firebelly print inspired by one of earth's most beautiful reptiles. With a starter rope kit included, slither into your silky hammock and hang anywhere.
Tie Dye: For every person who remembers the days of Janis Joplin, or those who just want that one of a kind look, you can shake up your camping trip with this trendy tie dye print! Anything is possible with sunshine and pink. One-of-a-kind and perfectly unique, each Tie Dye hammock is carefully hand-dyed one-by-one.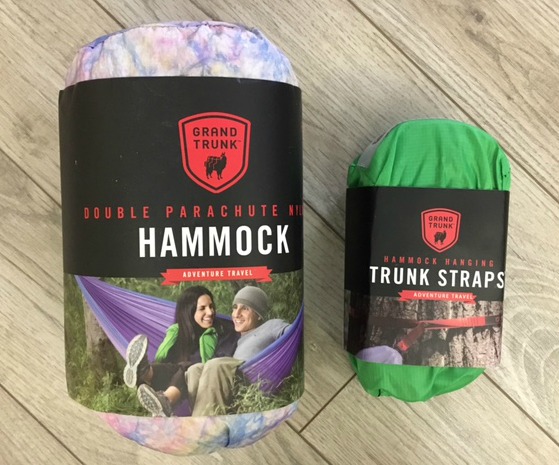 From Thailand to you
Created by two wanderers who met in a small surf town in Thailand on their travels, John Neff and Kevin Kaiser both loved traveling and created this line of goods for the road. So….
Whether you're hiking, backpacking, at camp, in the backyard, beach, the park, or listening to tunes at your favorite music festival, ditch that tent or camping chair, grab a hammock as colorful as your world. Kick back in your hammock, soak in your surroundings and find your sway.


To learn more about

Grand

Trunk

and see other available products please visit grandtrunk
Sign up for their updates and get 10% off your first purchase