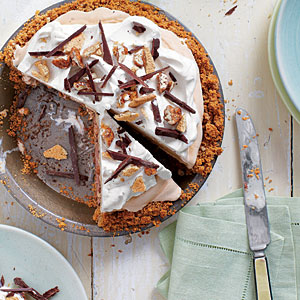 Yield: Makes 8 servings
Total: 10 Hours, 50 Minutes
Ingredients
3 cups cinnamon graham cracker crumbs (about 22 whole crackers), divided
1/2 cup butter, melted
1/4 teaspoon ground red pepper
1 (4-oz.) semisweet chocolate baking bar, finely chopped
1 (3.5-oz.) package roasted glazed pecan pieces
1 pt. chocolate ice cream, softened
1 pt. coffee ice cream, softened
1 cup whipping cream
1/4 cup coffee liqueur
Preparation
Preheat oven to 350°.
Stir together 2 1/2 cups cinnamon graham cracker crumbs and next 2 ingredients; firmly press mixture on bottom and up sides of a lightly greased 9-inch pie plate.
Bake 10 to 12 minutes or until lightly browned.
Cool completely on a wire rack (about 30 minutes).
Stir together semisweet chocolate, pecan pieces, and remaining 1/2 cup cinnamon graham cracker crumbs. Reserve 1/2 cup chocolate-pecan mixture to top pie.
Spread chocolate ice cream in bottom of prepared crust; top with remaining chocolate-pecan mixture.
Freeze 30 minutes.
Spread coffee ice cream over chocolate mixture. Cover and freeze 8 hours.
Beat whipping cream and coffee liqueur at medium speed with an electric mixer until stiff peaks form.
Spread whipped cream mixture over pie; sprinkle with reserved 1/2 cup chocolate-pecan mixture.
Cover and freeze 1 hour or until whipped cream is firm. 
Let stand 10 to 15 minutes before serving.
Thank you to Southern Living Food Director Shannon Satterwhite for sharing her favorite recipe from the latest issue.