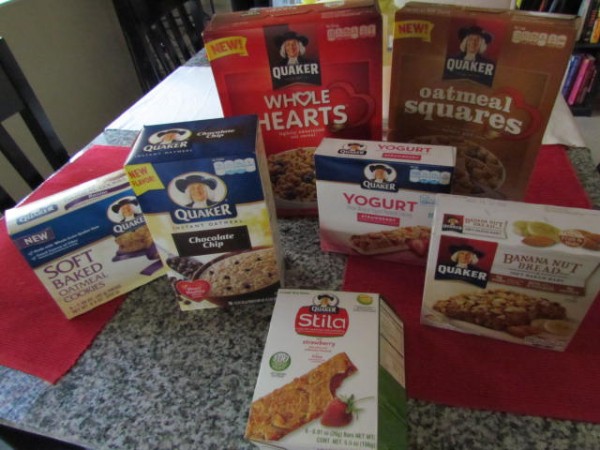 The other day as I was doing my grocery shopping, I looked into my cart and saw a lot of the same products and brands that I've been buying for over 30 years. As a matter of fact, some of them were the same brands that my mom and even grandmother bought. I noticed that I'm much more brand loyal than I thought I was.
For example, I remember my maternal grandmother making Quaker Oatmeal every morning, my paternal grandmother made the BEST Oatmeal Cookies using Quaker and my mom also ate (and fed us) Quaker Oats when we were growing up. I now find my shopping cart full of the same Oatmeal that we've eaten for generations and my son's VERY favorite cereal is Quaker Squares.
I'm not a coupon shopper, I'm not a bargain shopper, I buy what I LOVE, and I love Quaker products, but that doesn't mean that I've tried ALL of their items. Last week Quaker sent me a HUGE box of Quaker yummies that I hadn't tried before. Check out the newest Quaker products. I've tried ALL of them and can tell you that I'll be adding most to my list next week.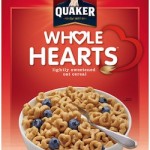 Quaker Whole Hearts (my in-between meals SNACK) packs delicious flavor into crisp, lightly sweetened heart-shaped bites to help your family start theday in a heart-healthy way.
Quaker Oatmeal Squares (Ben's Favorite) cereal has expanded its lineup with a new Honey Nut flavor, which features a nutty taste, a hearty crunch and just the right amount of honey flavored sweetness to help fuel you up to conquer the day.
Quaker Instant Oatmeal has a new Chocolate Chip variety (a sweet twist on  my old favorite) that packs delicious, real chocolate chips in wholesome, whole-grain oatmeal.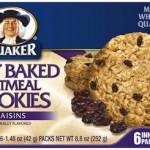 Quaker Soft Baked Cookies and Crunchy Oat Granola Cookies (Mr S made me run out to the store and get more as soon as they were gone) combine the goodness of whole grain Quaker oats with real ingredients, like fruit and crunchy nuts.
Quaker Yogurt Granola Bars (perfect for tucking into your pocketbook on those LONG days of running errands) provide the rich tastes you crave in a snack you can feel better about, with 12 grams of whole grains and calcium from the creamy yogurt coating.
Quaker Soft Baked Bars combine the tastes of your favorite baked goods with wholesome ingredients to help provide fuel for your day.
Quaker Stila Crispy Oat Cookie Bars and Bits (allowing me that RARE treat when I'm dieting) are baked with the goodness of whole-grain oats and delicious fruit for just 100 calories – snack time has never tasted so good!
Of course Quaker products are FULL of good for you fiber, which if you're watching your weight make a SMART addition to your diet, and are always HEART HEALTHY. Along with a healthy diet, you can add this awesome exercise by Bob Harper.
Quaker would like to send a box FULL of those great products to one of Champagne Living's readers, so fill out the form below and tell me which Quaker product is a tradition in your home.
GIVEAWAY


Extra Entries
Follow me on twitter @zipporahs and tweet about this giveaway using the hashtag #QuakerInsiders
Comment below with your tweet
Subscribe to Champagne Living,  follow me on facebook or twitter – all found on the sidebar (each counts for 1 extra entry)
Tell your peeps on your blog, facebook page or twitter about this or any post (each counts for 1 extra entry) and link to us.
Share this giveaway on any contest/sweepstakes/giveaway site for 5 extra entries..
This giveaway is open to US residents, 18 and over and ends on August 17, 2012
No purchase is necessary.
Odds of winning are dependent upon the number of entries received.
Void where prohibited by law.
Content and/or other value provided by our partner Quaker.