Our writer Kathy Chin Leong looks like she had a LOT of fun on these and I'm having serious FOMO!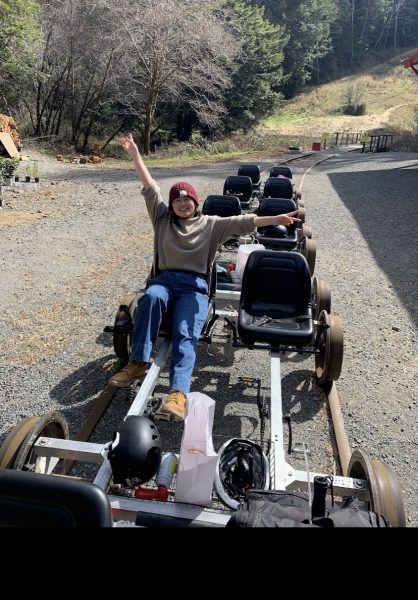 We are pedaling on the tracks, side by side. The sun is smiling on my daughter Grace and me, and behind us, at least a dozen other passengers are smiling during their rides on the new railbikes here in the town of Fort Bragg, Calif.  Unique to Mendocino County, it is the newest activity that is easy to tackle and a delightful excursion for children and adults.
Fort Bragg is famous for its Skunk Train, a short-route train that has entertained families for years as it chugs through the massive redwoods and turns around.  Within the last couple of years, the entrepreneurial owners have added railbikes to the roster of their outdoor adventures.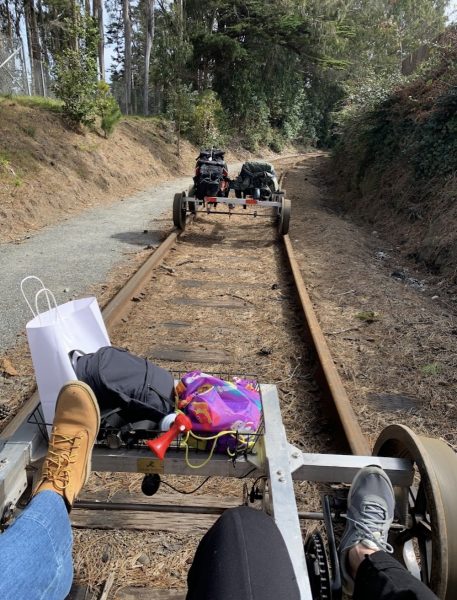 Railbike excursions are available in only a few places around the world, and the bikes themselves are not manufactured in mass quantity.  Each vendor customizes and fabricates its own with wheels, steel frames, gears, handles, and seating.  At Fort Bragg, these patent-pending vehicles are built for two, side-by-side riders. They feature four metal wheels, a pair of cushioned-backed seats, two sets of pedals, and a basket in front to keep belongings, especially the complimentary Skunk Train caramel popcorn. The same electric batteries on e-bikes power the vehicles, so riders don't even break a sweat.
The 2-hour Pudding Creek jaunt begins at the Skunk Train station using the same tracks as the train.  Prepare by wearing light layers of clothing and closed-toe shoes.  And yes, you can bring a backpack, a camera, and any food and snacks with you.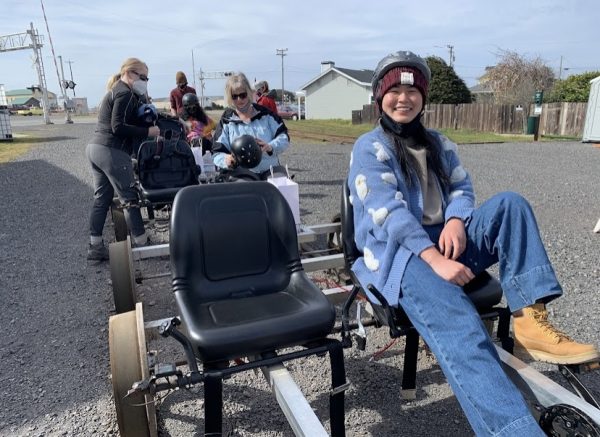 After you've made reservations, arrive 15 minutes early to get suited with the company-provided helmet and receive basic instructions. Of course, the guide will take a few precious thumbs-up photos for you on this unique bike.  The first bike is led by the guide who also explains the history and flora and fauna along the way.
The ride first takes you through town, and you wave at curious drivers at the intersection. Next, you leave the urban jungle for a real one.  Riders maneuver along Pudding Creek, and into the cool depths of the forest. You glide smoothly past old-growth ferns and ancient redwoods, over a series of railway trestles, and on a nice day, rays filter through the branches. There's no need to steer, no fear of getting lost, and no stress regarding falling off the bike as you are seated comfortably and low to the ground, and about chair height.  The actual pedaling time is about 20 to 30 minutes in each direction, so one hour total.  If your legs get tired, you switch the battery assist to a higher gear for help.
You can chat while riding, and the whole path is flat and pleasant. Heck, I could bring my 89-year-old father, and he would be fine.  The youngest child able to come on such an excursion, according to the rules, is three.
Want to bring Fido?  Only recently did Skunk Train offer a dog cage that is affixed to the bike for an extra $30 which includes a dog bandana and a treat.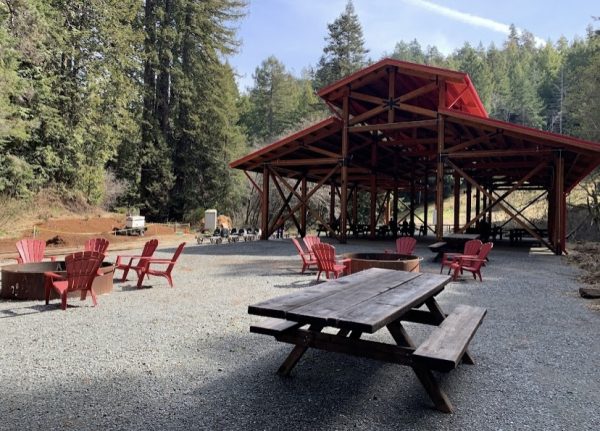 Halfway through the ride, you stop for a break of about 50 minutes at Glen Blair Junction. At that time, you can visit the portable potty, eat lunch under the newly constructed wooden gazebo, or hike designated paths that you can complete in about 15 to 20 minutes.  This whole experience is well-orchestrated so all passengers are safe and able to bask and envelop themselves in the scenery.  Meanwhile, staff workers are turning the heavy-duty vehicles around so you pedal back the same way you came.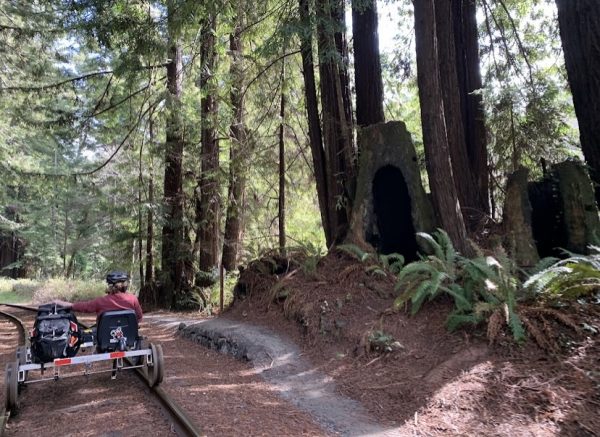 At $250 per bike for two people, the experience is not cheap. You can ride solo, but you still pay $250.  You are not going to get that adrenalin hit compared to rock climbing or free diving, but for those who want to try something different on their Mendocino vacation, it is an opportunity to immerse yourself among the redwoods and have bragging rights when you get home.  Once you get the taste of this ride and want a more formidable trip, you can opt for the $495 Railbikes on the Noyo package that has you riding all day, includes lunch, and is more strenuous than the Pudding Creek activity. I'm game; are you?
For more information or to book visit: Skunk Train
100 West Laurel St.
Fort Bragg, Ca.
707.964.6371