I can't think of any better way to celebrate the holiday season this year than with some of the biggest stars of both stage and screen in a new Disney feature based on our very favorite childhood classic Mary Poppins.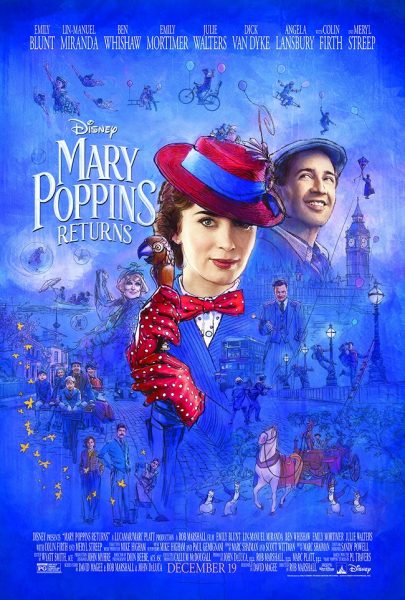 We invite you to join us as we spend a few days of SuperCaliFragalistic Fun from…
November 28 – November 30
I'll be bringing you the magic LIVE from the Red Carpet and after-party as we get to rub elbows and get up close and personal with the cast and crew of what is to surely be another amazing Disney spectacular.
You don't have to be a 10-year-old to fall in love with Mary
Especially when it's Emily Blunt flying with her umbrella! You see, Mary Poppins is BACK to help the NEXT generation of the Banks family find joy in their lives after suffering a family loss. Practically-perfect as always, Mary relies on her wonderfully magical skills to turn tasks into incredible adventures. With LinManuel Miranda (yes…THAT LinManuel) as her street lamplighter friend Jack, you will once again be transported back onto the streets of London for some life-long learnings that will help those from 5 to 55 get through life with a little more sugar and a lot less medicine.
Don't we ALL wish that we had someone like Mary in our lives?
You won't want to miss the interviews with
Emily Blunt (Mary)
LinManuel Miranda (Jack)
Ben Whishaw (Michael Banks) & Emily Mortimer (Jane Banks)
Pixie Davies (Anabel Banks) & Joel Dawson (Georgie Banks)
Director Rob Marshall
and songwriters Marc Shaiman & Scott Wittman 
Have a question you'd like me to ask?
>>>>>Feel free to ask me what YOU'D like me to ask on THIS Facebook LINK – ASK THE CAST<<<<<
Get YOUR spoonful of Mary Poppins in theatres opening December 19th

Simply follow the hashtag on our Twitter account: 
and be part of the fun…
and to add to the HOLIDAY FUN 
Follow us as we meet and greet talent from ABC's 25 Days of Christmas shows on Friday, November 30th
You can also visit Mary Poppins Returns on…