When it comes to planning your wedding, so many of the details can end up being things you choose to please other people. From the food to the music, you can end up making a lot of decisions for the sake of others. However, there are some details you will choose that are entirely your own. It's those personal touches that can make your day extra special for you and your partner, helping you to celebrate your relationship and the love that you have for each other.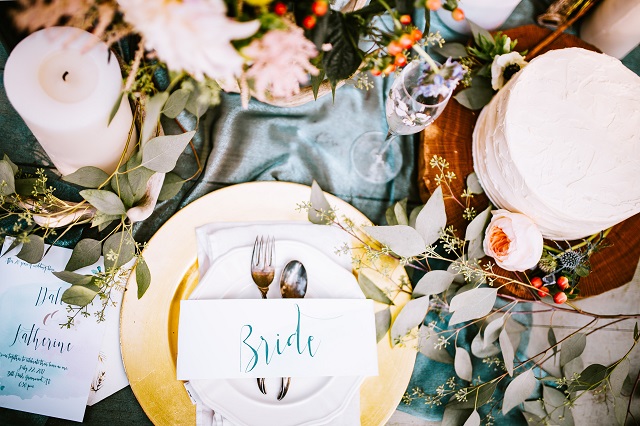 Take a look at these simple suggestions for personal touches to add to your wedding day.
A hidden message in your veil
A wedding veil can be the perfect accompaniment to your wedding outfit, helping to blend traditional and contemporary elements, and is a beautiful accessory for your bridal outfit. It's also a great opportunity to add a little message to mark your big day. Embroidered veils are a popular trend at the moment, and whether you choose to go subtle or extravagant, you can guarantee that your personalized veil will be unique to you.
Love from the bottom of your sole
Your wedding shoes can be an important part of your bridal look, and whether you go for traditional wedding shoes or a more modern and fashionable look – there's always room for some customization. Designers like Jimmy Choo and Sophia Webster provide the option to customize your wedding shoes by adding dates and initials to the sole of your shoes, or you can buy wedding shoe decals that feature your own personal message. This subtle touch could be something that only you see, making your wedding shoes an extra special part of your day.
Your unique symbol of love
Every engagement ring is special and has its own love story that you can cherish forever. From beautiful and stylish Love & Promise classic engagement rings to colored gemstones, you can make your ring even more unique by opting for a customized wedding band. You can add an engraving, choose matching details so that you and your partner have a matching set as well as choose the metal, width, and style of your band yourself. Your wedding band is something that will stay with you long after your wedding day is over, a perfect reminder of your special day, as well as a representation of your commitment to your partner.
Readings that mean something to the both of you
Choosing a reading for your wedding can be a difficult decision, however, there is a wide variety available to you that can help you and your partner find something that's unique and meaningful for you and isn't just a standard reading. Why not include a passage from one of your favorite books or a monologue from a movie? Even if it's something that nobody else knows, your wedding reading will mean something special to the two of you.
Second, third and other dances
All of the attention goes on your first dance, but why not make other dances special too? Your wedding playlist could include some of your favorite songs that represent a moment or a memory or simply be something you enjoy listening to in the car or at home. Nobody else will know as you're dancing away, but these will be special moments for the two of you two share throughout the evening.
#Hashtag your big day
For love in the modern world, a wedding hashtag is a must. People will be sharing photos from your day on social media, which will be a great way for you to relive your wedding from the eyes of your guests. Creating a hashtag allows you to keep everything together so that you can access your photos in just one click. Put notes on the table or have a hashtag sign made so that everyone knows exactly which hashtags to use.
Make your own wedding favors
Wedding favors are an important part of your table set up, but they can also be expensive. You can save money and add the personal touch by making your wedding favors yourself. Choose something that the two of you love that could easily be turned into a wedding favor. Fill mini bottles with your favorite shot or bake your favorite sweet treat to delight your guests and also share a special part of your relationship with everyone present.
Planning your wedding comes with so many must-haves and should-dos that it can be difficult to remember to bring those personal touches to your day. While planning your wedding for others to enjoy is important for a great day, it's also important that you remember why you're getting married and to bring as many personal touches as you can into the day. It's these little things that you'll remember year after year as you celebrate your love for each other.