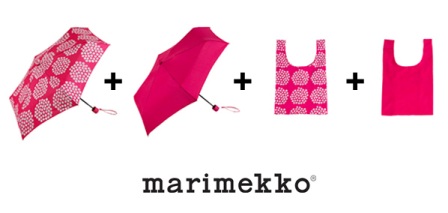 I ♥ Marimekko. My first purchase was back in the (cough cough) 80's 70's from a store in Harvard Square, and I've still been known to pop in to buy some of their cheerful prints. RIGHT NOW, not only will I FEEL GOOD when I buy them (they just make me smile), but I'll also DO GOOD.
When you or I purchase one of the pink line of umbrellas and smartbags – marimekko will make a donation to the Breast Cancer Research Foundation in the amount of
$10 for each pink umbrella 
$5 for each pink smartbag
They've guaranteed BCRF a MINIMUM donation of $5,000 and I'll be heading online to marimekko.com to shop in a bit. I'm thinking that the Puketti umbrella (that's the pink one with the white flowers on it) is what I want, but I'm not sure yet.