Opting for a staycation or a vacation probably comes down to two factors.
How much TIME do you have available?
How much is in that vacation fund of yours?
I love the extended stay vacations, and there's nothing that I relish more than becoming a part of my favorite neighborhoods in Amboise and Paris, but the cost is exorbitant and  I just don't have the TIME. I still need time for myself – time to relax, without any obligation. Most important to me is time away from the computer when I can REALLY focus on my personal champagne living. In other words….
ME TIME
Sometimes that means staying within driving distance, and spending less – but getting JUST WHAT I NEED – be it a drink by the pool, a ride down the intracoastal waterway on the water taxi to a fabulous restaurant, or just sitting on the balcony of my hotel room with a good book and a nice breeze.  The LESS complicated the better.
I TOOK SOME ME TIME
About a week ago I headed 2 hours south to Hollywood….Florida that is. A 20 minute drive from my brother's home, I had only been to the area once, spending about an hour walking in the arts district and having a cup of coffee. So while this was close to home, at the same time it was a new adventure for me.
LOCATION, LOCATION, LOCATION
I checked into the FABULOUS Crowne Plaza Hollywood Beach hotel for three days. It was the perfect place for relaxing and the location was GREAT. Not only was I SMACK on the beautiful intracoastal waterway and directly across from the beach, but I was close to friends and was within a quick hop of not only all that Hollywood, FL has to offer, but I was within a few minutes of both Fort Lauderdale AND Miami.
I hadn't stayed in a Crowne Plaza in a while, so I'd forgotten just how nice they can be, and this one….well, you take a look and decide.
Not only was I going to sleep in a fabulous bed for two nights, but I could sit on my chaise and read a book, make myself a morning coffee & enjoy a snack with the "at home" amenities of a small kitchenette, and I adored having the vanity near natural light (better for putting on makeup).
THAT MY FRIENDS IS ONLY THE BEGINNING
Because outside of my fabulous room was a balcony with a view TDF.
Of course the pool and outside tiki bar was where I was headed before spending the evening with friends nearby.
BRING ON THE FOOD
Yes, I had plans for dinner with friends, but there's no WAY that I'd go out before noon when my goal is R&R, so down to Elements Bistro I went for the PERFECT way to begin the day. Since I have a real difficulty with making decisions that early in the morning, I was grateful for TWO things.
They brought over a FULL CARAFE of coffee
The buffet had a bit of everything that I wanted – so, I could enjoy a bagel & cream cheese, fresh fruit, eggs, oatmeal, and much more.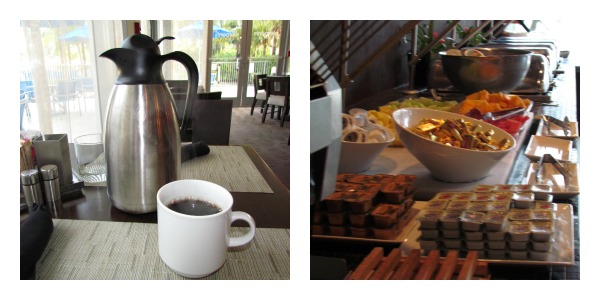 The Crowne Plaza Hollywood Beach Hotel in Hollywood, Florida offers the relaxed ambiance of a tropical sanctuary and the contemporary comforts of a sophisticated resort. Enjoy the nearby beach or stick closer to the hotel for a relaxing day of sun beside our large infinity edge pool.

You can get in a great workout at the fitness center, treat yourself to a pampering in-room spa treatment, and count on the 24/7 business center for your work needs. Complimentary high-speed wireless internet service is provided throughout the hotel to keep you connected.
THE DEAL
This is a TOTALLY affordable staycation, vacation or even a spot to enjoy when you're on a business trip. I checked the room rates just this morning and found them starting at under $120 per night. SCORE!!
ETC. 
Activity desk
Concierge desk
Elements Bistro, a full service restaurant in hotel
Breakfast buffet available
Room service (6am-12am)
Cool Beans – a Starbucks Coffee Shop
24 Hour Business center (complimentary)
ATM/banking
Dry cleaning service available
Express check-in/check-out
Front desk (24-hour)
Complimentary newspapers (M-F)
Guaranteed wake-up calls
Elements Bistro Lounge & Bar
Complimentary wireless internet access throughout hotel
Poolside Lava Tiki Bar & Grille
Limo or Town Car service available
Safe-deposit box (front desk)
In room safe (accommodates laptop)
Jacuzzi (hot tub)
Smoke-free guest rooms
Infinity edge outdoor swimming pool
Daily self parking
Daily valet parking
Property is accessible and is compliant with current ADA standards
Packages: Receiving & Storage
Beach Services
FOR MORE INFORMATION
Thank you to the Crowne Plaza Hollywood for hosting my staycation. All opinions are strictly my own.