I was given a complimentary stay for the night at the B Ocean. It was FABULOUS.
It was my husband's 70th birthday
And I had made plans to go to a concert in Miami to mark the occasion. But, I needed to do something a little more special (even though we only had one night away planned) to make 70 feel more like 21. That's when I realized that he had never been to Fort Lauderdale's beautiful B Ocean Resort. While we live about 20 minutes from the ocean, we never seem to get there, so a short stay where we could hear the waves hit the shore and smell the ocean was what we BOTH needed.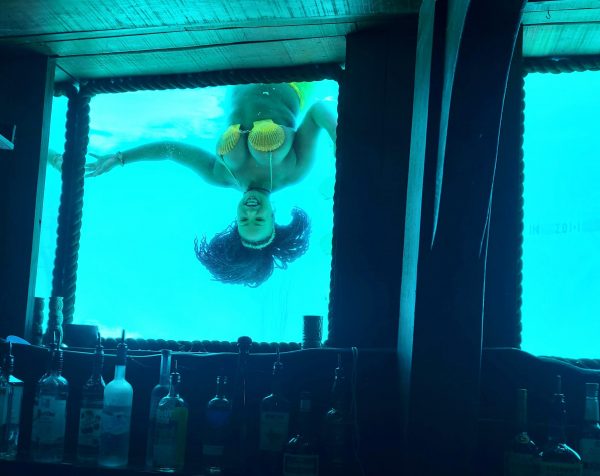 Mermaids to Mimosas
We began our stay by popping into the popular Wreck Bar for the Sunday Mermaids and Mimosas brunch. At first, we were confused about sitting at the bar until we saw a beautiful mermaid swim by us in the glassed-in backsplash of pool that lines the bar area (talk about top shelf). The 3-course menu includes unlimited mimosas with a choice of appetizer, main course, and dessert. We were warned by our bartender/server to pace ourselves as each course offers a LOT of food. I opted for some Avocado Toast that had a beautifully poached farm egg atop a thick slice of rustic bread with avocado while my husband enjoyed New York Bagels complete with smoked salmon lox, cream cheese, capers, and more. Our server wasn't kidding, as I was FULL after just the appetizer, but I took one for the team and dove into the perfectly poached egg on the "B" Benedict with a delightful hollandaise sauce and some thinly sliced prosciutto di parma…did I say I was in heaven? Hubby went in for the French Omelet and as a chef himself said it was absolutely perfect. Finishing with Creme Brulee and the Brioche and Almond pudding which was probably the best bread-style pudding that I'd had since arriving in Florida.
As the mermaids swam by, waving at the audience and being silly with their cute signs, we could hear the squeals from the children who were dining with their parents behind us. While we thought that if we had jumped into the mermaid pool, we'd have most certainly sunk from eating so much, the mermaids offered a surreal, yet relaxing atmosphere as a backdrop. For locals, it is a treat for the entire family to witness these magical creatures of the sea while dining.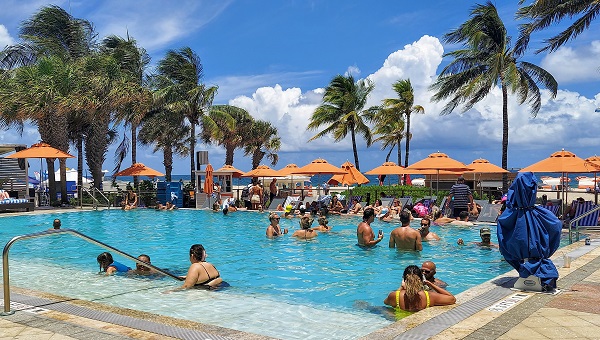 Making a Splash
Our room sat atop the Yankee Clipper Building with an expansive view of the beach below. We had just happened to book our stay during AVP volleyball tour and we could see the matches on the sand from our balcony (yes, we also saw beautiful men and women walking around the lobby before we got situated). But, it is the sun and fun that really makes B Ocean special. With its private beach for guests only, to the two pools that include a beachfront infinity-edge pool with views of the ocean as well as pool and beachside dining at the Salty Siren, and the second Clipper pool in the main building, which for those who prefer a more private experience (like my husband), you'll most certainly find you place in the sun. Just don't forget the sunscreen, because you ARE in Florida.
I like to relax, but my husband prefers being active
When we pulled up to the main door, we both took note of the line of bicycles available for guests to rent. Exploring Fort Lauderdale by bike is always fun, and you can easily ride down A1A on the ocean side to take in the beauty of what makes Fort Lauderdale a premier spot for vacationing. Each bike includes a basket for bringing your towel if you want to stop at the beach or to bring back a few shells or souvenirs you picked up on your ride.
If hitting the gym is more your style, B Ocean offers a 24/7 fitness center that is fully equipped with state-of-the-art machines, free weights, cooling towels, and more. Located on the 2nd floor of the Clipper building (where we were staying).
Of course, I was wanting to spend time at the B Indulged® Spa Suite for a little relaxation and pampering, but unfortunately, we didn't have enough time (I hear that their hot stone massages are INCREDIBLE – so, I'll be back to find out) as well as enjoying their summer sunrise beach stretching session with restorative yoga on the beach led by a Yogi Mermaid!!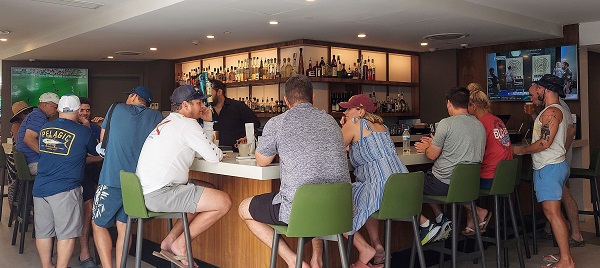 Dining at the B Ocean…
is NOT at ALL what you'd expect from the standard hotel dining experience. I was disappointed to learn that my friend Ralph Pagano no longer ran the Naked Crab (after having an accident) but with David Morales at the helm of this notable seafood restaurant it shines with a little more of a Latin flair. He has continued the tradition of using local products and a seasonal menu and the restaurant has continued to get accolades as one of the BEST seafood restaurants in the area.
Since we were at a concert during dinner, we opted to try room service when we got back, and WOW! What we thought would have been a simple burger and fries were more like a steakhouse burger, cooked on the grill to perfection. We can't wait to get back and really enjoy some of the other dining experiences in the future.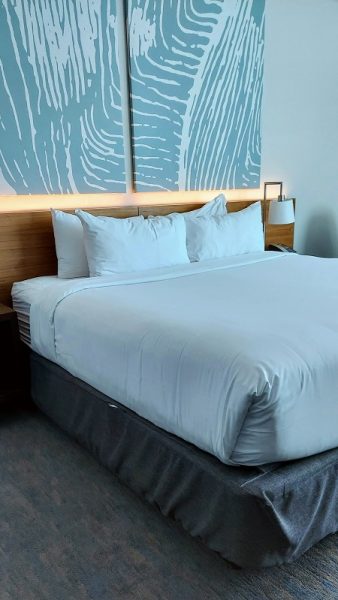 The rooms are beachy-keen
I stepped into our corner room and immediately knew that I was at the beach with its large king-sized bed and ocean-inspired palette. The mattress was comfortable (I'm picky) and while the bathroom has everything you need, it did need some updating. Make sure to ask for a penthouse floor for a great view of the beach!
Knowing that the B Ocean is a mere 2 hours away
We are thinking about going back soon. I missed the Aquaman Boylesque show at the Wreck Bar and thought that an evening with a bunch of girlfriends for a weekend would be a great getaway. Spa by day, dinner, and the only underwater male burlesque show in the United States by night (and for those that want to see merMAIDS there is also the adults-only aqua burlesque show produced by MeduSirena every Friday and Saturday night) and a little sunbathing (followed by a quick drive up to the Galleria mall on Sunrise Blvd. for a little retail therapy).
Whether you're looking for a quick fall getaway or planning your winter vacation it's time to swim up to the B Ocean. Who knows? You might even rub shoulders with a real live mermaid.
For more information or to book your stay at the B Ocean Resort visit: B Ocean Resort