What's the point in having somewhere to call your own if you're not going to be comfortable inside it? Your home is your castle, and it can only be that way if you are ensuring that it's as comfortable and cozy as you need it to be. In the winter, you want it to be warm and in the summer, you need it to be cool. You want to have layers of rugs and comfortable cushions throws of fleece and decor that looks inviting and sumptuous the moment you walk in.
You are paying for a home, and that means that you have to be able to relax the moment you walk through the door. The good news is that it doesn't take much to make your space as inviting as possible and we've got some of the best ways to embrace comfort. From cold air fans for summer to heated blankets for winter, your home is going to be the most comfortable place you could ever be. Let's take a look!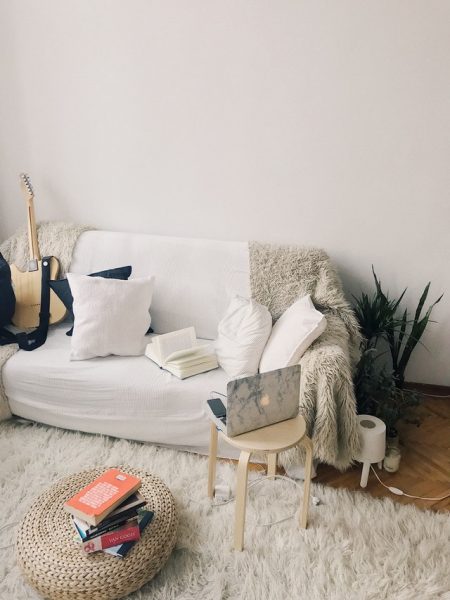 Get Your

Bedding

Upgraded. There are so many more options for bedding on the market today and that means that you need to get yours upgraded ASAP. Crisp linens with a high thread count are exactly what you need, and when it comes to winter months flannel sheets are going to be the best option for your comfort. You want to be the best temperature all year round, and you should add throws and quilts on sofas and beds so that you have as many comfort options as you can in all rooms you can relax in.

Keep Slippers Close. When you wake up in the morning, your feet touch cold floors. Keep a pair of slippers by the front door for after work and keep some by the bed in the morning. You want to stay relaxed and warm, and slippers are a must for that. When you wear them in the house, you keep your feet clean as much as you keep the floors clean, too.

Pillow This, Pillow That. Pillows on sofas and beds are a must for comfort. Huge furry floor pillows are a wonderful addition for guests, too. go for silky ones in the bedroom and knitted ones in the lounge, and you can maximize your comfort no matter where you sit.

Install Floor Heating.

Under-floor heating is a luxury

you can't afford to miss out on. You should think about the fact you can keep the flooring as temperate as possible no matter the time of year. You can add rugs where you can't afford under-floor heating, and put them in places you're going to need them, such as by the sofa and at the side of the bed!

Go Soft With Lighting. Comfort isn't just about your back, but your eyes, too. Softer lighting allows you to see more and without headaches or eye aches. Warmer tones than white are a good idea, and you can feel more relaxed and far less clinical.