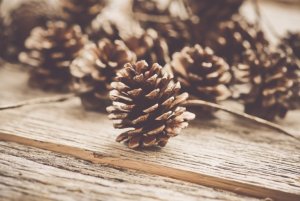 One of the most exciting parts of the holidays is driving around and seeing the houses twinkle and shine. Decorating your front yard has become absolutely imperative in some neighborhoods, but premade outdoor decor can be exceedingly expensive. This holiday season, instead of wasting money on the same glimmering decorations everyone else has, why don't you make your own?
With only a few raw materials, some creativity, and some determination, you can transform your front yard into a homemade holiday wonderland. Here's how.
First, Some Preparation
It doesn't matter how much time and energy you devote to decoration if your yard is in shambles throughout the holiday season. Before you bother assembling materials for your festive projects ― and before it gets too cold to perform outdoor chores ― you should spend a few weekends cleaning and fixing up your exterior space.
Throughout the fall, you should be diligent in cleaning up leaf litter, which can quickly compact under winter snow and kill your grass below. Additionally, you should collect any toys and tools scattered around your yard, selling or donating anything you no longer need. Even large items, like your ignored family boat, can go to charity, making more space for holiday décor (and a presentable front area for once).
Next, you should find a space to complete your crafts. Though most DIY decorations don't take longer than an afternoon to complete, life often interrupts your creative time. Carving out a niche in the garage or den to hold your supplies and incomplete projects will provide you with practical indoor space to make dazzling outdoor scenes. At the very least, you should have a sturdy desk with drawers to store essentials like a measuring tape, adhesive, and paintbrushes; more advanced crafting areas might also include a sink for washing up and a few hooks for smocks.
Pinecone Garland
Garlands are beautiful everywhere, and stringing one around your front door is festively inviting. This garland, created using only pinecones, brightly colored globe ornaments, and twine, looks both rustic and sophisticated, and you can find most of the materials lying around outside, waiting to be picked up and transformed.
Step 1: Collect and prepare your pinecones. A full garland will use about 15 pinecones per foot, so you should determine the desired length of your garland before you go hunting. Once, you have enough, you should gently rinse them in your kitchen sink and bake them in the oven for about an hour at 200 degrees Fahrenheit to kill any lurking critters.
Step 2: Cut and tie your twine. You should cut a single length of twine to the perimeter of your door frame (or wherever you wish to hang your garland) as well as enough small lengths of twine, about 10 inches each, to wrap around each pine cone. After working the small twine into the scales at the base of each pinecone, tie a single knot to secure it; then, affix the loose ends to the long twine with another knot.
Step 3: Assemble and hang your garland. You should continue adding pinecones to the long twine, adjusting them so they are snug, until you have a full garland. Using florists wire, you can add shiny globe ornaments in bunches around the garland by wrapping the ornaments' hooks and the central twine. Finally, you can use brick clips, adhesive hooks, or other strong hangers to drape your garland around your door.
Creative Luminaries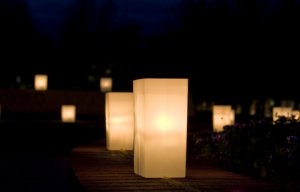 The holiday season is all about twinkling lights, which lend a sense of magic and joy to the dark, cold winter. Luminaries can brighten up your exterior pathways, and there are a few different ways to make your own.
Pretty paper bags. The easiest luminaries are stenciled white paper bags lit with tea candles. You can download any festive design you like from this website and cut out the pattern using scissors. This is an excellent last-minute craft that even kids can do.
Cranberry candles. From your local craft store, pick up some wide, flat glass vases, short white candles, fake cranberries, and fake snow. At your home crafting station, place the candles in the center of the vases, and layer the fake snow and cranberries. Place these luminaries in rows outside, and light them when the time is right.
Snowy salt jars. Pint-sized mason jars are amazingly versatile, and these luminaries prove they make excellent holiday decor. First, using metallic glass paint, you can stencil on any holiday symbol, but snowflakes are simple and classy ― plus they go with the snowy look. Next, brush your jar with adhesive and sprinkle on table salt. The jar should remain translucent, so when you place a candle or tea light inside, you can see the glow. Finish the luminary with a festive colored ribbon on top, and arrange your luminaries in line outside.