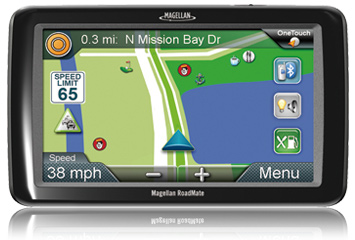 Magellan® and Good Sam have teamed up to produce the all-new RoadMate® Pro 9165T, a robust GPS device that is specifically designed for those who love to "RV".

An extra-wide, high-definition 7-inch touchscreen offers large vehicle and RV settings that map routes based on vehicle height, width, length, and weight. This intelligent navigator will plan routes according to your preferences, making the drive much more error-free and enjoyable for you, your family, and friends.

The RoadMate® Pro will be invaluable on your travels as it is pre-loaded with U.S. and Canada campground information from Trailer Life Directory, and Good Sam discount locations. The 9165T will give you guidance on million points of interest (POI) near and far, pet-friendly parks, and RV service and parking.

And, the device comes with a Heavy Duty Extension Mount that is extremely versatile and designed for vehicles with deep dashboards. You can easily make adjustments to get the viewing position that works for you.

The Magellan® RoadMate® Pro 9165T offers superior navigation for a safe and secure driving experience. Drivers can plan and customize routes in advance to become familiar with their route before driving it. Turn-by-turn spoken directions let them to keep their eyes on the roads.

Best of all, with the RoadMate Pro you can quickly navigate to Good Sam certified campgrounds where you can enjoy member discounts.
7″ hi-resolution WVGA screen makes viewing your map easier
Customize RV/Truck routes based on your vehicle length, width, weight and height
The Good Sam club Trailer Life directory provides one-stop RV resource for every aspect of RVing experience
The Bluetooth connection turns your GPS device into a hands-free speaker phone
Champagne Living Says: Perfect for Mr. S's Big SUV or an RV. The size is easy on tired road-weary eyes, and I love the onetouch favorites menu (ok, so I'm lazy and when he asks me to do something, I'd rather just use this than look). The highway lane assist is ESSENTIAL (and something I've never seen in a GPS before), and the added sources for RV travel services from Good Sam will  make the vacation a lot easier. I've got a Magellan RoadMate 9055-LM  in my car, and I LOVE it as well. Now there's no discussion bickering over who gets to use it.
Great gift for: Rv'ers, guys who like gadgets, SUV & Truck owners, anyone with a bad sense of direction
Magellan Pro 9165T RoadMate GPS Navigator
 is available for under $400