I received use of this car plus compensation from Kia to facilitate this post. All opinions are strictly my own.
Ooh, my little pretty one, my pretty one
When you gonna give me some time, Sedona
Ooh, you make my motor run, my motor run
Got it coming off o' the line, Sedona – with apologies to The Knack 
She pulled into my driveway and frankly, I stood there with my mouth hanging open. This was ONE BIG VEHICLE. Then again, we're baby boomers on the go and that means needing a place for just about EVERYTHING we schlep to the beach, the golf course, the river and more. It may just be me, Mr S and Clem (and most of the time it's just Clem and I), but we sure do take a LOT of stuff with us.
I travel WAY too much and having the opportunity to actually spend some time exploring my own area (a staycation of sorts) was just what I needed. Yes, Mr. S. and Clem were ready as well (but as you know, Mr. S doesn't like to be "seen" here on Champagne Living). As an SUV driver, I thought that I could really pack everything I need. Then again. With Mr. S, Clem and I each taking up one seat…there's not enough room to put the back seats down, making my SUV trunk space limited.
From a round of golf to chillaxin in the second row recliner seats….we were OFF.
First ….
I toss the clubs into the back of the Sedona SXL.

WoW – not only did the clubs go into the DEEP well, but the pull cart and 2 chairs, with PLENTY of room. Seriously, there's room for a foursome, Clem and everyone's equipment.
Sorry, Clem…you can't come THIS time.
No doggies allowed on the golf course.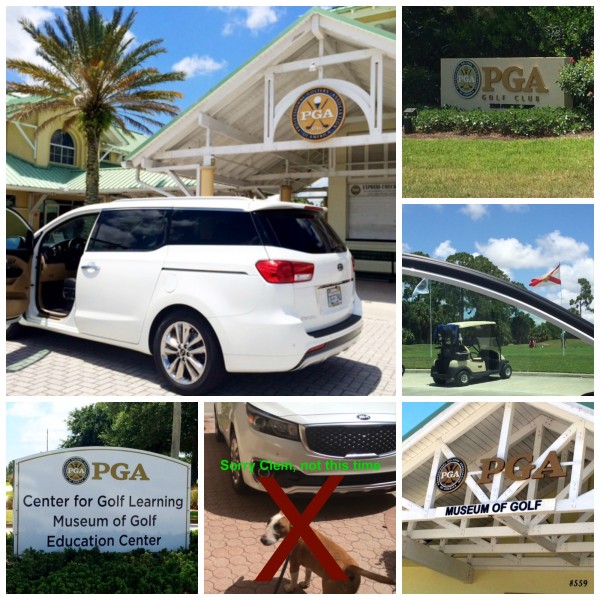 Off to go shopping!
It's Memorial Day weekend, which means stocking up on BBQ supplies and snacks.
It's a beautiful day….so we head to the beach.
Good thing I loaded those chairs and popcorn from shopping! What a great weekend getaway, and we're not even AWAY. It's such a pleasure to drive, must be that direct-injection, 276-hp V-6 with Sportsmatic transmission. It may LOOK as big as a truck, but it drives like a car.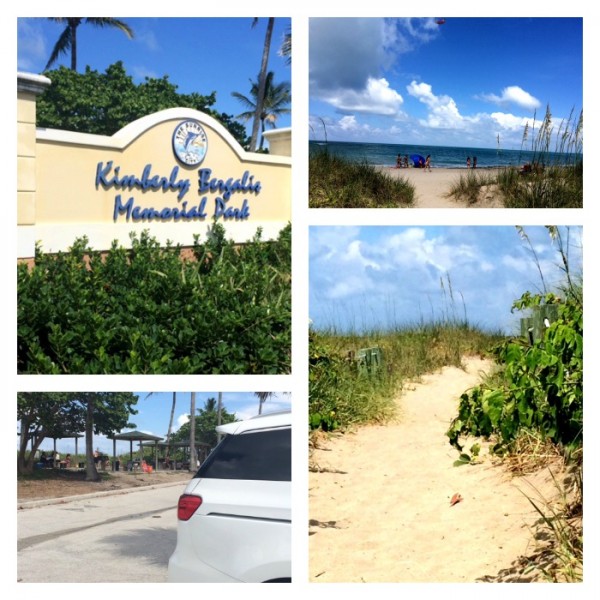 Of course, we sneak in our first soft serve ice cream of the season!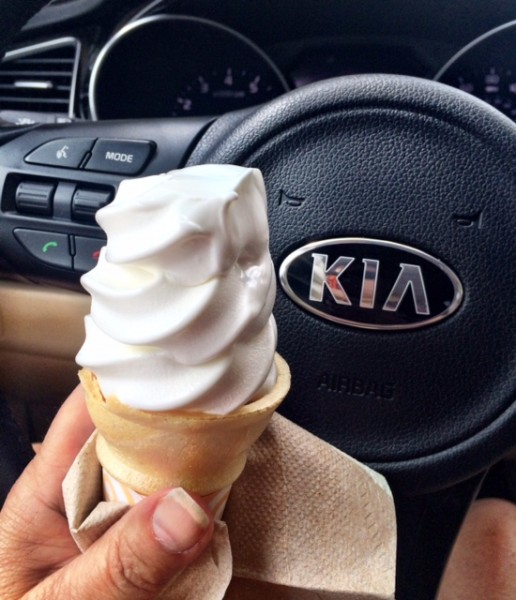 OK, Clem it's your turn.
With the napa leather interior, I don't have to worry about dog hair clinging to the seat. The baby proof locks and window settings means that Clem won't hurt himself. I love the safety features like next-generation, driver assist technology, Advanced Smart Cruise Control and Blind-Spot Detection with Lane-Change Assist. My families safety is KEY!
Plus
The double sunroof is AWESOME! Just a push of a button and the South Florida sun was shining down on us.
It's equipped with a choice of seating.
I just love the Slide-N-Stow™ second row (and you can seat eight comfortably) with oversized (comfy) seats.
Gotta say, this was one of the BEST Memorial Day's ever….and I couldn't have done it without all of the room and comfort in the Sedona SXL.