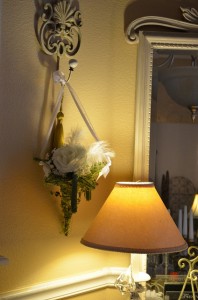 Like me, you're probably living on a budget and are trying to figure out how to live this Champagne Lifestyle on a beer budget. The economy is tight and so are our purse strings. I know. Appearances can be deceiving and over the years I've perfected the "how to live on nothing" and  make it look GOOD. If you looked at my checkbook, you'd understand that I fake a frivolous lifestyle with these little tips that won't break the bank.
Color  
Color is so important, and you can go one of two ways. Go for classic 50's glamour and paint everything white. Accessorize with white, and go for soft light and sparkle. However, this option is probably best for those without children or pets or any other kind of messy creature (AKA: hubby). You may become obsessed with cleaning otherwise. I don't go this route, because of Clem and Mr. S (who's worse than a classroom of Kindergartners).
Alternatively, go for deep jewel tones for a rich and luxurious feel. Approach with caution though, use solid colors on the walls, and it will keep an open feel rather than making the room feel smaller than it is.
Light
A great way to inject luxury in to your home is through lighting. If you have a little extra in the budget, consider opening up one wall with frameless glass curtains. This adds a panoramic element to a room, making it seem much bigger – and making you seem much richer – than it actually is.
A chandelier will add glamour to any room instantly, even the bathroom! Stick to clear glass as colored ones can look tacky, and this is a look you want to avoid. If your chosen chandelier looks a bit sorry, you can always customize. Simply get some glue and start adding some fun, funky, dangly jewels. It'll look regal in no time.
Simplicity
When it comes to furniture, the simpler, the better. Inexpensive pieces with clean lines and a simple design can unify a room, making it understated but beautiful. Simple furniture means that clutter is (less likely) to build up too.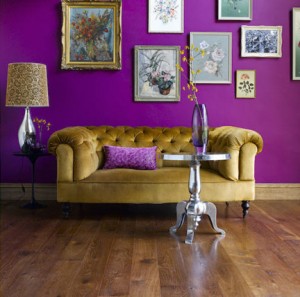 Soft Furnishings
This is the fun bit. Think about the fabrics that you like to touch; faux fur, silk, cashmere, velvet – the list is endless. Also consider the fabrics that look luxurious, such as polished cotton and silk. Use these fabrics as throws, cushions, curtains, rugs and your room will feel like you're living here at the mansion. If you've gone for a jewel tone, this is your chance to add pattern and rich, complementary colors. If you opted for white, stick to white and let the different textures add the depth.
Accessories
Glass adds a sparkle with simplicity, and works well with both white and jewel tones, as it reflects light. Think glass carafes for your flowers and glass dishes for your keys.