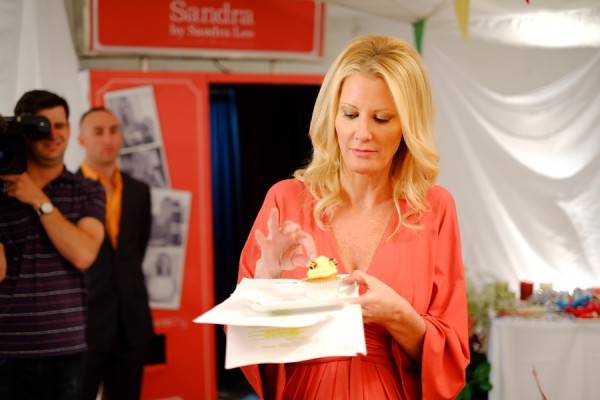 While I may not be Joel Robuchon in the kitchen (ok, if you know me you can STOP LAUGHING RIGHT NOW), I can certainly handle a little inspiration from Sandra Lee. At the mansion semi-homemade is about as close as Mr. S gets  to cooking from scratch these days. Thankfully I have my friend Victoria Taylor to thank for sharing a love of all things Sandra (especially Cocktail Time).
What better way to cook in her semi-homemade style than by using some of Sandra's easy recipe creations cooked and served in her FABULOUS new line of Sandra by Sandra Lee products found at Kmart & Sears? That's right – I said KMART and SEARS! Shocked? You shouldn't be, if you haven't wandered through the aisles or online at these stores lately, you're in for a TREAT.
Tonight I'm making Sandra's Champagne Poached Chicken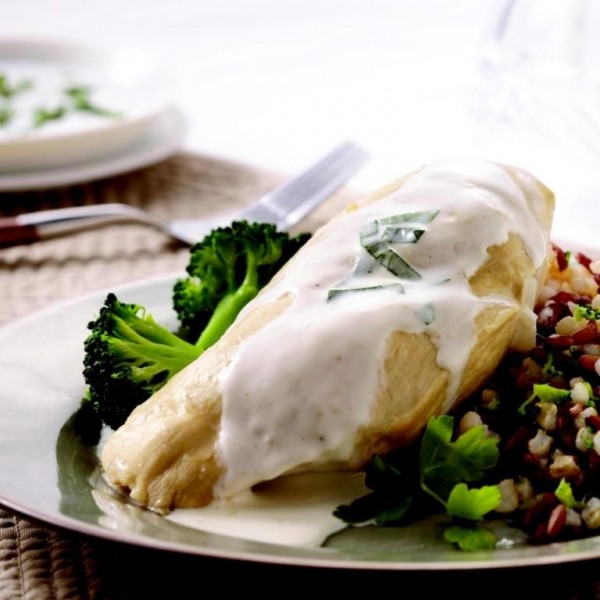 Prep time 10 minutes
Cook time 18 minutes
Makes 4 servings
Ingredients
2 tablespoons butter
1 large shallot, peeled and finely chopped
1 bottle (750 ml) champagne brut, Korbel®
2 teaspoons lemon-juice, ReaLemon®
2 sprigs fresh flat-leaf parsley, plus more for garnish
11/2 pounds boneless, skinless chicken breasts, rinsed and patted dry
1/2 cup cream
1 tablespoon white sauce mix, Knorr®
1. In a large straight-sided frying pan, melt butter over medium-high heat. Add shallots and sauté until soft, about 2
minutes. Add Champagne, lemon juice, and parsley to pan. Bring to a boil, then reduce heat to keep a slow simmer.
2. Slide chicken into Champagne mixture and poach, 15 to 18 minutes, turning once. (Use an instant-read thermometer to
be sure the internal temperature is 165 degrees F.) Remove chicken with a slotted spoon to a plate, and tent loosely with
foil to keep warm.
3. Ladle 1/2 cup of poaching liquid into small pot set over medium heat. Add cream and bring to just under a boil. Reduce
heat and simmer. Slowly whisk in white sauce mix. Simmer 1 minute, stirring constantly. To serve chicken, spoon sauce
over top and garnish with parsley.
This is the PERFECT signature dish for Champagne Living! It's simple & elegant…just the way I like things. But I want it to LOOK great from oven to table as well, so I'm looking forward to using some of Sandra's collection of cooking and entertaining ware. Just take a look in my viewer to see some of the wonderful products that she recently debuted to a group of bloggers in New York.
Not only will that Champagne Poached Chicken taste good, but my guests will be impressed when I whip it up and serve it with some of those gorgeous pieces. Oh, and did I mention that I'll be getting a DISCOUNT on them, and SO CAN YOU? Just clip the coupon below and save $5.00 off of a minimum $15.00 purchase of Sandra by Sandra Lee at either~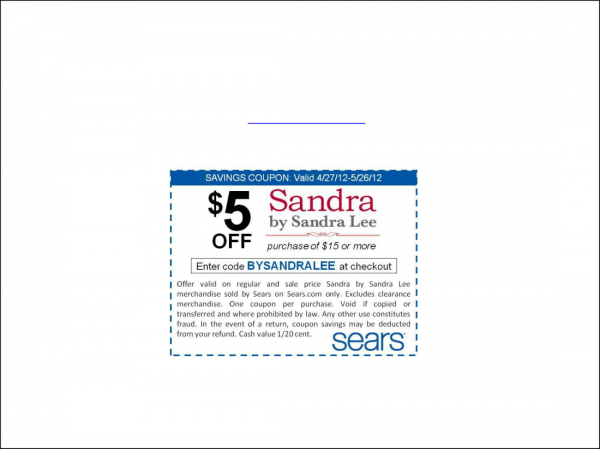 I'll be filling you in with a FIRST look at the Sandra by Sandra Lee Holiday Collection soon. In the meantime, I'm off to SHOP.
I was an invited guest to the Sandra by Sandra Lee event in NY. Unfortunately, I wasn't able to attend, but I LOVED being kept in the loop. All opinions are strictly my own.