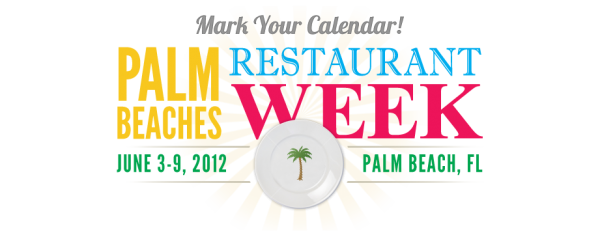 It might seem a little early, but I'm already marking my calendar and figuring out where I'll be dining each day of the week during June's restaurant week here in the Palm Beach area. This is the first time that Palm Beach County will be hosting a WEEK LONG event, and while I've driven to Fort Lauderdale and Miami to participate in some fabulous restaurants at deeply discounted prices, it will be great to chow down for $30.12 (dinner) closer to home.
Taking place June 3-9, 2012 at participating restaurants in Palm Beach County, diners will be able to enjoy a prix-fixe specialty menu for $20.12 for lunch and $30.12 for dinner. FINALLY we've got a Palm Beach Restaurant Week!
With restaurants like
The Restaurant at The Four Seasons
Ta-boo
PB Catch
Café Boulud
Philippe Chow
The Omphoy
Dada
Jade
Pistache
Temple Orange at the Ritz-Carlton
SoLita Italian Restaurant and the Parlor Lounge
Cha Cha's
Buddha Sky Bar
Leila
Russell's Blue Water
Pangea Bistro
Verdea
City Cellar
"South Florida is blessed with a vibrant, creative and dynamic dining scene. We literally have some of the best chefs in the country but just serving the adventurous foodie is not enough. We want to share our food with the whole community," said Thierry Beaud, owner of Pistache and PB Catch. "That's why Palm Beaches Restaurant Week is so perfect. It's affordable, it's accessible and offered at the best restaurants."
This is a GREAT time to try some of restaurants you've been reading about, but just haven't gotten around to trying. All I can say is – PALM BEACH HERE I COME!
For more information, including the latest list of participating restaurants go to:
Website: Palm Beach Restaurant Week
Follow them on Twitter: @PBRestaurantWk
Facebook: Palm Beach Restaurant Week